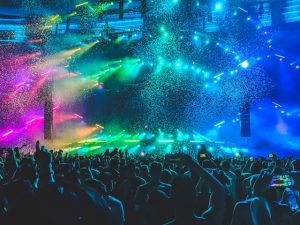 There aren't many bands that can boast a career as prestigious as Placebo's so far, they have remained together (in various arrangements) for 18 years and counting. With seven studio albums to their name, a Placebo show is something to behold. So, it only made sense that ahead of their first North American tour in eight years, we remembered some of their hits. With 33 singles to choose from, as well as countless original songs featuring on their albums, it's been no mean feat. However, this is a good selection of lesser-known bangers and well-known floor fillers that people who are totally new to the band and die-hard fans will enjoy equally.
'Too Many Friends' – Loud Like Love
One of Placebo's later albums, Loud Like Love, provided a selection of songs with a generally more upbeat sound. Some of the teenage angst of, well, Teenage Angst, was long gone and instead a more wistful approach to the world took hold of the band. 'Too Many Friends' might sound like the dream situation to be in, but a lot of the song centres around the idea of virtual friends and how many people we actually have time for in our lives. Virtual or not, it's important to catch up with the people that you love and if they're further away than is ideal then that can be difficult. The wonderful thing about the internet is that it can help to bridge those gaps. For example, it's now possible to play poker with friends on the other side of the world, or walk around a museum together, virtually. In terms of connecting in a meaningful way over the internet, it seems a lot has changed in the time since this song was written.
'Nancy Boy' – Placebo
Rarely has a band with such a melancholy tone created such a floor filler. 'Nancy Boy' throws conformity out of the window, both in the musical and lyrical sense. Gender-bending wasn't as commonplace at the time, so seeing the boys take it to this level was refreshing and is so nostalgic today. Catchy riffs, vocals that only Brian Molko could pull off, and a music video to stand the test of time all culminate in a single that was and is irresistible. It's tempting to say that bands only go downhill from their first album and it has to be said that, with this one, they set themselves a tough act to follow. However, we're coming up to their next release in a second and it lived up to the hype that they'd created.
'Sleeping With Ghosts' – Sleeping With Ghosts
So good they named the album after it, 'Sleeping with Ghosts' showed fans a sombre side to Placebo. The opening guitar riff is hauntingly beautiful, conjuring up ethereal images as the name would suggest. When asked about the meaning behind the unusual lyrics, Molko commented that they were written to explore the difference and the links between the present and memory. He describes the term 'sleeping with ghosts' in a metaphorical sense, suggesting how we revisit the things that happened to us in the past and that this affects how we behave in the present.