London's own Dragonforce kicked off their long anticipated Extreme Power Metal Tour on March 7th at The Observatory in Santa Ana, California and boy was it a show. They pulled out all the tricks for this one; confetti, huge arcades, a smoke gun, neon light sunglasses, and a huge dragon in the back of the impressive drum set. Along for the tour are openers Visions of Atlantis from Styria, Austria and Seven Spires from Boston, MA and they both put on an excellent show.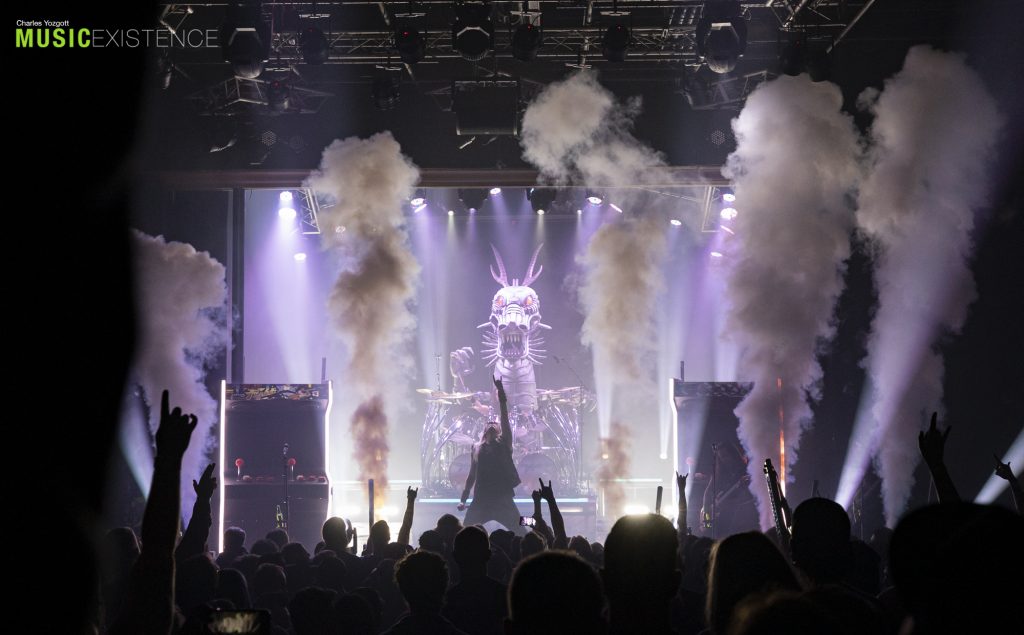 Seven Spires started the night off with the first 2 tracks off of their latest album Gods of Debauchery "Wanderer's Prayer" which lead into "Gods of Debauchery" and it sounded prodigious. Next was a live debut of "Oceans of Time" which blends Adrienne Cowan's beautiful singing voice with her brutal metal vocals and shows just how impressive Jack Kosto's guitar sounds on the album. Peter de Reyna on bass and Chris Dovas on drums gives the perfect backbone to this melodic metal band. They finished the night off with a couple songs from their sophomore album Emerald Seas, "Succumb" and "Drowner of Worlds" followed by the powerful "Dare to Live". Be sure to check their music out and catch them opening for this awesome tour.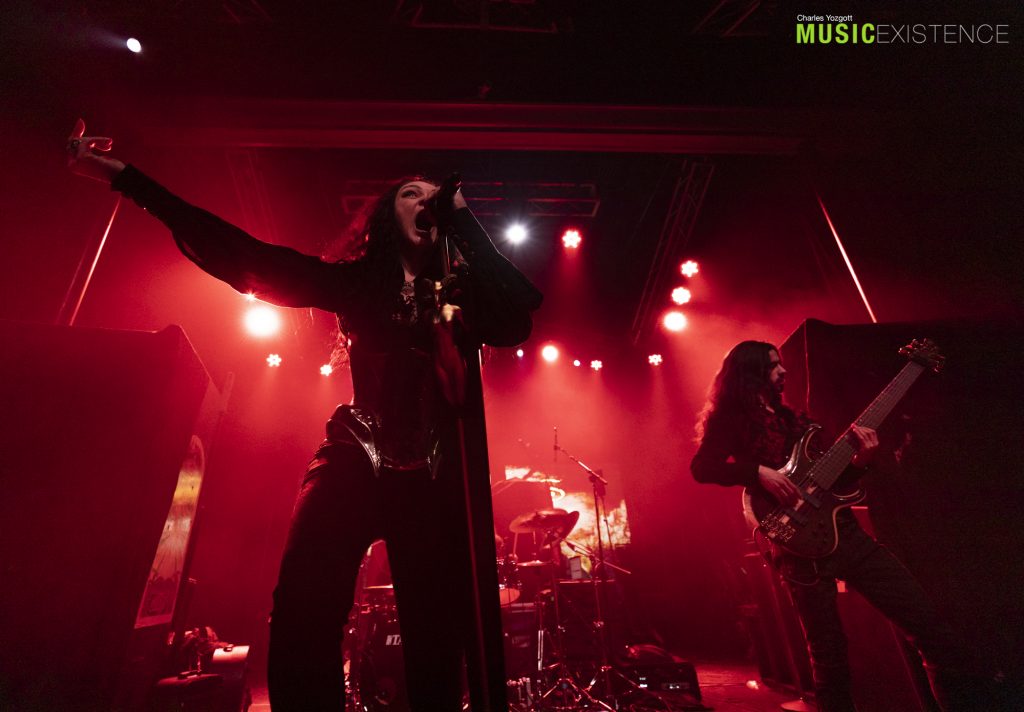 Coming all the way from Austria to open for Dragonforce is symphonic power pirate metal group Visions of Atlantis. Lead female vocalist Clémentine Delauney started the set with her amazing voice from their track "Master the Hurricane" and got the crowd singing along right away. Michele Guaitoli came out and joined her and the entire band made their presence known to everyone in the venue. This band sounds amazing live with this latest group of musicians keeping the band and name going strong. They have a new album coming out soon called Pirates, so be sure to check it out the day of release. The band consists of Thomas Caser on drums, Herbert Glos on bass, and Christian Douscha on guitars and they also put on a performance throughout their set. Their nine song setlist also consist of these powerful and epic songs that has to be heard live: "Melancholy Angel", "Clocks", and "The Deep & The Dark". Bravo to these amazing humans that keep Vision Of Atlantis alive and relevant.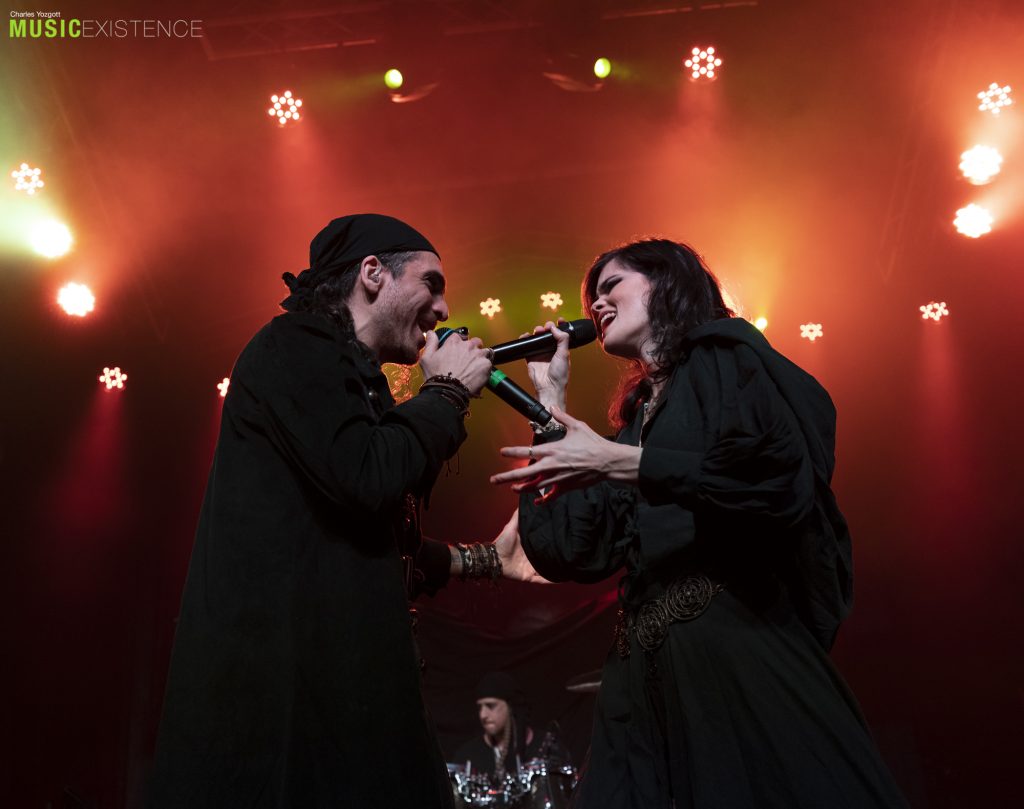 The band that everyone came to see and have waited 2 plus years to see them is the mighty extreme power metal band Dragonforce. This band sure does know how to put on a show and it's definitely a must see live event. A huge dragon sits behind drummer Gee Anzalone with it's eyes glowing red as both guitarist, Herman Li and Sam Totman, climb to the top of the two arcades that are on the side of the stage. With their band name displayed on the screens of the arcades confetti launches up in the air as they start the opening track "Highway to Oblivion" off their latest album Extreme Power Metal. This was a sight to see and the entire audience was going nuts. Singer Marc Hudson displays his vocal range to perfection and sounded superb.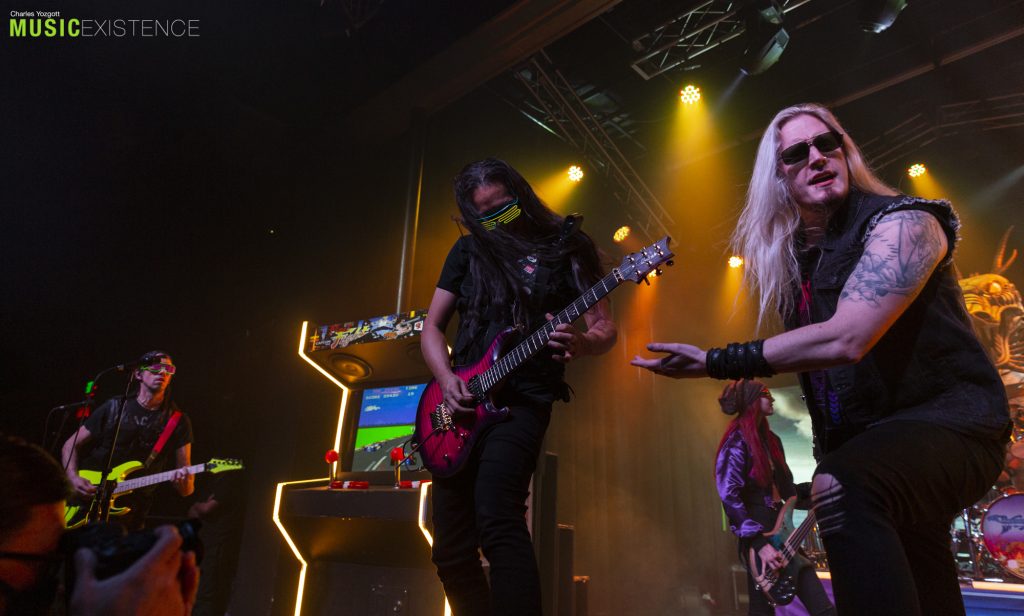 This band just knows how to have fun. Newest member, bassist Alicia Vigil, is all smiles as she seems to be having the time of her life. Nothing but smiles from the entire group as they rip through their astonishing setlist and run around the entire stage rocking out. It's almost unreal that they can do all this while playing complex songs for everyone. Their neon lit glasses gives that extra character trait that sets them apart from a lot of shows out there. It's just plain fun to watch and sing along with this band.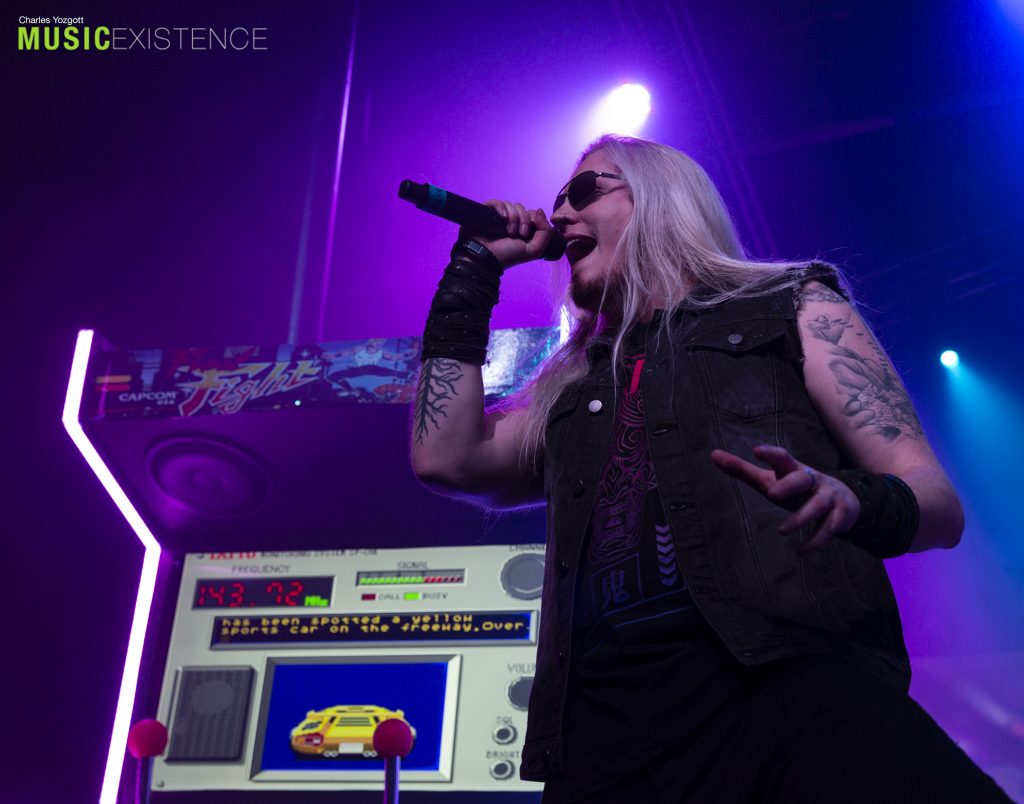 Dragonforce's fourteen track setlist included fan favorites and a couple fun surprises. "Ashes of the Dawn", "Razorblade Meltdown", and "Valley of the Damned" were just a few that were played to perfection on this night of extreme power metal. "Dracula's Castle/Fight On!" was an awesome video game cover experience, very very cool to witness live. For the first song of the encore Dragonforce performed Céline Dion's "My Heart Will Go On" and it was spectacular, definitely something to experience live. Ending the night with "Through the Fire and Flames", the opening track off their third record Inhuman Rampage, was a perfect conclusion to the night with energy from the band and the crowd like it was the first song of the night. This show was nothing short of awesome and something to go see when they come to a city near you!
Seven Spires
Setlist:
Wanderer's Prayer
Gods of Debauchery
Oceans of Time
Lightbringer
Succumb
Drowner of Worlds
Dare to Live
Visions Of Atlantis
Setlist:
Master the Hurricane
A Life of Our Own
Return to Lemuria
Melancholy Angel
Clocks
The Deep & The Dark
Legion of the Seas
A Journey to Remember
Heroes of the Dawn
Dragonforce
Setlist:
Highway to Oblivion
Fury of the Storm
The Last Dragonborn
Ashes of the Dawn
Heart Demolition
Dracula's Castle/Fight On!
Banjo Solo/Guitar Solo
Black Fire
Razorblade Meltdown
Cry Thunder
Remembrance Day
Valley of the Damned
My Heart Will Go On
Through the Fire and Flames
Remaining Tour Dates:
Mar. 13 — Vancouver, British Columbia @ Commodore Ballroom *
Mar. 15 — Calgary, Alberta @ Palace Theater *
Mar. 16 — Edmonton, Alberta @ Union Hall *
Mar. 18 — Boise, Idaho @ Knitting Factory *
Mar. 19 — Salt Lake City, Utah @ The Complex *
Mar. 20 — Denver, Colo. @ Oriental Theater
Mar. 22 — Lawrence, Kan. @ Granada Theater
Mar. 23 — St. Louis, Mo. @ Red Flag
Mar. 24 — Milwaukee, Wis. @ Rave II
Mar. 25 — Minneapolis, Minn. @ First Avenue
Mar. 26 — Chicago, Ill. @ Metro
Mar. 27 — Detroit, Mich. @ St. Andrews Hall
Mar. 29 — Ft. Wayne, Ind. @ Piere's
Mar. 30 — Toronto, Ontario @ Opera House
Mar. 31 — Montreal, Quebec @ Corona Theatre
Apr. 01 — Quebec City, Quebec @ Imperial Bell
Apr. 02 — Worcester, Mass. @ The Palladium
Apr. 03 — New York, N.Y. @ Irving Plaza
Apr. 05 — Reading, Pa. @ Reverb
Apr. 06 — Cleveland, Ohio @ Agora Theater
Apr. 07 — Baltimore, Md. @ Baltimore Soundstage
Apr. 08 — Pittsburgh, Pa. @ Roxian Theater
Apr. 09 — Greensboro, N.C. @ Arizona Petes
Apr. 10 — Atlanta, Ga. @ The Masquerade (Heaven)
Apr. 12 — Tampa, Fla. @ Orpheum
Apr. 13 — Ft. Lauderdale, Fla. @ Revolution
Apr. 15 — Dallas, Texas @ Amplified Live
Apr. 16 — Houston, Texas @ Warehouse Live
Apr. 17 — Austin, Texas @ Come And Take It Live
Apr. 19 — Mesa, Ariz. @ Nile Theater
Apr. 20 — Las Vegas, Nev. @ House of Blues
Apr. 22 — Los Angeles, Calif. @ Belasco Theater
Apr. 23 — Berkeley, Calif. @ UC Theater