When it comes to bands that have really stood the test of time, there are few that have done it in quite the way that Queens of the Stone Age have. After a belter of a first album, it's the easy choice for bands to continue creating music that never strays very far from their initial sound, but the Queens reinvent themselves time and time again. They achieve this whilst still creating music that pleases fans who have been around since the very beginning. With no less than seven albums under their belts, we unpick the very best tracks from this ever-evolving band.
Burn The Witch, Lullabies To Paralyze (2005)
Anyone who's been fortunate enough to see Queens of the Stone Age live knows how the first notes of 'Burn the Witch' ring throughout a stadium. In terms of catchy riffs, this song has it down to fine art; in fact, any fans will have the almost nursery rhyme-like 'dum de dum' stuck in their head already. Beyond the obvious earworm element to this song, it also has some great lyrics to unpick. At first listen, the song clearly slots in neatly with the dark and gothic mood of Lullabies to Paralyze, but when you consider what was occurring in the band prior to the time of release, deeper layers emerge. Before this album was released, Josh Homme had sacked Nick from the band and some fans had taken it very personally. Feeling persecuted, Homme wrote these lyrics to describe the witch hunt that ensued after he took that decision.
3's & 7's, Era Vulgaris (2007)
There are many songs that have used poker as their inspiration, from Lady Gaga's Poker Face to Motorhead's Ace of Spades, but nobody does it quite like the Queens. '3's & 7's' refers to a spectacularly bad hand in a game of poker, one that you'd need to bluff hard to get away with. The rest of the lyrics also make reference to the idea of bluffing to get yourself out of a tight spot, faking it 'til you make it, or pretty much just downright lying. Whether you agree with them morally or not, it's hard not to be swept up in the gritty riffs of this song. Like a badly-oiled but bull-headed machine, the Queens swagger their way through this homage to dishonesty.
The Lost Art Of Keeping A Secret, Rated R (2000)
There were some real belters on Songs for the Deaf that many would contest were what catapulted Queens of the Stone Age into the spotlight, but when you consider this absolute masterpiece from Rated R, it seems as though it almost slipped under the radar as one of their very best. As the lead single of the album it made a little noise when it was released, but we think it deserved way more attention than it got. This song leapt from one side of the line to the other, sounding both sexy and sinister with tinkly xylophones juxtaposed over a rumbling bassline. The chorus was both haunting and disgustingly catchy; if Josh Homme wasn't a sex symbol yet, then he was after releasing this.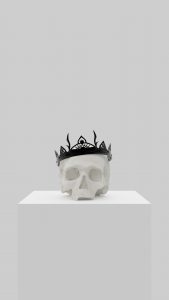 Photo by Payton Tuttle on Unsplash
Song For The Deaf, Songs For The Deaf (2002)
Queens of the Stone Age have never taken it darker than they did with this song. If you're going to make a statement, then the opening line of this song is the coolest way to do it; 'Here is something for you to drop to your knees for and worship'. It's a challenging song, maybe even a little strange. Endless feedback pins together instruments played with terrifying intensity. It's super dense and one of those songs that doesn't grab you at first listen, but slowly unravels into a full-blown love affair as you get properly acquainted with it. Train your ear to listen to the battling vocals over the sound of the thudding, pulsing bass and you'll be rewarded with one of the darkest songs that Queens of the Stone Age have ever written.