Ghost and Volbeat concluded their 26 date co-headlining tour in Anaheim, CA at The Honda Center on March 3rd, which happened to be Tobias Forge's birthday, and it was spectacular. Twin Temple was the support throughout the tour and it made for one hell of a show.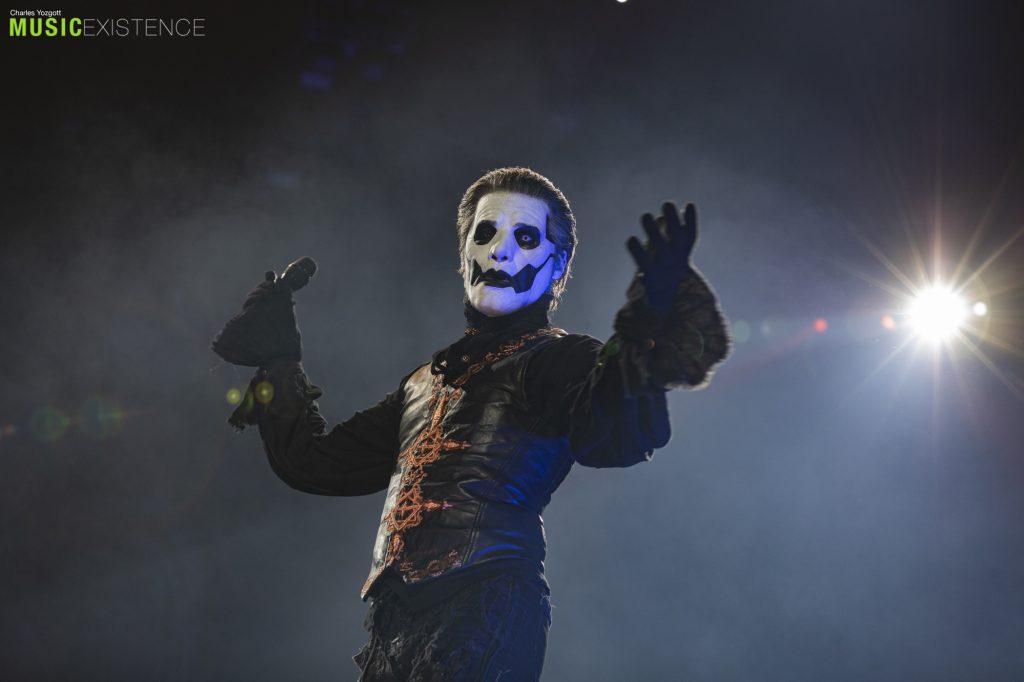 Twin Temple, who is from Los Angeles, CA, started the night off and made everyone a believer. Alexandra James held a book in her hand and began to read passages to the crowd and the crowd listened. She concluded the passages and then with all the band members they rose their hands in the air as devil horns and started chanting "Hail Satan". The crowd chanted back and the ceremony was under way. Zachary James then strummed his guitar and the unique blend of 50s and 60s rockabilly doo-wop with a Satanic theme graced our ears and had everyone dancing along. Only being able to play 4 songs, they still put on a great show and warmed up the fans for the night to come.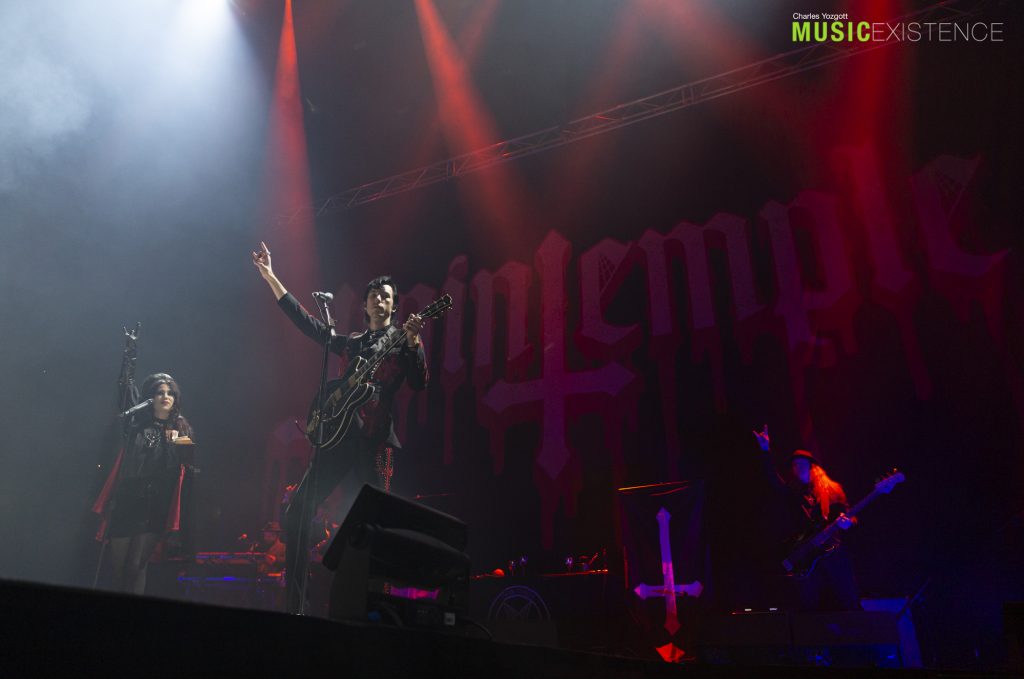 Danish rock legends Volbeat were up next and they brought the house down. The hard hitting drums and crunching sound of the guitars filled up the arena and had everyone out of their seats head banging and playing air guitar and/or air drums. The energy that was brought on stage by these 4 men transferred to the audience and everyone was having a blast. Their hard rock/heavy metal rockabilly style is a perfect fit to this tour and being more on the hard rock side of things these gents give it their all while performing. Jon Larsen on the drums sets the tone while bassist Kaspar Boye Larsen and guitarist Rob Caggiano move around the stage making it look easy to be a rockstar. Michael Poulsen sings like there's no tomorrow which captivates the audience and shows just how much he loves what he's doing. 16 songs including "Lola Montez", "Shotgun Blues", and "Seal the Deal" were gifted to the crowd and still they wanted more. Volbeat as a group sound amazing and put on a show that shouldn't be passed up. Make sure to check them out next time they're on tour.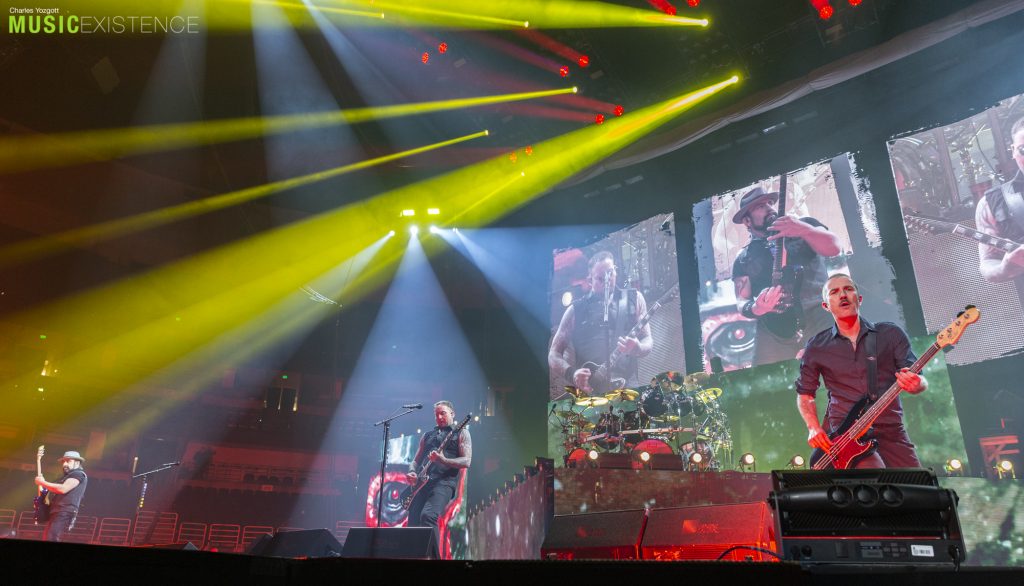 The time has come for what everyone had been waiting for, the Swedish hard rock/heavy metal band Ghost brought their ritual to Anaheim and performed in front of thousands of their followers. The backdrop with stained glass imagery set the tone as the Nameless Ghouls came out of the smoke covered stage floor. The night started with a new song from their highly anticipated new album Impera, which will be available everywhere on March 11th, called "Kaisarion". Next up was the huge single off of Prequelle called "Rats" and the entire arena sang along as loud as they could. Tobias Forge's latest rendition of the Ghost frontman is Papa Emeritus IV, who takes over for Papa Emeritus (I-III), and he looks younger and stronger than ever. Are we witnessing the 'Benjamin Button' effect of Tobias's character? What will the next rendition be? No matter what's next we all know that it'll look and sound amazing.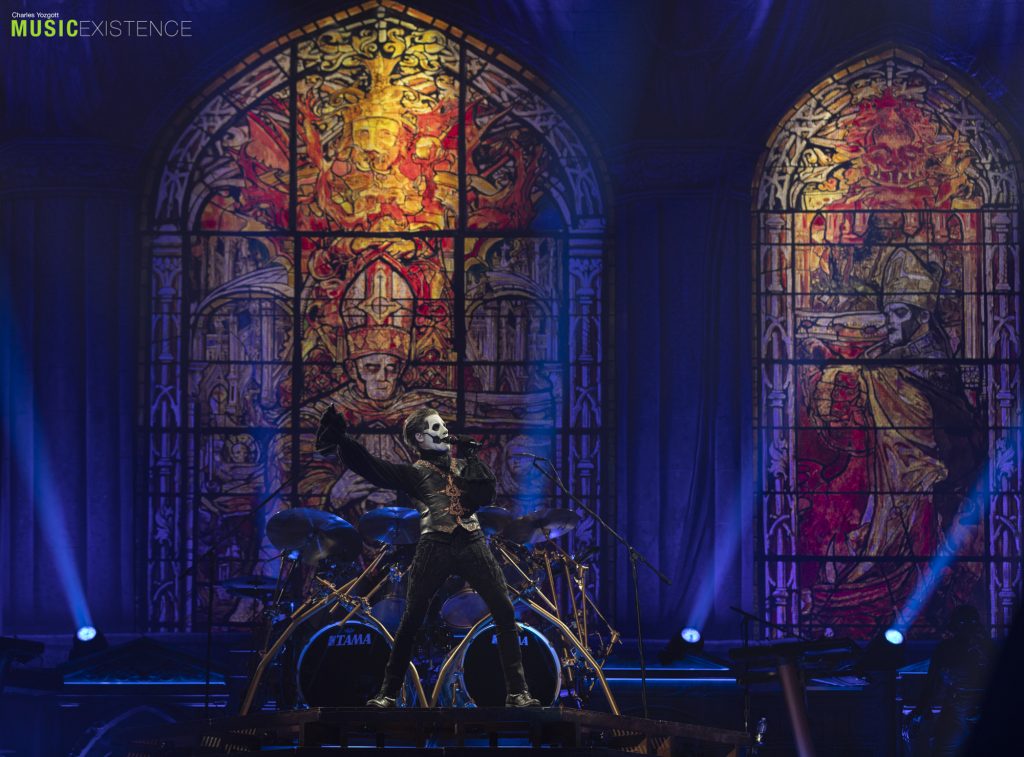 Playing fan favorites throughout the night like "Mary on a Cross", "Faith", "Ritual", and the new "Hunter's Moon" track, Ghost didn't hold back on the theatrics and gave a show like no other. The seven Nameless Ghouls, with their gas-mask like face coverings, played their part well by performing perfectly throughout the night. Right after the third song "From the Pinnacle to the Pit" the crowd on the floor started singing Happy Birthday to Tobias and more and more people joined in shortly after. With a few costume changes from Tobias throughout the night, confetti falling from the ceiling during "Mummy Dust", and fire blasting from the back of the stage, Ghost truly shows how to put on an arena show and give their fans nothing short of an extraordinary experience.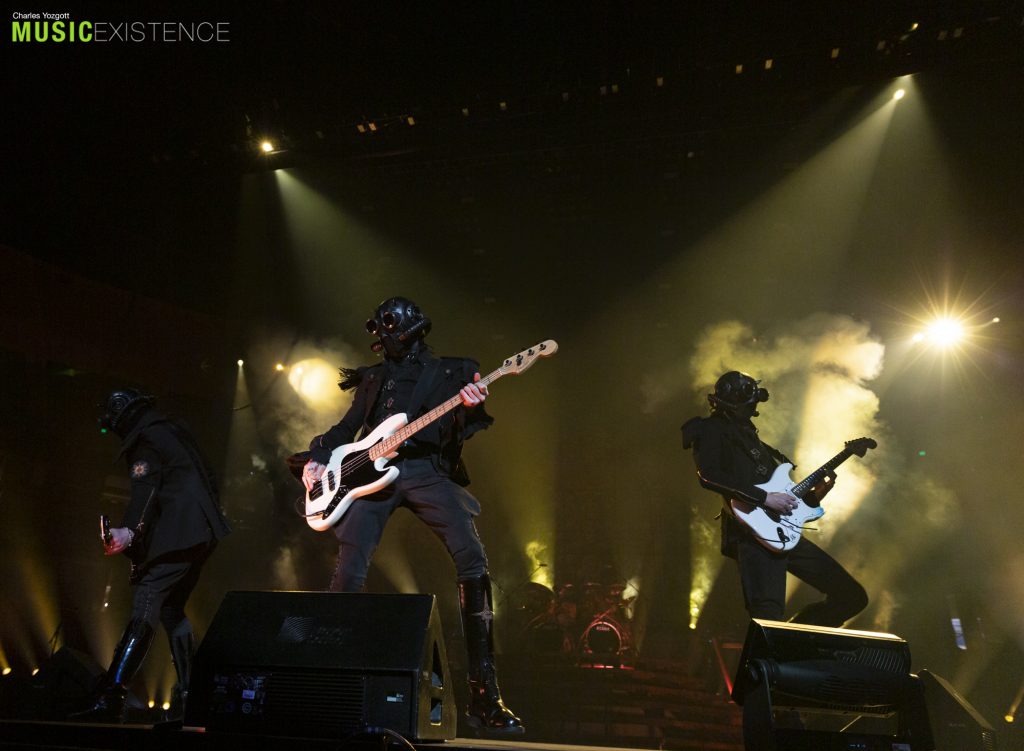 A couple highlights of the night was "Cirice", which won a Grammy in 2016 for Best Metal Performance, and their beautiful unique cover of Metallica's "Enter Sandman". "Cirice" is a song that you can dance and sing along to while head banging at the same time, it's a perfect mixture of pop and metal. Ghost's approach to "Enter Sandman" gives the track new life and transforms into a Ghost song while keeping the tracks identity a Metallica song. Not many artist can pull of cover songs and Ghost hits this one out of the park. Do yourself a favor and go see Ghost, Volbeat, and Twin Temples whenever they're playing near you in the future, you'll have a blast.
Twin Temple
Setlist:
In Lvx
Sex Magick
Let's Have a Satanic Orgy
I'm Wicked
In Nox
Volbeat
Setlist:
The Devil's Bleeding Crown
Pelvis on Fire
Temple of Ekur
Lola Montez
Sad Man's Tongue
A Warrior's Call/I Only Want to Be With You
Say No More
Wait a Minute My Girl
Black Rose
Shotgun Blues
Seal the Deal
The Devil Rages On
Doc Holliday
The Sacred Stones
Die to Live
Still Counting
Ghost
Setlist:
Kaisarion
Rats
From the Pinnacle to the Pit
Mary on a Cross
Devil Church
Cirice
Hunter's Moon
Faith
Helvetesfönster
Year Zero
Ritual
Mummy Dust
Enter Sandman
Dance Macabre
Square Hammer