---
On June 17th, Foals will release Life Is Yours, their highly anticipated 7th studio album via ADA/ Warner UK Ltd. Life Is Yours is the follow-up to the triumphant, two-part Everything Not Saved Will Be Lost. It proved to be a pivotal pinnacle in the band's story, leading to their first UK #1 album and a Mercury Prize nomination.
Yannis Philippakis says, "We wanted to refocus and do something that shared a DNA throughout the songs: a physicality, a danceability, and with energy and joyousness. It's definitely the poppiest record we've ever made. I feel that with Everything Not Saved… we touched upon all of the facets of our sound up until that point. This time we wanted to find a new way to express ourselves."
Life Is Yours is available for pre-order on all formats here. Standard formats include digital/streaming, CD, vinyl and cassette, while a selection of exclusive vinyl formats are also available. Foals' official store has a double-vinyl format, Amazon offers a transparent Curaçao-coloured vinyl, while key indie stores will stock a white vinyl version.
"Wake Me Up" was highlighted during the most recent Super Bowl as well as the NFL's Super Wild Card Weekend on NBC, and it is included in Fortnite's Rock & Royale radio station. The single is top 10 this week at both Alternative Radio and Triple A Radio on the Mediabase Airplay Charts. The band also shared the music video for "2am" directed by Tanu Muiño and filmed in Kiev with an entirely Ukrainian crew. The Ukrainian director is best known for helming one of the biggest videos of recent years with Lil Nas X's "Montero." Foals recently shared their love and support for the people of Ukraine here. Watch the music video here.
Foals – completed by Jimmy Smith and Jack Bevan – started the project within the dark, windowless confines of their south London rehearsal space during the winter lockdown. Feeling contained and tethered, they were drawn towards spirited sounds that looked to a brighter future, not only in terms of climate but also in terms of the unreplicable thrill of performing live. By the time the process reached its conclusion, the verdant summer surroundings of Real World Studios near Bath matched the album's ardent atmosphere.
The band also collaborated with numerous producers on various tracks. The album's varied creative voices include John Hill, Dan Carey, Miles James and A.K. Paul. Much of the album was subsequently mixed by ten-time Grammy Award winner Manny Marroquin, with several tracks mixed by another multiple Grammy Award winner, Mark 'Spike' Stent.
Life is Yours album art: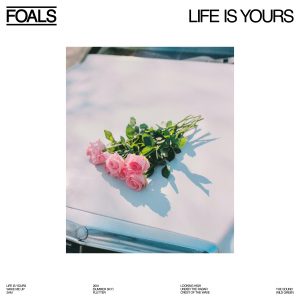 Life is Yours tracklist:
'Life Is Yours'
'Wake Me Up'
'2am'
'2001'
'(summer sky)'
'Flutter'
'Looking High'
'Under The Radar'
'Crest of the Wave'
'The Sound'
'Wild Green'