On November 12, 2021, RNU Records newly signed contemporary gospel Artist & Songwriter, Anisa Fowler, released her second music single, "Covered". Written by RNU Records Owner and Anisa's Manager Joshua Arnoux, the single was produced by Brandon Daniels, recorded at Bunker Studios in Brooklyn and Ian Productions in Long Island, New York. The song is affectionately-ladened with soulfully clear and powerful vocals, accompanied by a rich piano performance; and the free flowing instrumentation of an acoustic and electric guitar.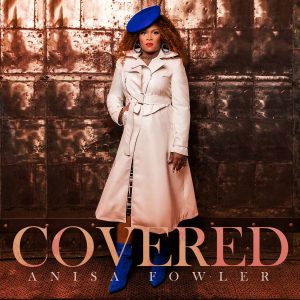 Spanning 5:08 in duration, the worship ballad invites the listener into an introspective space through its piano keys. The song is cradled by an organ that embodies the presence of an early Sunday morning church service, hands lifted up, already in progress. To its left, the strums from a warm acoustic guitar blanket the wistfully soft lyrics ebbing and flowing their way into the musical arrangement through Anisa's vocals. Anisa does an extraordinary job remaining present in her performance, rich in tone and confidently attending to each musical-note presented in the piece. Anisa shows an impeccable ability to deliver substance in her vocal phrasing.
Press play to preview "Covered" by Anisa Fowler; Joshua Arnoux 
The lyrics to "Covered" were inspired by the impacts of the COVID-19 pandemic (and its variants) on our shared mental, emotional and spiritual health. Anisa realized that the state of the world, the level of panic, worry and anxiety caused many to question their faith, beliefs, personal well-being, livelihood and safety. "Our nation and our world need to be reminded that God has us covered. We  [Joshua Arnoux, songwriter] knew that we needed to write an anthem that people could sing over and over to encourage themselves that God has them covered."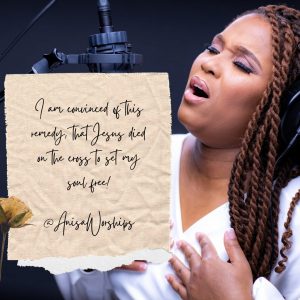 When asked the question, "Who needs to hear this song?" Anisa strongly emphasized that though this may be a gospel song, it was written and sung with the healing of the entire world in mind, "Every person across the globe. This song is a global anthem. It's important to note that yes, we have a world pandemic.  But also, we each have our personal pandemics. 'To the mother that feels like giving up…He's covering your mind and your heart.' I speak these affirmations in my ad libs because people are dealing with more than the pandemic.  I want them to know that God is '…seeing about you' no matter your personal struggles."
The song successfully conveys this mission and is rich with conviction in this musical ensemble. The track builds into generous levels of instrumentation as the song continues to play out. The addition of electric guitar strings adds a degree of edginess that taps into the pop appeal for the single. The bass-line is firm in tonality, offering a solid foundation of sound that supports the melody of the lighter percussion and wind instruments. As far as vocal technique goes, Anisa goes toe to toe building in intensity with the band, never shying away from the message or the dynamism she possesses in her own right. The artist-songwriter recalls the first time she heard the song demoed to her, "He [Joshua] sent it to me over a voice note after he penned the lyrics. The second I heard it ["Covered"], I knew it was a message that needed to be shared because it hit home with me.  We tweaked a few things to make it flow together perfectly, and then we began the process of recording it."
Anisa also expressed her plans to release new music in the Spring of 2022, "I am so excited for the world to hear the upcoming EP album we've been working on. We are also hosting an album release concert as well, so stay tuned!"  She added that the single "Covered" is included on the upcoming EP.  The EP project also contains Anisa Fowler's first music single, "You Reign" (released, 2019) along with additional musical compositions from Anisa. The single, "Covered" is  available on the following music streaming platforms: to purchase the single "Covered" visit Anisa's Fowler's  iTunes/Apple Music; to stream now, visit the music platform Spotify. If you'd like to stay up to date with newly released music and videos from Anisa Fowler, subscribe to add"Covered" to your on Youtube.com playlist. "Covered" is also available for download on Amazon Music. For new fans, booking and more information, follow:  @AnisaWorships & @RNURecords Instagram! May all those who have ears to hear and receive the enrichment of the song, "Covered" be uplifted and blessed by its philanthropic and benevolent message of hope.