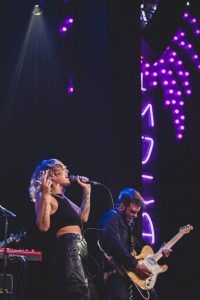 Hailing from Ontario, Canada, JJ Wilde is breaking down barriers and sparking a buzz in North America's music scene. With an unmistakable rock 'n' roll attitude and a roaring voice to match, Wilde's music and stage presence are just as alluring as you'd expect of an up-and-coming star with the credentials she boasts. To put it succinctly, she is the cool girl that we all aspire to be. Her debut single "The Rush," off her 2019 EP, Wilde Eyes, Steady Hands, simultaneously reached No. 1 on Canada's Modern Rock, Active Rock and Mainstream Rock charts in May 2020, only one of eleven songs to ever accomplish this achievement. She notably reigns as the first female artist to have a debut single go No. 1 on all 3 Canadian rock radio formats and spend 10 weeks on top. The single has since accumulated over 9 million Spotify streams and has served as an impressive glimpse into her wild world of rock that she is charismatically luring us into.
Wilde's debut LP, Ruthless, was released in 2020 and went on to win her "Rock Album of the Year" at the 2021 Juno Awards, making Wilde the first woman to win the award in 25 years, proceeding Alanis Morissette. With these accolades surrounding her name, she has garnered plenty of hype around her presence in modern rock, but proves her place when she hits the stage. Over the past few years, she has completed a string of tour dates with acts like The Struts, The Glorious Sons, The Blue Stones, Reignwolf, and Incubus. Now as stages reopen, she joins the Grammy-nominated blues-rock band, The Record Company, across their North American Play Loud tour.
Performing at the Paradise Rock Club to a mixed crowd of about 600, Wilde did not have to try hard to enchant the room. Many fans were there just to see her, and made their devotion known as shouts were thrown around for the duration of her 30-minute set. Even if the club was stagnant or unresponsive to Wilde's magnetism, she would electrify it all on her own. Accompanied by a 4-piece band, their synergy was cohesive and charming. Making her way through the 7-track setlist, Wilde exaggeratedly danced and stomped her way around the stage, feeding off the energy of her bandmates and the crowd. She laps the stage with a swagger in her step that exudes confidence and burns with an infectious empowerment that set the stage ablaze.
Bolstering a back catalogue exceeding 500+ songs, one LP and two EPs under her belt, Wilde is asserting herself as a voice to be heard, and what a voice that is. Her natural huskiness is immediately captivating, yet the depth of her songs makes you listen closer. With lyrics that are personal and unapologetic, their autobiographical nature comes in a form of therapeutic release. Wilde's music translates naturally in a live environment, as she pours her heart and soul into each lyric. The rawness and sincerity in her voice is palpable as she belts each word. There were moments during "Knees" and "State of Mind" where she lived transfixed in her own world, yet her grandeur and coolness drew you in, even if only as a voyeur. Ending with her latest single "Mercy" proved to be the showstopper of the set. Wilde's performance was a spectacle, belting and grasping her microphone for dear life while she thrashed across the stage. The emotionally charged rock performance left fans reeling, eager for that liberating feeling to return. The Record Company then satisfied that craving and with a two-hour set including last minute setlist swaps for a fan request. The show was truly exhilarating from start to finish, cementing JJ Wilde and The Record Company as a must-see tour of the year.
Play Loud Tour – more info here.
10/25 – New York, NY – Irving Plaza
10/27 – Philadelphia PA – Theatre of Living Arts
10/28 – Washington, DC – Lincoln Theatre
10/29 – Harrisburg, PA – XL Live
10/30 – Carrboro, NC – Cat's Cradle
10/31 – Charlotte, NC – The Underground
11/02 – Knoxville, TN – Bijou Theater
11/04 – Asheville, NC – The Orange Peel
11/05 – Athens, GA – Georgia Theatre
11/06 – Nashville, TN – Brooklyn Bowl
11/07 – St Louis, MO – Delmar Hall
11/09 – Madison, WI – The Sylvee
11/10 – Minneapolis, MN – Varsity Theatre
11/11 – Des Moines, IA – Woolys
11/13 – Boulder, CO – Fox Theatre
11/14 – Englewood, CO – Gothic Theatre
11/16 – Boise, ID – Knitting Factory
11/17 – Seattle, WA – Neptune Theatre
11/18 – Portland, OR – Roseland Theatre
11/20 – San Francisco, CA – The Fillmore
11/22 – Los Angeles, CA – Teragram Ballroom
JJ Wilde Online: Website | Facebook | Instagram | Twitter | Spotify | Apple Music