Sex energy is creation energy. Victoria Leanna, Artist and Songwriter, takes this metaphysical principle seriously as she uses it to create and channel her inspiration, musical sounds and influence.  On October 13, 2021, the Artist, Songwriter and self-proclaimed, Goddess released her highly anticipated, 8-track album (runtime 25 minutes and 57 seconds) entitled, "Goddess Time". The Artist is passionate about the energy she emotes in her music, stating that she "…make[s] love to [her] husband often during seasons of musical creation…" Victoria continues on to share her point of view regarding the space in which most artists channel albums and notes that, " …too often artists are inspired by disappointment and heartbreak. They use pain-energy to create. I believe music should be high-vibrational and that is the space I choose to create from. Sex energy helps me to create."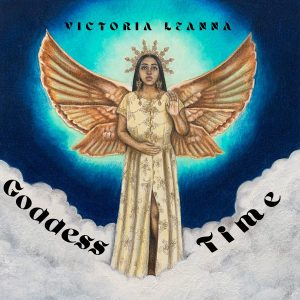 Sex and creation is evident as the project drips with sensuality and the sweet appeal of seduction (even in the moments she opts to show her edgy attitude in lyrical delivery on the intro track, Goddess Time, the traces of a silky appeal blankets itself around her words and folds itself into listening ears. By her side to support her efforts, as the sole producer on the  'Goddess Time' album, Shalom Melchizedek, also a a co-songwriter on the project, penetrates each song with masculine force and influence through selective instrumentation. Shalom chooses to blend much of the musical composition with the elements of Rhythm and Blues, and new age Dance the conception of the combined sounds on this album places us in mind of EDM (electronic dance music). EDM as a sound has become popular across various demographics and audiences in place of dubstep (a genre of EDM originated in South London), and that fares well to the Artist's and Producer's recent transition from California to Florida, where a revival of EDM in the Miami scene is much needed!  
The album Goddess Time opens up with the album-entitled song, and Victoria reaffirming her throne as a goddess, challenging the popular "Demon Time" vernacular that refers to late night hours of love making and erratic sexual escapades. Victoria Leanna stressed in song, "…if you're gonna [explicit] me, you better [explicit] me right." I'd imagine, no matter what time of the day that is. Knowing that she will not settle for less than being pampered and worshiped, she opens with a smoky spoken word, likened to rap, in syncopation with the beat. Track two, Am A Goddess, is a synth laden trance style track with Victoria Leanna leading into the song, echoing a repetitive hypnotic phrase, "I am a Goddess." She pulls her listeners in with seductive vocals into an upbeat flow and back into her vocal trance.
On Body To Body, Shalom Melchizedek opens with potent vocals on the chorus, solidifying his presence for the first time in the project. The concept plays on his attraction to a goddess, Victoria, his unexplainable attraction towards her energy and his insatiable desire to know, "I wanna know what's going on…" what it is he is feeling and why. What's most impressive about his delivery is his ability to contain the power of his own voice to match that gentle quality of Victoria's. Victoria Leanna, eager to grant him clarity on the 'power' she wields over him,  joins in adding wispy high register tones as they chant, "body to body…so spiritual…energy on me…" her perspective entering confidently to engage him in her femininity and sex appeal. The song is written in such a way that both Shalom and Victoria are of the same mind regarding their desires, pleasures and ultimate fulfillment.
The album includes several notable tracks such as Island, that highlights longing for connection during separation between two lovers; Ain't Nobody, an EDM inspired interpretation cover song from the great Chaka Khan; and a revisit to her popular first single from the album, Je Ne Sais Quoi, which to date has received close to 40,000 spins on Spotify alone, and is projected to see an additional surge after the albums releases. Her second single from the album entitled, Trust My Body (remix), has been re-released on the album with a solid hip-hop feature by New York City's own DJ Celsius. The remix to Trust My Body spearheads the project with an electric blend of kicks and keys. The instrumental is driven by a prominent bass drum accompanied by Victoria Leanna's voice loop singing a whimsical, "I trust my body" the variations in her voice coupled with the rising peaks and falling valleys of the instruments lock the listener into a dance groove reminiscent of the stylings of Jennifer Lopez and Dua Lipa. Goddess Time closes with Holy Matrimony, a song that complements Trust My Body as a follow up track because it maintains the energy but doesn't get too heavy lyrically.
Overall, the album "Goddess Time" is a great listen for those that prefer "feel good" music and subscribe to the notion that energy doesn't lie. If you are searching for an uptempo chill, with lo-fi vibes and EDM inspired R&B, then Victoria Leanna and Shalom Melchizedek's new collaborative album should definitely be cued up into your playlist and rotation (in love-making and in play).
The new album "Goddess Time" can be streamed on the major music platforms iTunes/Apple Music, Spotify, Tidal, Google Play, Amazon Music and whenever music streaming is available. You won't be disappointed!
Click the playlist below to listen to "Goddess Time" by Victoria Leanna & Shalom Melchizedek via Spotify!
Want to connect to Artist & Songwriter Victoria Leanna? Follow her on these popular music platforms: 
Want to connect to Producer & Songwriter Shalom Melchizedek? Follow him on these popular music platforms: