---
8123 Fest first originated in 2017 in Phoenix, Arizona as a tribute to and celebration of The Maine's hometown. It provided an opportunity for fans worldwide to experience the desert where their favorite band originated, as well as rewarded the local fanbase with a true festival experience.
Since then, the festival has only grown – seeing it double in size and sell out in its second year (2019). Delayed by a year due to the pandemic, January 2022 is the official return to Phoenix for 8123 Fest. This time around, fans can not only expect the main festival date – but multiple side shows, a themed afterparty, an opportunity to get involved with an impactful volunteer day, and so much more. 8123 Fest provides fans with the chance to come together and get to know The Maine on a deeper level by experiencing the valley where they grew up.
"The weekend of the festival is our time to have all things The Maine happen in one place. Coming together are our friends that we have toured with plus the fans that we have met from all around the world, all in our hometown where the songs were written and where it all started. We are so excited for the return of 8123 Fest" says The Maine's drummer Pat Kirch.
The festival is scheduled for Saturday January 22nd, with associated events happening from January 19th through 24th. 8123 Fest is proud to announce it's mainstage lineup featuring headliners and festival founders The Maine.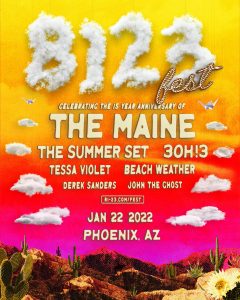 The band will be celebrating their fifteenth anniversary during the festival, have recently reached a new level of success through alt-radio with their hit single "Sticky". The song was the first released track off of their new album XOXO: From Love & Anxiety In Real Time, and has been holding strong at #11 on the radio charts. The band is currently back on the road with Sad Summer Fest alongside All Time Low with no plans of slowing down anytime soon.
8123 Fest marks another special occasion – the reunion of The Summer Set, who will take the stage together for the first time in five years. Vocalist Brian Dales says, "If there's any silver lining to such an arduous year, it's that it brought us home to Arizona, forced us to look inward, and allowed us to make some new music again just for fun. When The Maine asked us if we wanted to join 8123 Fest, we knew it was time to put that music out into the world. We've been playing shows with The Maine for almost fifteen years now, including our last show together as a band at 8123 Fest in 2017. I think it's time to pick up where that story left off in 2022." Fans can also look forward to new music – The Summer Set have also announced a brand new single "Street Lightning" which drops Friday on Adventure Cat Records.
The festival is an opportunity for fans and bands to reunite and experience the magic that music holds in its ability to bring people together. And after nearly two years apart, it's a promise of hope on the horizon.
Early Bird tickets for 8123 Fest are onsale now and can be purchased HERE.