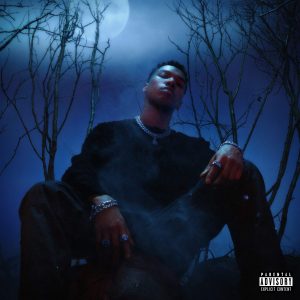 Meet Boslen – the newest artist to break out of British Columbia who has been striving to give the West Coast proper representation in Canada's booming hip hop scene. Signed to Capitol Records, Boslen just released his debut album DUSK to DAWN and has been blowing up streaming services with tracks like "DENY" (feat. Tyla Yaweh) and his latest single "QUARTZ" featuring Canada's own Charmaine. Music Existence recently spoke to Boslen about the new album, performing live and creating a cinematic world for his music to live in.
Music Existence: You were a professional rugby player for Team Canada before switching to music full-time after getting injured. Was writing music therapeutic for you during such a major life transition?
Boslen: Absolutely. I found myself falling into a state of depression after my injury. I devoted 6 years of my life to rugby and I thought that it was going to be the way I would provide for my family. Once that was taken from me I knew I had to transition my focus elsewhere, and that became music. Writing and performing became the only way I felt that I could express myself and be able to inspire other people going through similar experiences.
M/E: What are the similarities between being a professional athlete and being a touring musician?
Boslen: I think the main similarity would be the mentality. If you are an athlete or an artist you have to know that nothing happens overnight. Everything takes time and practice. In Hip Hop specifically it feels like there is a constant feeling of competition, which I can relate to sports. The transition was easy for me because I felt I was going into something new with nothing to lose and everything to gain.
M/E: Kid Cudi's been a big influence on your music since the early days. What is it about his career you admire most?
Boslen: He just knows how to talk to the youth. A lot of artists speak from experience, but I think what made me love Kid Cudi's music was that so much of it is unfiltered and raw. I resonated deeply with what he was saying and that ultimately motivated me and inspired the music I make today.
M/E: DUSK to DAWN presents two different sides to your music; with the "dusk" songs being lighter and the "dawn" songs representing ideas of an awakening and/or challenging the system. What sparked the idea to have competing narratives throughout the album?
Boslen: The idea came from my personality. I wanted this project to feel genuine, like an unmasked representation of who Corben really is. Covid eliminated any opportunity to be face-to-face with supporters and build that emotional connection. I think the Dark and Light sides of this project helped me "hit two birds with one stone", because some days I would struggle and be down on myself and others I would be amazing. That balance we all chase is something I sometimes struggle with and I think the music is reflective.
M/E: Your latest single "QUARTZ" features fellow Canadian Charmaine on the track. What was it like collaborating with her?
Boslen: She is an amazing artist. Her personality more than anything else made me respect her. She doesn't have an ego and that made our conversations feel unfiltered. Collaborating with her on a song that has such a high energy gave both of us a chance to show a bit more of our personalities with some different flows.
M/E: Looks like the video for "QUARTZ" was filmed in both Toronto and Vancouver. Why did you want both cities represented in the video for this track?
Boslen: It has always been a goal of mine to combine the East and the West coast of Canada on a track. Toronto is and will forever be solidified in the music industry due to the amount of amazing artists that come from there. Vancouver is still very young in its musical lifetime. I really conveyed how I feel about this on the song NOTE TO THE CITY. The comparison of both cities will always be there, but collaborating only brings light and benefits to both.
M/E: The title DUSK to DAWN, seems like it would create a lot of fun visuals along with a cinematic element to your music. What has been the driving force behind all the creative images and videos for the album?
Boslen: I started to look internally. I wanted all the visuals and creative assets to really fit with the music. Natasha, my creative director and I discovered that to paint a picture it takes leaving no stone unturned. The process was honestly a lot of conversations late at night and thinking ahead to how we want this to be perceived years from now. Another pivotal point for the imagery on this rollout was a philosopher named Carl Jung. He came up with the Shadow Theory, and how everyone has or can project their shadow onto someone else. For me, I took that and used the idea around it to be introspective on this project.
M/E: Because of the pandemic, there's probably a lot of fans who haven't had to opportunity to see you live yet. Have you thought about how you want to craft a live show for your new music?
Boslen: I always appreciate 360 artists. Artists that could perform just as well as they create or lead. Performing to me is just as important as the music itself, it gives me the opportunity to make moments with some of my supporters like never before. Visually, Natasha and I have been thinking about this for awhile, I want the live shows to not only be an experience, but a chance for someone to truly see the madness behind the music.