Michael Burman was born in New Jersey, but moved to South Florida as a baby with his family where he grew up. He always had a love of music, however he didn't pick up the guitar until college. Once picking up the guitar, Michael became obsessed with the instrument, progressing very quickly, and playing in multiple rock bands in the Miami area. He graduated from the University of Miami with degrees in Biology/Chemistry as well as a second minor in Music Business, which he added midway when he realized that he wanted to work in music.
After graduating, he began recording his own rock music as a solo artist. It is at this point he met super producer Jim Jonsin, who inspired him to pursue a career in songwriting and music production for artists in all genres. Michael began working in recording sessions alongside Jim, who signed him to a publishing deal. Michael would write and produce in sessions for a variety of artists. Being heavily influenced by rock guitar, he would incorporate a lot of guitar elements into his productions.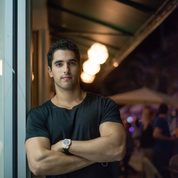 Michael relocated to LA in 2018, where he continues to write and produce, as well as work on music for tv and film.
Michael has worked with a diverse group of top selling musical artists across all genres from A$AP Rocky to Carrie Underwood. He is known for breaking boundaries with his unique guitar driven sound.
Music Career highlights:
Songwriting and Music Production, Miami, FL / Los Angeles, CA                                                    Oct 2014-Present
Songwriter and music producer
Co-wrote single for Def Jam artist Big K.R.I.T. in 2014, which led to the signing of a publishing deal with music producer Jim Jonsin and BMG music publishing; wrote and produced music in recording sessions for major label recording artists and joined the Recording Academy as a voting member in November 2015
Secured first Billboard #1 on the Top Rap Albums chart in 2014 for "Cadillactica," by Big K.R.I.T.; credited as co-writer
Secured Billboard #1 on both the Billboard 200 chart and the Top Rap Albums Chart in 2015 for work on "AT.LONG.LAST.A$AP," by A$AP Rocky; credited as co-writer
Secured Billboard #1 on the Top Rap Albums Chart in 2015 for work on "General Admission," by Machine Gun Kelly; credited as co-writer
Received RIAA Gold award for 500,000 certified units of the album "AT.LONG.LAST.A$AP." by A$AP Rocky in 2016
Received RIAA Gold award for 500,000 certified units of the single "L$D," by A$AP Rocky in 2016
Received RIAA Platinum award for surpassing 1,000,000 certified units of the album "AT.LONG.LAST.A$AP." by A$AP Rocky
Secured Billboard #3 position on the Top Rap Albums Chart for the album "Testing," by A$AP Rocky in 2018; credited as co-writer
Secured Billboard #4 position on the Billboard 200 Chart for the album "Testing," by A$AP Rocky in 2018
Received RIAA Gold record award for 500,000 certified units of the single "The Champion," by Carrie Underwood
Secured Billboard #1 position for the album, "Cry Pretty," by Carrie Underwood on the Billboard Top Country Albums Chart in 2018; credited as guitarist
Secured Billboard #1 position for the album, "Cry Pretty," by Carrie Underwood on the Billboard 200 Chart in 2018
Received RIAA Platinum award for surpassing 1,000,000 certified units of the single "L$D," by A$AP Rocky
Received RIAA Gold award for certification of 500,000 units of the album "Testing," by A$AP Rocky
Received American Music Award in 2019 (AMA) for the album, "Cry Pretty," by Carrie Underwood ("Favorite Album – Country")
Received RIAA Gold record award for over 500,000 certified units of the album "General Admission," by Machine Gun Kelly
Co-produced and co-wrote the song "Like I Love You" on Yelawolf's album "Trunk Muzik 3"
Stream Michael's Music Here:
Follow Michael Burman Here: