Sarantos is a DIY international award-winning solo music artist, singer-songwriter, proud nerd, multi-instrumentalist, book author, comic book nut, radio show host, poet and part time spy. His music is a cross between Queen, Michael Jackson and Ed Sheeran. 2021 is Year #8 of his journey. Sarantos continues to release a new song, music video, book chapter and poem every month shaping his music to life! In 7 years, he has released 14 albums with 178 original tracks as well as 7 fiction/fantasy books that parallel the songs! He has had numerous media placements for his songs, instrumentals & cues.
Sarantos has been nominated for the International Music & Entertainment Association Awards,Hollywood Music In Media Awards, Josie Music Awards and the Hollywood Songwriting Awards. He currently has over 1 million Social Media followers and has been consistently rated #1 on Reverbnation in the rock and even pop genre worldwide.  Sarantos has performed at multiple venues including the Toronto Music Festival to a sold-out live audience. His May 2021 single, "I Never Catch The Train" reached #1 on the iTunes South Africa chart, and stayed there for multiple days. It also hit Top 5 on the UK ITunes charts!
The host of "The Songwriter Show" sat down with us for this exclusive Q&A to talk about his career…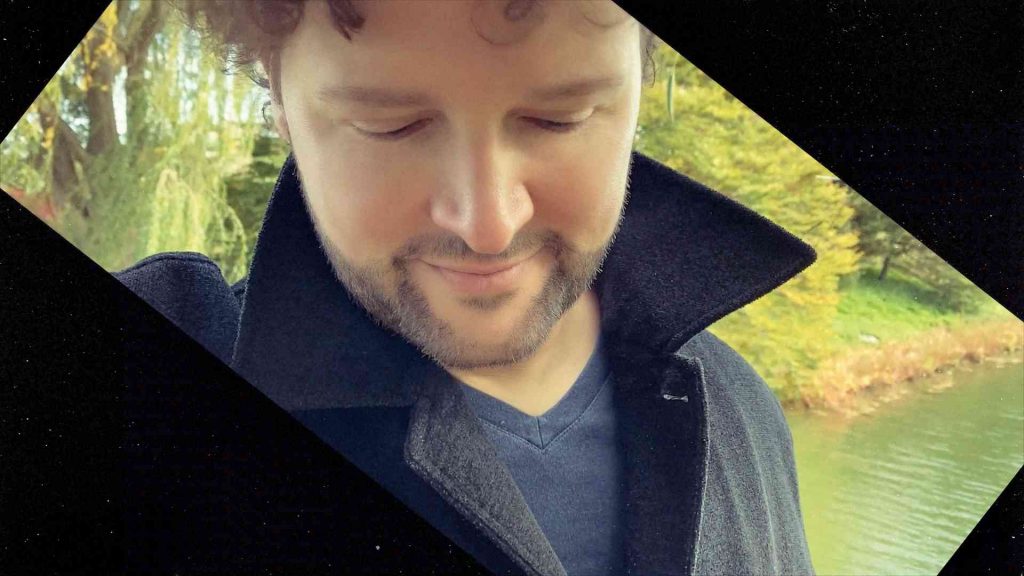 How did you get started in music?
My passion for music began before I knew what the word passion meant. I began writing lyrics as a small child while "people watching" in my family's restaurant. Of course, that was when I wasn't working and helping out as a cook, dishwasher, waiter or cashier. In those days, I always carried a pad of paper, loose-leaf sheet, or even a napkin. I never knew when the inspiration would strike. Recently as technology has evolved, my iPhone has willingly become the keeper of my lyrics. My family was very friendly toward music and although my parents did not play any musical instruments, we routinely listened to music, danced and enjoyed each other's company with music as much as we could.
Who are your top musical influences?
I'm inspired by many many people but the top five are Survivor, Journey, Queen, Michael Jackson and Ed Sheeran.
What about personally?  Who influences your life on a daily basis?
I have undergone several personal challenges in the last few years but my dad's passing away in 2010 after a long, hard-fought battle with lung cancer really put me over the edge. I had also personally dealt with some health issues like asthma and allergies, which severely affected my singing style. After mourning my father's death for a long time, I woke up one day and decided that the timing was finally right. This was always my lifelong dream and I was tired of doing nothing about it and watching life pass me by. My main inspiration, however, is to raise money for charity. A nice chunk of any music related sales go straight to charity!
Have you ever mentored or taught any other musician?  If so, what advice did you offer?
Absolutely especially on the Songwriter Show. Never stop and be yourself.
Who are you listening to these days?  What's the last album you listened to?
Everyone and anything I can get my hands on. Ed Sheeran's newest.
Who is one artist that you like, that your friends and fans would be surprised to know?
Def Leppard.
What has been the highlight of your career, so far?
In 2017, I had two songs submitted and accepted for consideration for a Grammy Award for Rock Song of The Year & both songs made it to the final 300 and the last round of voting!
Tell us about the best gig you've ever played?
I've been lucky enough play a bit. If I had to pick one today, probably Toronto Music Festival.
Let's talk about your single, "EyeBANGing."  How did you write it?  How was the recording?  Who played on it?
It's just a cool pop dance song that has such a universal theme that I think appeals to a lot of different people. I love the emotional melody of the vocals and the groovy rhythm. song is about the uncomfortable situation we place others in when we cannot stop staring at them in a public venue. Beauty is often in the eye of the beholder but when beauty takes your breath away, we might not notice our mouths gaping open and our eyes bulging.  The message is to be respectful, courteous and tactful. This song pushes the envelope both lyrically and harmonically but settles in nicely with a catchy & wildly infectious chorus melody. And music video flips the script – a  middle aged man thinks everyone at the club is staring at him but he's just being creepy and delusional. Oh and by the way, yes those are all mannequins he's dancing with… I'm the only songwriter on it and I played all the instruments and parts.
What's next for you in 2021?
I am currently working on my next music video launch. I just had a song place on the top 3 in the UK for iTunes on the Singer Songwriter charts. It's going to be an exciting year!!
Do you have any shoutouts you want to give?

SHOUTOUT TO ALL MY FANS – YOU ARE AWESOME AND I LOVE YOU!!
Where can we hear your music online?
Here are some links where for free, you can listen to the song and view the video:
Website
Sarantos Youtube:
http://www.youtube.com/user/SarantosMelogia
Sarantos Apple Music:
https://music.apple.com/us/artist/sarantos/784136489
Sarantos Spotify:
https://open.spotify.com/artist/0fSzbfDxSHL10T1ryPsRLQ
Sarantos Pandora:
https://www.pandora.com/artist/sarantos/ARkbdtZ3mtdXgV4
Sarantos Facebook artist page:
https://www.facebook.com/Sarantosmelogia
Sarantos Twitter:
http://www.twitter.com/sarantosmelogia
Sarantos Instagram:
https://www.instagram.com/sarantosmelogia
Sarantos Tik Tok:
@sarantos
https://www.tiktok.com/@sarantos/video/276492633601081344?source=h5_m