Sometimes you hear a song that you struggle to really describe, and you try to find the words but it's difficult. That's what I've felt trying to talk about the new single from Sarantos, the aptly titled "EyeBANGing" (out on July 1st). If anything, it's definitely very unique track, both from a musical and lyrical perspective.
Sarantos himself is an extremely interesting and fun person to talk about. In his own words, Sarantos is a DIY international award-winning solo music artist, singer-songwriter, proud nerd, multi-instrumentalist, book author, comic book nut, radio show host, poet and part time spy. If that description doesn't explain all you need to know about the man, nothing will.
It starts innocuously enough, with the harmonized voice of woman setting the tone of the song as an alluring jam, before it directly betrays it with some jaunty and upbeat synths that reveal the true nature of the song, that being a more humorous tune about a man who suspects someone of, without any hyperbole or exaggeration, eyebanging him.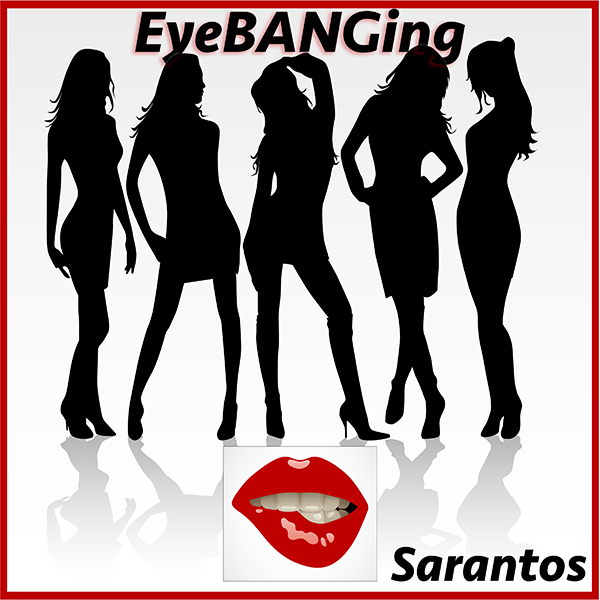 Of course, it's all very tongue-in cheek, it's not exactly a serious song. Even the vocal delivery by Sarantos is performed more with a touch of silliness than seriousness, and that's the mindset one needs to have going into this song. It's a pretty wacky and fun idea for a song.
There's a heavy echo and delay on the vocals, which gives the song this massive sound that adds to the atmosphere. "EyeBANGing" also has some truly fascinating lyrics, between all the eyebanging and mental gymnastics going on. Truly, the singer has tapped into some sensual form of crazy lust with the lyrics, it shows through and through.
If anything, you have to admire Sarantos' work ethic. He releases a new song and lyric video on the 1st week of every month, a new music video the 2nd week, a new book chapter the 3rd week, and a new Uncut Behind The Scenes video & Poem the 4th week of every month, and he does this every month.
Overall, "EyeBANGing" is a fun little track that's very enjoyable. Sarantos' work ethic means there's always going to be new content from him to enjoy, so we hope he keeps it up and continues to produce music. It's always nice having more fun music around to lighten the mood.
–Jason Airy