New Orleans based singer, songwriter and performer, Louise Cappi, is back with a new single that has a just the right kind of message for her listeners. In a time where so many people are struggling (i.e. the pandemic, financial trouble or just the daily struggles of a life that never stops), it is wonderful to listen to such a strong message from such a legendary artist.
Daughter of late great New York jazz guitarist, Al Cappi, Louise definitely shows a large jazz influence in her upcoming single, "Hope." The moment the music started, I could feel the spirit and essence of New Orleans in the sound. The flavorful mix of piano, drums, bass, guitar and Louise's full and distinct voice make for a very vibrant and easy listening experience that transports you to a smoky lounge off Bourbon Street or a barge cruising down the watery paths of Lake Pontchatrain. In either setting, Ms. Cappi is there, front and center with her band, to provide a warm and unforgettable listening experience. Her special brand of music is a perfect serving spoon for the soul warming lyrics that comprise her upcoming single that is aptly titled "Hope."
In her song, Louise poses the question, "What is hope?" Hope is the song in the night. It guides you from the darkness to the light. Hope is the anchor to the fear driven soul." The entire single is filled with words such as these. Words that inspire hope by reminding all of us what hope is and why it is so important to our existence. Louise has a natural talent for finding the right words and this is a lovely example of that timeless sentiment.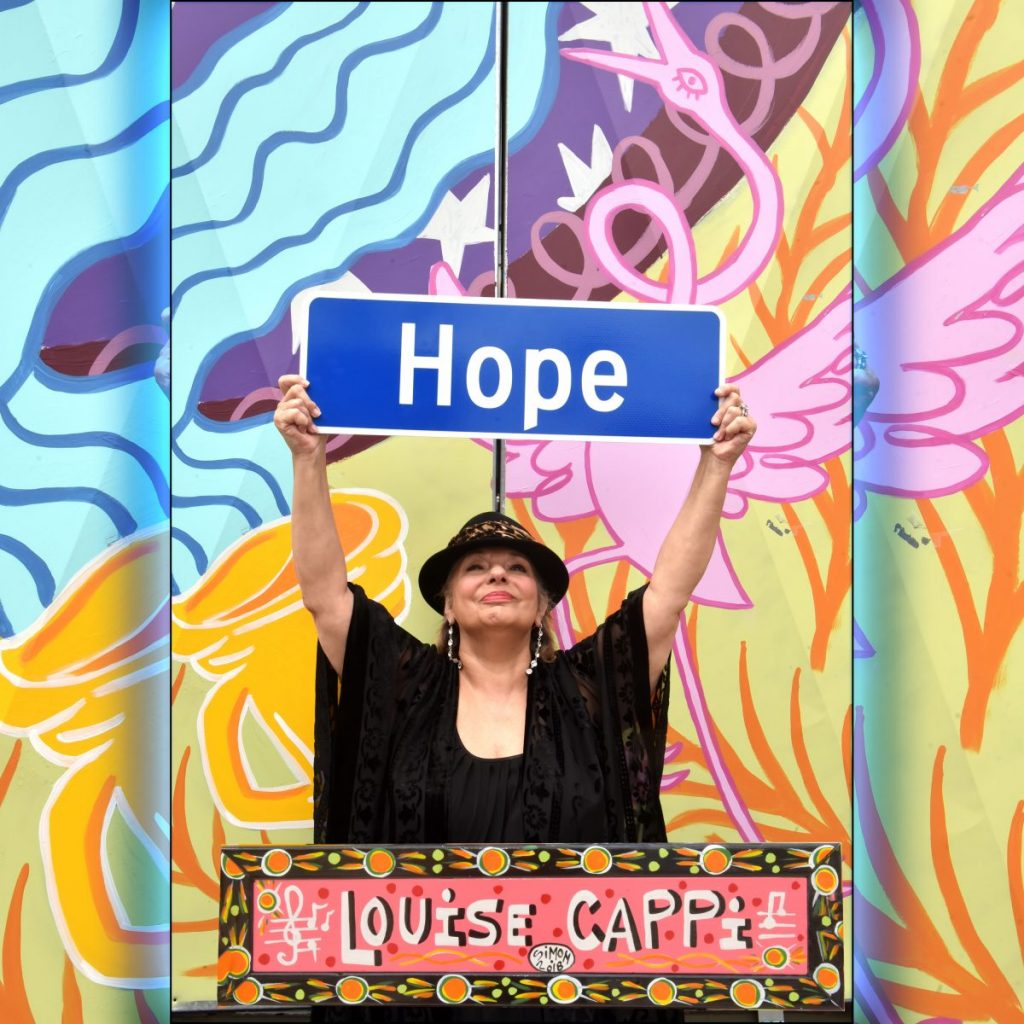 My favorite aspect of this song, and probably my favorite aspect of all of Louise Cappi's music, is her voice. Influenced by Jazz, weathered by time, and encapsulated by skill, her voice is without a doubt her greatest musical attribute. It is the perfect instrument to compliment her band. Collectively, it all fuses together to create a rousing wave of sound that is very characteristic of the New Orleans Jazz scene. A scene that she is very much a vital part of. Her backing vocals are just as powerful and unique as her lead vocals. Her tone reminds me of Bonnie Raitt as does her phrasing. There is a little bit more husk there and that is my favorite part. It tells me that the voice behind the message has enough experience with seeking and finding hope to qualify as an honest and believable preacher of that message. She sounds like she has been there before and what could be more comforting?
Louise's single "Hope" is also the title of her upcoming album, which is due this fall. Seeing as she chose to name the album "Hope," I have a strong the feeling that the entire body of work will be an inspired piece. She certainly has it in her. As an artist who has already given so much to her fans and to her craft, she seems perfectly content to keep on giving. That is her gift, and I am grateful that she has chosen to share it with us.
–Jordan Dillard