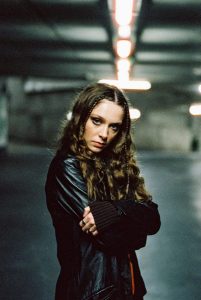 While most artists used 2020 to step back and reevaluate their career plans, the UK's Holly Humberstone went full-throttle in becoming the viral sensation that she is now. The songs on her 2020 EP Falling Asleep At The Wheel, collectively have over 60 million streams on Spotify alone. Over the past year, she has performed on Jimmy Kimmel Live, The Late Late Show, and most recently, Later…with Jools Holland. The support from British media conglomerates has only accelerated Humberstone's success which has now begun seeping into the North American media market as well.
"I've had a really fun year!" says Humberstone from her childhood home in the UK's East Midlands. "It's been like very strange and it's hard to process…but I'm so grateful for the past year and for everyone connecting to these songs." 
When she released her debut EP last August, the hype from her previously released singles landed her as Apple Music's Up Next artist of the month. From there, the success started to grow as fans continuously connected to her deeply personal and emotional piano ballads. "Especially after the year we've had and how disconnected everyone's been, I personally found the more vulnerable music is what I can connect to and I can find comfort in…so yeah maybe it is a really good thing. But I write mostly for myself so I don't really think about it until I'm about to release it." 
Lyrically tackling issues of anxiety, loneliness, and self-doubt, Humberstone's approach to alternative-pop music sees the multi-instrumentalist captivate listeners through her honesty and relatability. Her music is intense yet light-hearted and saw its first major live performance on the BBC Music Introduction stage during 2019's Glastonbury Festival. From there, lucrative touring opportunities presented themselves and saw Humberstone go on the road with Lewis Capaldi at the top of 2020. It wasn't long after touring wrapped that the world shut down and Humberstone's focus shifted to marketing her own music from the comforts of home. She started growing a presence on TikTok and signed major label deals with Polydor Records in the UK and Darkroom/Interscope Records in the US. 
Despite the success and impressive streaming numbers, Humberstone has never headlined one of her own shows. Given that venues are coming back and cities are opening up again, Humberstone has begun the process of curating her first headline tour in the UK and will prepare for her first set of American dates this fall when she plays Austin City Limits alongside Billie Eilish and Phoebe Bridgers. 
"I mean I have never, ever, ever been to the USA before which is going to be insane! I feel like it's kind of a classic thing for a British person to say, 'I want to go on a road trip around America and see it all,' but I actually really, really, do and I can't wait!" Speaking on Austin City Limits, she continues, "There are so many other amazing artists who are playing on that day and it will be really lovely to get a chance to speak to them or get a chance to see some other acts. I can't wait!" 
Apart from prepping for her new live show, Humberstone has also begun work on her sophomore EP due out later this year. The EP focuses on the confusing times that many of us face post-graduation. No longer confined to the comforts of school or living at home, Humberstone wrote about the anxieties and fear that come from moving to a new city. 
She explains, "I was at a different place in my life and I was going through all of these changes and started to get responsibilities, which was completely new to me and really scary. Being away from my parents, I don't know… just growing up and living in a city where I don't know anyone and stuff like that! Also, my inspirations are changing all the time."
While the new EP focuses on uneasy feelings of self-doubt, Humberstone as a songwriter discovered a newfound confidence in her music, having already established her musical style. "When I was writing the first EP I was establishing; who I was, what my sound was, and what I wanted my music to sound like. After I established that, it was so fun to go and write the next EP and experiment and have a bit more fun with it!"
Fans will also be excited to know the new EP will feature a special collaboration between Humberstone and The 1975's Matty Healy. The two were able to meet in person and co-write a song titled "Please Don't Leave Just Yet." 
"I think one thing that has been really cool during the pandemic, is that people have been available to write! Matty would have usually been off on a world tour so I would have never gotten the opportunity to write with him. But yeah, he's obviously been such an inspiration for me…I feel like I learned quite a lot from just watching him create. He's like some kind of genius." 
She hints that if you listen to the track carefully you'll be able to hear Healy singing but fans will have to wait a few more months until the song is released. Until then, fans can continue to support Humberstone by checking out her most recent video for "The Walls Are Way Too Thin," and keeping up-to-date on socials for more live dates to be announced soon. With her dynamic and vulnerable approach to songwriting, a Humberstone live show is not to be missed. 
Holly Humberstone Online: Website | Facebook | Twitter | Instagram | TikTok | Spotify | Apple Music