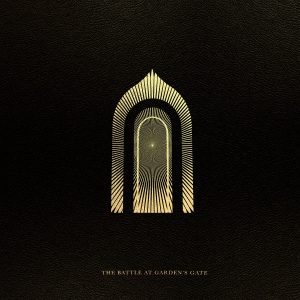 The meteoric rise of Greta Van Fleet is one of the most polarizing of a young rock band in recent history. When their debut EP Black Smoke Rising dropped in 2017 the excitement in the air for a rock n' roll revival had everyone talking about the young band from Michigan. But soon the comparisons to bands from the past quickly caught up to the group and created a divide amongst rock fans throughout the industry. Now, with two additional releases under their belt and three years of constant touring, the band is back with their sophomore LP The Battle at Garden's Gate. The 12-song album tells a cinematic story of rock n' roll and will only bolster to the ongoing debate surrounding the band.
It's evident throughout the album that Josh Kiszka's voice has matured and developed into something much more comprehensive. Whether it's wear and tear from touring or simply experience, Kiszka's vocal evolution has finally found its sound. The frontman brings a new sense of maturity to his lyrics, and his confidence on "Age of Machine" and "Broken Bells" should kick those mind-numbing Zeppelin comparisons to the curb. Meanwhile, his twin brother Jake goes through his own sonic evolution by opting for more psychedelic-inspired guitar solos that rely heavily on his wah-wah pedal. At times, he morphs into the love child of Jimi Hendrix and John Frusciante yet the album's eclectic nature keeps his solos modern with a striking twist. 
While blues rock might come easily for the band, piano-driven power ballads and spiritual rock n' roll is new territory. On "Tears of Rain" the song begins with an intricate acoustic guitar part, before segueing into a piano piece led by bassist/keyboardist Sam Kiszka. The addition of some angelic-like backing vocals and delicate guitar licks transforms this track into an emotional heartbreaker. On the contrary, "Trip the Light Fantastic" promotes peace, harmony and spiritual stability through the incorporation of Ram mantra chanting. Yes – you read that right! It's been a while since rock n' roll has embraced a spiritual element like this but wherever he is, I'm sure George Harrison is smiling. 
The album's most intense moments are found on large-scale rock productions like "Stardust Chords," "Built by Nations" and "The Weight of Dreams." These guitar forward tracks dive into themes of religion, environmentalism and corporate greed, with "The Weight of Dreams" being a staggering nine minutes in length. Most performers their age wouldn't dream of releasing a song of that nature (especially when the charts are filled with playlist-friendly pop songs that have been scientifically orchestrated to garner millions of streams online) but as we've seen before, Greta Van Fleet refuses to follow the blueprint set forth by today's modern music landscape. 
Media outlets across North America and Europe have been quick to dub this album as Greta Van Fleet's "prog-rock" LP, when in actuality it's much more than that. Yes, these songs are expansive and diverse in nature but the wealth of influence hails from all aspects of rock n' roll. If you've ever seen the band live, you'd know a full-length cinematic spectacle of an album isn't that surprising for a band who does that on stage every night. "The Weight of Dreams" has been played live since early 2019 and classics like "Lover, Leaver, Taker, Believer" are often extended into 20-30 minute jams on stage. This album is representative of their live show and if past performances tell us anything, these new songs will translate beautifully on stage. The Battle at Garden's Gate arrives April 16th. 
Greta Van Fleet Online: Website | Facebook | Instagram | Twitter | Spotify | Apple Music