After days of teasing fans on social media, Greta Van Fleet has finally released the second single from their upcoming sophomore album The Battle At Garden's Gate. The new song is titled "Age of Machine" and continues from the band's 2018 hit "Age of Man," which was the opening track on the their debut album Anthem of The Peaceful Army.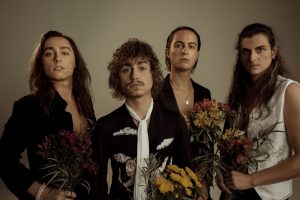 The new single was once again produced by Hollywood mega-producer Greg Kurstin, who has worked with everyone from Adele to the Foo Fighters and Sir Paul McCartney. In signature Kurstin style, the song is deeply complicated and rooted in the origins of blues based and pysechedllic rock. Supporting lead signer Josh Kiszka, is an impressive choir (also a Kurstin signature) and a stifling Jake Kiszka guitar solo that once again takes their music on another cosmic trip throughout the history of rock n'roll.
The band is giving fans plenty of time to get excited about the new album, which is expected to hit shelves on April, 16th 2021. In a recent press release, twins Jake and Josh explained where inspiration hit for their new music and how it led them to recording a new album that is expected to reach new heights.
"There was a lot of self-evolution happening during the writing of this album that was prompted by experiences I had, experiences we all had, so a lot of contemplation occurred," Josh says, while Jake adds, "It's reflecting a lot of the world that we've seen, and I think that it's reflecting a lot of personal truth.  What Josh does very well with the lyrics is telling ancient tales with a contemporary application."
Given the prolonged timeline of Greta's next album, fans can be reassured that more singles are on the way. In the mean time check out the band's new website(s) that have launched in support of each single.
New sites: Age of Machine & My Way Soon 
Greta Van Fleet Online: Website | Facebook | Instagram | Twitter | Spotify | Apple Music