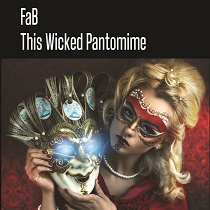 Fitzsimon and Brogan, known as FaB, are a pop duo based in London whose music fuses pop and rock to create an alternative sound that has been the hallmark of their past three full-length projects. Their latest work This Wicked Pantomime brings out the best of Fitzsimon's evocative songwriting and Brogan's skills as a talented multi-instrumentalist and vocalist.
Recorded, produced and engineered during this pandemic period, This Wicked Pantomime is devoid of any excessive conceptualism that might have made it so dense as to be indigestible. The project oozes great vibes and sounds like a wonderful summer evening watching the sunset on a pristine beach by the edge of an ocean at its low tide. It is emotive and laced with substance yet delightfully lighthearted and easy to listen to.
FaB clearly made an attempt at striking a delicate balance between preserving their originality with the not-so-polished but very authentic records like The Tears of Scarlet Murder, Distorted Mirror and The Sheltering Sky while at the same time delivering their audience refined, crisp-sounding  songs like The Dancing Partner and Lost Love of the Pixie Girl.
The production on the record is neat and does a good job of enhancing FaB's vision of what they wanted the project to sound like. The variations in the string progressions in tracks like A Bullet For Cinderella and the tempo of the drums in Seven Seconds of Summer add to the sonic colour and intrigue of the project that makes it enthralling enough to keep the listener intrigued right through the project to its end.
With This Wicked Pantomime we get to really see just how much the two artists have grown and matured in their work by combining and playing off their individual strengths fluidly to create a body of work that feels complete in its storytelling and instrumental composition. The precision of the LP in achieving its creative objectives is equally impressive.
Not many bands are usually able to consistently maintain that musical and creative flair characteristic of their earlier projects right through to their fourth and fifth full-length projects. FaB has done a stellar job of not only maintaining it but also evolving their sound in a way that shows growth without deviating too far from what their fans have come to love them for. This Wicked Pantomime is therefore a project worthwhile listening to and indulging in to have a feel of that London alternative rock vibe to get you through these wicked times.
–Keith Dujour