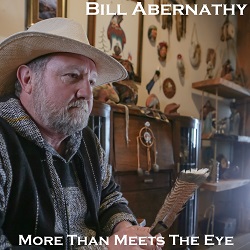 Evocative language and insightful lyricism have been the hallmark of Bill Abernathy's music in recent years, and his latest single, "More than meets the eye", is no exception. After a highly successful No. 1 Roots Music Charts single "Goodbye Will Never Come Again" and his politically charged "Cry-Wolf", the Kansas-based singer comes back with yet another hit single that pokes at the status quo and the current situation of the world. "More Than Meets the Eye" is a testament of truth to the current world's happenings. It raises eyebrows at political conduct and points accusatory fingers at world leadership and the mainstream media.
Through his Americana story-telling, Abernathy lays bare the current political situation during this critical era in American history. It details the truths that the pandemic and the last five years have exposed about America, truths that had remained hidden for centuries.
Abernathy's penchant for a story-telling style is not lost on the listener as he drops statements about events that are "happening all around us". His words meander around the instrumental accompaniment, with the music pausing at times to lend more emphasis and attention to lyrics. Some important lyrics in the music are such as "decisions based on biased on lies, determining who lives and dies, whose freedom are lost, whose justice is blind" and "when leaders mandate your sacrifice".
The colorful instrumental backdrop of the music involves a captivating drum rhythm and bluesy electric guitar that accentuates the artist's emotional singing and dramatic delivery. The music is a form of protestation against the current socio-political status quo and the established musical styles of popular and rock music. His music fuses folk and rock elements for a refreshing canvass of artistic music that is both creative and evocative.
Abernathy's "More Than Meets the Eye" is yet another profoundly engrossing piece of music. Its overlying layers emphasize the song's very lyrics that there is much more in the music than meets the eye, or in this case, the ear.