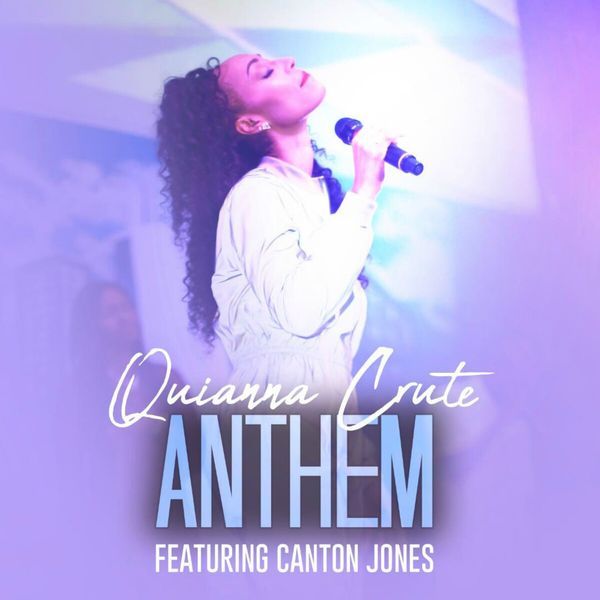 In the latest cut from rising gospel star Quianna Crute, the appropriately-titled "Anthem," the acclaimed vocalist continues to demonstrate her abilities as a singer, and more specifically, as a performer who can harmonize and collaborate with other players of a similarly potent skillset. Joined by Canton Jones, Crute doesn't step away from the grandiosity of her delivery in the 2016 single "My Love Letter," but instead embraces it with a level of charisma and panache we should have seen coming a mile away. She's got an amazing gift, and it's being put to good use in this cornerstone of the brilliant Created to Worship LP without question.
URL: https://www.quiannacrute.com/
Right from the moment he first makes an appearance in the mix forward, the smoldering chemistry between Canton Jones and Quianna Crute is really something to behold. The way their two performances are coupled together in the grander scheme of things here forms a juxtaposition of vocal styles that allows for each to complement the other without imposing too much influence from one specific source. That catharsis is sourced from the instrumentation and our singers equally, creating a double-dose of gospel charm that lasts for the entirety of the song's four and a half minutes of running time.
The lyrics here are unmistakably Judeo-Christian in spirit, but there's nothing explicitly exclusionary about the statements being made by the vocalists in this track. There are few elements in the universe that have the power to unite and bring people together in the way that music does, and with melodicism as the centerpiece and primary agent of inspiration evocation in "Anthem," it allows for these two gospel players to be appealing, accessible and boldly insightful not only to the traditional audiences who love this genre, but really anyone who has an appreciation for the divinity of the medium itself.
You don't have to be a big gospel buff to dig "Anthem" and the collective works of one Quianna Crute this autumn season, but those who are shouldn't have too difficult a time getting lost in the heavenly harmonization she offers the world alongside Canton Jones in this all-new single and music video. There's an argument to be made that Created to Worship couldn't have arrived at a better moment in 2020 – amidst the divisiveness of an election year and an ongoing global crisis we can't even see, its melodies and star single could definitely make it a little easier getting through the weeks ahead.
Loren Sperry