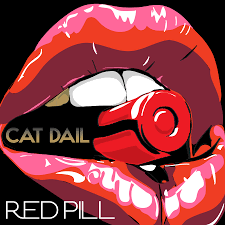 The Matrix warned movie goers that taking the red pill meant revealing an unpleasant truth. Viewed from the lens of 2020, this might have taken on a whole new controversial meaning, but in the world of music, "Red Pill" is New York singer/songwriter Cat Dail's latest roar of a single. Dail's clever take on the American political landscape has the "Can't Buy Love" singer recruiting the help of an award-winning group of musicians to convey a message that speaks volumes.
Capturing the feeling of anxiety and disillusionment, "Red Pill" bounces from heavy drum work and a plethora of trumpet, sax and trombone to a far-reaching electric guitar. Lyrics like screaming in the night…can't get away and no place to hide creates a sense of high alert. The music bed further pushes that urgency and narrative. Dail, who also heads the NYC-based band Distant Cousins, has released five albums on her own label, Lucky Magnet. With all the makings of punk rock and the devil and angel on either shoulders, Dail checks several boxes with this hit. Fans of Debbie Harry, Sheryl Crow, Rob Thomas (Matchbox Twenty) and other pop rockers will gravitate towards Dail's magnetism. She certainly holds her own with a stellar cast of musicians that includes Shawn Pelton on drums. Pelton, who plays behind the kit on the Saturday Night Live house band, has worked with Crow, as well as Regina Spektor, Bob Dylan, Edie Brickell and a staggering list of others.
What is also truly refreshing about "Red Pill" is the texturing. It has the pace of a New York street, with burping trumpets, tripping bass guitar lines and whiplash drum arrangements. The shapes from the guitar and the piano keys are just as tight, and just as flashy. The balance between Dail's relentlessly catchy take the red pill, shoulder-moving chorus and the cavalcade of instrumentation is a tight rope walk. Dail leaves footprints in several genres, including modern pop rock, 70s New York soul and a bluesy tone. This song would not have the same impact, nor the same emotional experience if not for the full orchestration and Broadway-level sound. Larger than life and surrounding the listener, "Red Pill" overwhelms the listener with a top-notch array of sonic bliss.
Lastly, with so many all-star session players on the bill, it would be easy for gratuitous filibusters and extended solo plays, but like a New York minute, it's snappy and tight. Rounding out the list of players are Grammy winning trumpet player Barry Danielian (Elton John, Sting, Tower of Power), saxophonist and Grammy winner Craig Dreyer (Joan Osborne, Keith Richards, Bill Sims, Jr.) trombonist Clark Gayton, on the Rhodes piano is Ben Stivers (Lyle Lovett, Chris Botti, Ricky Martin), bassist Andy Hess (David Byrne, Black Crowes, Gov't Mule), on guitar is Scott Sharrard (Little Feat, Allman Brothers Band) and multi-Grammy winning producer, Clark Gayton (Stevie Wonder, Sting, Quincy Jones). Dail notes that the lyrics were inspired by Tony Award-winning actor, director and author, Tonya Pinkins (Jelly's Last Jam).
Loren Sperry