Ask most artists what they want from their next record and you'll probably get an answer about evolution or growth as songwriters, while still staying true to their original sound. And while it's normal for bands to have a similar sound on album one and two, it's typically album three where things start to get interesting. By now a band has solidified their fan base and have gained the confidence to explore different areas of their creative ethos, not seen before on previous releases. Album three is where bands start to experiment and this is exactly what LANY has done on their newest record Mama's Boy, out October 2nd.
With their first two records soaked with synthesizers and keyboards, LANY's third studio album will explore the world of Americana based roots music, while still maintaining the band's signature aesthetic. To elaborate, Music Existence spoke to the group's lead singer Paul Klein, about the album's new direction and growing up in the middle of nowhere.
The creative vision for Mama's Boy began coming together when LANY started writing "Cowboy In L.A." in 2019. It was here when the band decided to embrace their hometown glory and allow fans into the world of pick-up trucks, cheap gasoline and growing up in Tulsa, Oklahoma. Worried? Don't be. The lyrical depth and allusions on the new album still hold true to LANY's signature storytelling spirit, but the topics of conversation are now much closer to home. As Klein describes it, the band began wondering what it would be like to explore the topic of their hometowns, despite it being something they've never talked about before.
"Where I come from is not like a very glamorous place to be from. We have shied away from talking about it because it's just not that interesting, but it was interesting to be like let's just talk about it? Let's talk about being from the middle of nowhere. What are the cool sides of it?"
Klein elaborates, "You know what? The way I was raised, you hold the door for the person that you love, you pay for dinner, you treat women with respect and chivalry is not dead. You know, things like that."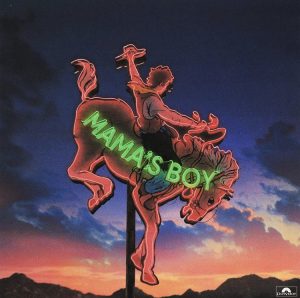 To help tell their hometown stories, the band headed to Nashville and collaborated with Top 40 writers and producers who have successfully bridged the gap between Americana based roots music and radio friendly pop tunes. They worked with Dan Smyers from Dan + Shay (who Klein is now related to after Smyers married into the family), Shane McAnally who worked with Kacey Musgraves on Golden Hour, and Tyler Johnson who produced the last two Harry Styles albums. These collaborations resulted in their keyboards and synths moving to the background, while the acoustic guitar was brought forward for the 14 tracks that Klein describes as "very introspective." 
Compared to their last album Malibu Nights, LANY's new music covers more ground, while still being sonically cohesive across the board. "It's much broader and much deeper than Malibu Nights. Malibu Nights was a break up album right, here's 9 songs about getting dumped. Mama's Boy is so much larger and universal than that."
In fact, Klein is so confident in the new material he believes the band has found a new song to close their set with. 
"Looking at the last four years in this band, it's been almost impossible to end the set without 'ILYSB' and I think we are going to have a new set closer to be honest with you. I think we've written a song that will end the show that much better!"
A bold statement indeed, but Music Existence can confirm the mysterious new show closer is in fact the band's latest single "you!" which is out today. Will the new song hold up to the hype of becoming LANY's next big hit? Only time will tell, but for now fans will have to wait to hear the new songs live as the band won't be able to tour for quite some time. Having spent the majority of their career on the road, LANY is used to showcasing new tunes and have toured extensively across North America and Europe, with a particularly large fanbase in Southeast Asia.
"There's certain metrics of success you know, you have this many monthly listeners on Spotify or this many streams or this many followers on Instagram, and all that's cool but I think the truest metric of success if you're in the music industry is how many butts can put in seats…We've put such priority and focus on delivering the most compelling live show out there and we place a lot of pressure and responsibility on ourselves to do that."
In another world LANY would be preparing for a world tour originally slated to begin in early September. And while the band won't be touring Mama's Boy for a while, it seems almost appropriate that fans will have to enjoy the new record from the comforts of their own home. With this album designed to honor their hometowns, LANY has reminded everyone that spending more time at home in 2020, ain't so bad after all.
LANY Online: Website | Facebook | Instagram | Twitter | YouTube