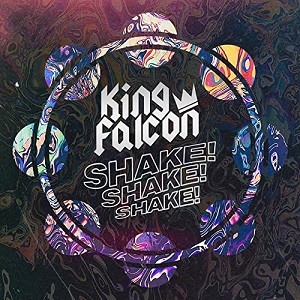 The sticks slam into the drums and a lightning bolt of a guitar lick comes slinking out from behind the clatter as King Falcon's "Shake! Shake! Shake!" gets started up, and though the first few moments in this song are quite ear-catching, they're not even half as enamoring as what's about to come rolling out of the shadows of this debut single and music video.
URL: https://kingfalconband.com/
Much like the young women in the video for "Shake! Shake! Shake!," this is all that most of us need to get our heads, hips and hearts swinging to the beat, and though the strings are as hot as a kettle on the stove, they somehow don't even come close to overpowering the percussion. Together, these two elements are going to duel for our attention in the next two and a half minutes, and no matter which of them you find to be the ultimate victor, there's going to be a heck of a lot of brutality left in the wake. Grooves, gritty and seductive just the same, are coming for us in this song, and King Falcon isn't stopping them from swallowing us whole.
There aren't any big swells in volume in this mix because, to be frank, there wouldn't really be any point – everything is already as loud and proud as it can get without sounding fuzzy or muddled. The blues model is in play at the onset of the song, but as we get into the thick of the rhythm, it becomes evident that King Falcon aren't looking to follow any particular framework closely enough to be pigeonholed into any specific genre outside of general rock.
The rawness of their sound screams MC5 and The Stooges, but their self-control is about as far away from the vintage Detroit style of rock as you can get before falling off a pop music cliff. Half the time the vocal feels a little like a melodic bark, but even at its most poetically accessible, it's never the main point of expressiveness in "Shake! Shake! Shake!." Blue-collar rock is how these two guys like to get down, and if you're the same way, than their new single is going to be one tough track for anyone in their scene to top at the moment.
DOWNLOAD IT: https://www.amazon.com/Shake-King-Falcon/dp/B084X3SR56
"Shake! Shake! Shake!" comes to a conclusion with the same precise stop/go structure that it gets started with, but for as plain a concept as this composition was stylized off of, it doesn't feel like it's missing any crucial components that make a great rock song an unforgettable classic. Time will tell as to how much King Falcon are going to be able to accomplish in this new age of popular music, but whether audiences around the globe approve of their sound in 2020 or not, something in my gut tells me that the rock n' roll gods of yore are looking down and smiling on this band at the moment. Their sound is oddly puritanical, and for some of us, that's just what we need this summer.
Kendall Townsend