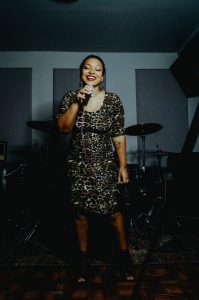 Dale Novella is an Entrepreneur [founder of Royaltie Entertainment Company, LLC.], Songwriter, Music Producer, Singer and Teacher, based out of Brooklyn, New York. I first met Dale in Harlem, 2016, at a small venue during an open mic series called Open Moments NYC, hosted by Samson [the] Poet. I do not recall the name of the poem she recited, but I recalled her dynamics. I recalled her stepping out of the crowd, seemingly out of nowhere, onto the stage and confidently engaging the audience, pumping life into each line and phrase she recited. I remember the freedom in her vocals towards the close of her poem. I remember her singing. I didn't expect it at all! Being new to NYC artist market, Dale had instantly branded her voice as a signature element in my mind. I remember her bubbling passion, and her unbridled bravery. I wanted to meet her, so I did. I recall how humble and approachable she had been and how the crowd of people exploded with applause when she was finished. We took a photo and I admired her courage and kindness so much that I committed to following her on Instagram to hear more of her work. Her humility made it easy to want to support her art. Her honesty made it a satisfying decision to do so. 

It came to my surprise that she had no recorded full length project at the time. I knew, however, that with the type of passion she had exhibited on stage that any form of recorded audio, or written art by this multifaceted talent would emerge eventually. Time had passed since that open mic performance, but I never lost the anticipation of what her soul would manifest into art if she ever decided to put her voice to record. It was no surprise that while scrolling my timeline, four years later, July 2020, that there appeared the phrase, Sang Bxtch! Almost mimicking her approach to the stage at that open mic four years prior to, Dale Novella appeared to present her art in the fullness of her expression.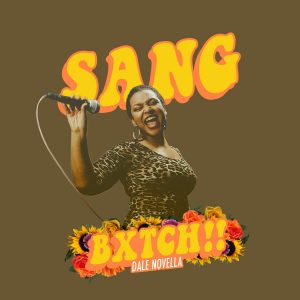 I was intrigued by the vintage appeal of the album cover art (designed by Katera Anderson for Katera Creatives), and the bold orange shadows that made the large yellow font jump out on screen! The words "Bxtch", collapses into a bed of flowers and a superimposed photo of 'Dale Novella' herself, gripping the microphone the way I remembered her, heart and mouth wide open, belting in song. The visual art indicated what I already knew was going to be in this compilation, "This is 'bout to be some real in yo' face shxt, from a real ass woman!" As soon as I could I navigated to Dale Novella's bandcamp page, downloaded, and pressed play! [Available platforms to purchase Dale's music is located at the end of this article].

Sang Bxtch is Dale Novella's first EP and only music project to date. Impacted by COVID, Dale compiled and produced all of the songs with additional production by Fyutch on "What's Up". The songs included on Sang Bxtch were recorded in Dale's home studio and also at Funkadelic Studio in Midtown Manhattan. All songs for Sang Bxtch were mixed and mastered at Funkadelic Studios by SXRG Music. The collections of songs featured on the project were created, as Dale states,
"over the years" that she felt led to share with the world (and we're so glad she did)! The track-list includes 7 songs and Dale is accompanied with features on several tracks. My favorite of the featured songs being, "Love (feat Mikal Amin)", "Originators" and one song, "Whats Up" which is actually a cover song from a band, 4 Non-Blondes, a popular song that Dale Novella uses to close many of her sets. The EP project, Sang Bxtch, tracklist is as follows:


"Money" has a funk and alternative pop appeal. It is uptempo and loaded with moments of direct intensity after a sultry build up to a climatic end. Dale states that this song is geared to target capitalism
"What We Want" is drenched with undertones of trap music, rock and soul
"Love (feat. Mikal Amin)" a soft and slower tempo, this sweet tune illustrates a tender exchange between a man and a woman and highlights a gentler side of Dale's voice.
"Black Girl Magic" – is an empowerment and ode to black women, their strength, their vitality. I would be biased to say that this is an anthem, but it's easily an anthem for black women everywhere!
"Originators" which features original lyrics from The Label Noire founder, Ursa Major, Hip Hop artist Mikal Amin and accompanying guitarist, Harvey Leona. Originators is another one of my favorites. Dale Novella pairs well with Mikal Amin. Dale shows off her artistic and poetic versatility on the second verse of this track
"Haarlem" tells a story of heartbreak and its impact on her life after this experience of toxic love.
"What's Up" is a cover song from the band 4 Non Blondes that Dale uses to close many of her sets.The song has been remixed to fit Dale Novella's artistic flair and personal insights, "It's become a favorite of mine to end a set with." Dale states, " So many people know it and sing along…[though] it asks the question "What's going on with the world?" [and] it gives me and the audience a hopeful feeling and that's why I included it on the album."

Dale continues on to add the inspiration behind her EP album, Sang Bxtch, "All of my songs are filled with hope because I still have hope for the future. During these times it's been hard to focus on pushing through and doing the right thing or even to make art about my beliefs but my hope implores me to. I have a few other songs of hope that I wanted to include on the album but CoronaVirus cut the production of those songs short," Dale laughs, echoing the frustration of many indie and signed artists who have been negatively impacted by COVID-19, and adds, "but, after listening to what I had so far, I was so proud of the material, I put out the EP as is."

It's evident that a huge part of Dale's artistic influence comes from funk, soul and hip-hop. The styling in her vocal presentation reflect an artist that's grown up on the likeness of Prince (referencing his earlier works from 1980 – 1995) with further exposure to George Clinton [in regards to the instrumentation and the swing in her voice]. There is an unapologetic rawness, freedom and even experimentation in her art. It's easier for a listener to appreciate that, technique aside, she means what she sings, and it's without wavering or doubt that she intends to infuse every part of what she feels into the message she is sharing.
This is heard most readily in tracks such as "Money", "What We Want" and "Haarlem" where Dale Novella really let's loose vocally! Throughout the project, Dale depicts a level of fun in her freedom of expression on record that makes the listener want to be a part of her devotion to artistic freedom. Dale classifies her style as Soul, Rhythm and Blues and is open to sub-genres and the versatility of Pop Rock.

Dale says this of her album's inspiration,

"To me, the album is very Southern and very funky. Those are some of my biggest influences; growing up in the south and growing up with parents who were big George Clinton and Prince fans! Many people may not associate my album with those things but so many songs have trap hi-hats and gospel belting. Gospel being the basis of most American music and originating in the south. Trap being one of the more recent descendants of the Gospel tradition. I think I stayed true to my roots. I even put in some marching band influence in there! My mother is an HBCU grad and I marched on the band in High School. [It is my hope that the listeners] enjoy the storytelling through the lyricism as much as the storytelling through the musical composition. [Dale believes and trusts] The audience will pick up on more influences than the ones I just named."

To her point, there are moments when I hear familiar cries similar to Southern Rock artists like Alannah Myles [notably, the single "Black Velvet"], the ache, grit and tonality of Melissa Ethridge [singles, "I'm The Only One", "Like The Way I Do"] and Sass Jordan ["Make You A Believer"]; when Dale eases onto a track with her, she builds intensity under the surface of her voice like Laura Branigan's, "Power Of Love". I appreciate her bold appeal and the way she [Dale] weaves her ability to write with the soul of a poet into her song, that puts me in mind of career poet, vocalist & songwriter, Jill Scott. I am looking forward to the explosiveness of Dale's freedom as she further moves to master the intricacies of her instrument.

What makes Dale Novella amazing as an artist is her expansion into various aspects of the music industry, and her unapologetic and unrestrained urge to express herself. Having over 10 years experience navigating the NYC music and performance circuit, it's clear that she has embraced and is poised to fully embrace all that she is as an artist and with such conviction, her fans are likely to follow suit and embrace her with fullness of heart.
Dale Novella's new EP, Sang Bxtch, is available for purchase on Apple Music, Spotify, Bandcamp, Google Play. To stream, availability for Sang Bxtch can be found on Spotify, Google Play, Soundcloud, Itunes and Apple Music!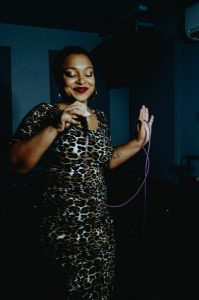 Like what you read about Dale Novella? Follow this artist on their social media platforms:
Download, "Sang Bxtch" EP by Dale Novella via bandcamp!
Follow Dale Novella on Instagram
Follow "The Poet Will Be Televised" open mic and jam session via Instagram