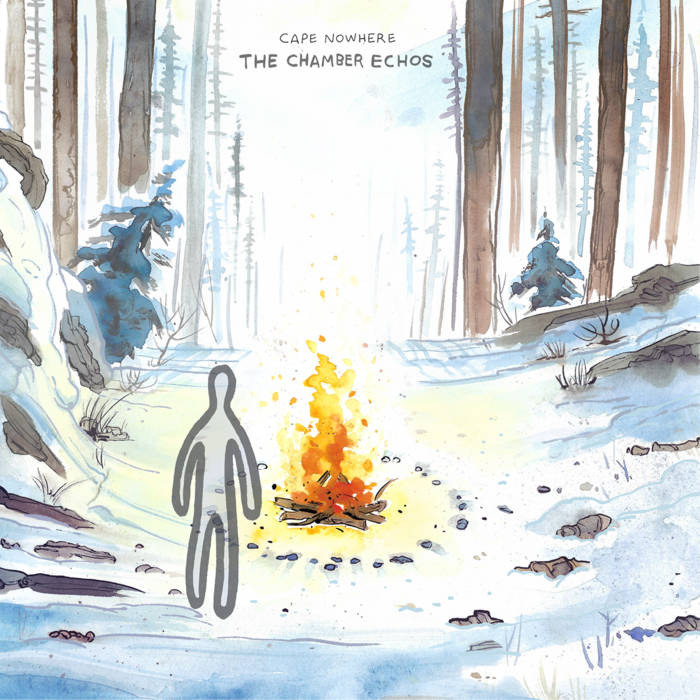 With a startlingly icy glow, the string-born melody that starts up "Winter in the North" is but a taste of the magic soon to come pouring out of our speakers in this, the first of two new songs previewing The Chamber Echos by alternative rockers Cape Nowhere. Borrowing slightly from the experimental edge of the previous generation of Seattle indies but staying away from the indulgences that ultimately brought that era to a screeching halt, Cape Nowhere flex some serious melodic muscle in this song almost entirely through supple, unassumingly emotional harmonies that creep out of the silence pendulously. The tension is the catalyst for the catharsis much as the rhythm is the reason we keep clinging to the music wondering what's about to come next, which is a lot more than can be said for some of the other rock I've heard lately.
"Winter in the North" is a bit more controlled and restrained in tone than its counterpart in "Puzzlebox" is, but in these two tracks I think we get to see a little of the duality that gives Cape Nowhere their unique style.
BANDCAMP: https://capenowhere.bandcamp.com/album/the-chamber-echos-preview-stream
"Puzzlebox" employs a bit of swing in its tempo, stretching out the sublime tones and it relies on for colorizing the lyrics in between the track's rigid grooving, but rather than coming off as overly-complicated and too progressive for an alternative framework, the opposite happens. Hybridity is the biggest trend in the American underground today, but this is one band taking conceptualism and the melding of influences in a completely original direction.
Compositionally impressive and quite telling of their depth as a unit, these excerpts from The Chamber Echos are hopefully just a sample of what Cape Nowhere's upcoming LP is going to be all about. "Winter in the North" hints at psychedelic parameters coming into the fold for the group's music while "Puzzlebox" advertises a post-punk adrenaline that could be the smartest sound they've produced together to date, but with any luck, we're going to get a cocktail consisting of both styles in a complete, full-length tracklist. AS I see it, summer is here, and these rainy city rhythm-makers are ready to keep the heat turned up with some incredible harmonies.
Loren Sperry