Brooklyn based Singer, Songwriter, Musician [ukulele, guitar]  and Co-Producer, Kali Ann (pronounced as "Cali-Ann") has released a new music single, "Little Did I Know". Co-written and produced by Brazilian, LA based guitarist and producer, Taylor LeBowe, "Little Did I Know" was an inspired poem turned song by the way of freestyle while Kali Ann was vacationing in California. "Little Did I Know" centers its theme around the onset of a twin flame connection that Kali Ann never saw coming and one that proved to be a deeper and significant of a love affair.

"Little Did I Know" opens up with a familiar ghost melody from T-Pain's, "Can I Buy You A Drink" [(Shawty Snappin') ft. Yung Joc, 2007] and ironically holds the same mimicries of enticing a love affair toward one's object of affection. The guitar melody holds reminiscent undertones of Lauryn Hill's "Just Like The Water" [Unplugged, 2002], creatively lifted with a brighter pitch and with an upbeat swing. Kali Ann's melodic voice enters in on a gentle crescendo with the lines "Hey Sweet thing, how you doing…" soothing the listener further into the message of the song as she builds intensity leading into the verse. Kali Ann's lead vocals are accompanied by the velvety guitar strumming of Taylor Lebowe [also a member of DYZ, an indie, California based band significantly known for "cinematic-pop" appeal] through the expression of "real emotions and real music". Lebowe incorporates his ability to create an authentic mood in the stylings of this piece; an element that rings true to Kali Ann, who is both an artist and Yogi instructor and practitioner. Both artist and instrument bubble with an intensity that never overpowers the other and balances the tone and the dynamic throughout the duration of the song.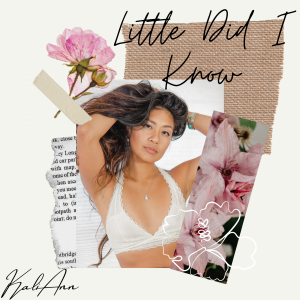 "You gave me a taste of the truth, open up and give me all of you…it's about time we paid up our dues…" surfaces as a powerful line early in this composition. It's an aspect in love that many people can relate to as it leans to the implications of past love affairs that did not turn out to be successful. Kali Ann extends an offer of love to the object of her affections and intends to reciprocate the same in return. "Little did I know, I couldn't control myself//Little did I know, I wasn't even myself and how did you make this thing go fast//don't even know how long this will last…" the chorus is simplistic and easy to commit to in memory. It is also very laissez-faire in its appeal, allowing both the artist and the listener to "go with the flow", entangling themselves in the whimsical upsweep of the romance Kali Ann has reincarnated in song. The latter lyrics suggest that she still has some reservations on the way the love affair began, as she stands in disbelief that the connection became is so real between the two parties, she still can't help but to indulge in the experience as she closes out with "…come and get me at last" command to her soon to be, "not too sure how long this will last…" lover.

Kali Ann transitions into reciting a familiar line from a traditional child's poem of new love, and making it her own, "Roses are red, violets are blue" she begins, and continues adding her own lusty spin,"…everytime I close my eyes, I see you …every time I try to hide, I get this feeling I can't deny…I want you" in her expression, she is playful and carefree, girlish and surprisingly seductive. Kali Ann leaves us holding on to the feeling as she repeats the hook to an abrupt stop, faded out with the chirping of crickets. The ending, though immediate, suggests that the singer is trusting her innate desires to pursue her love interest and letting the intensity of this love happen, no matter how delicately it began.

The ending could work in another way. A minor hope for this song is a softer, extended ending. This could be individual listener preference to want to make this adjustment as the ending of the song is both Kali Ann's soothing vocals and the creamy guitar riffs coming to an abrupt halt. Perhaps a softer fade out with a decrescendo of Kali Ann's vocals into the guitar riffs, and then the riffs fading into the crickets would have allowed the listener to hold on to the mood and linger a bit longer in that sensual space of the composition.

It is, overall, a lovely song, both simplistic and sweet. Listeners will appreciate that "Little Did I Know" feels like a seasonal kiss sent from Spring and received through the breeze of a cool summer evening. The song is a delicate mood that listeners and fans can appreciate during these tense times when our innate urge to connect intimately is restricted. This song will be well received by the musical genre of Jazz and Bossa Nova; fans of Alicia Keys who appreciate her ability to freestyle in song; fans of Jhene Aiko as it holds elements of frequency healing, and exhibits Kali Ann's mindfulness and sensitivity to sound; and fans of Reggae artist, Hirie, for its authenticity and simplistic accompaniment of the guitar.
"Little Did I Know" by Kali Ann is available for download and streaming on all major music platforms.  Preview & Download your copy of  "Little Did I Know" on Amazon Music today!
Want to hear more from this artist, Kali Ann? Follow her social media platforms:
To hear more music from Producer/Engineer Taylor Lebowe, check out: