Gawdbrand, the alter-ego of Brooklyn, New York native, Precyce Politix, releases a self entitled record, "Gawdbrand" [additional credits, Sharp Cuts x Steve Skyline]. The emcee, a part of the Street Flava Entertainment team, is now based in Durham, North Carolina, (a city with a long-time stirring buzz of talented underground Hip-Hop and musical talent) released the single on July 4, 2020. The song, "Gawdbrand" is an introduction to the existence and provocation of this alter-ego in lyrical form. 
The musical composition opens up with a cinematic intro of the fictional crime boss, Black Mask (Batman: Under The Red Hood, 2010) stating, "Maybe my last request was too mired in subtlety. I want this man dead. When I say dead, I mean seriously dead. Beaten, broken, 'HIS-HEAD-MOUNTED-ON-MY-WALL'-KINDA DEAD!" The snippet sets the tone, suggesting a message that shows no remorse towards the target of his indignation, in which Precyce, by the way of his alter-ego, Gawdbrand, is able to match the character's intensity and deliver his flow with precision, measure for timed, measure. Of the most notable qualities on this single, Precyce lyrically delivers a message of verbal onslaught with clear diction, direction, and structure.
The song, "Gawdbrand" is loaded with traditional battle emcee stylings. The substance of this single highlights Precyce, 'also known as', firing off vicious punchlines  such as, "…dance with the devil and match that [explicit] step for step". Precyce reaffirms his willingness to go blow for blow with any contender that tests his boundaries.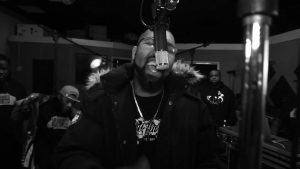 He continues on without letting up "…while you were in church praying to prep for death//I was finger-[explicit] my brothers tech for checks and nothing less…" suggests that this lifestyle he hints towards on record, requires him to follow through on his promises and that it's all work and no play for Gawdbrand, the alias, when it comes to maintaining his reputation and his territory. Precyce pulls in culture credits referencing two movie classics that strengthen his stance, The Godfather's, Michael Corleone;  and Bishop from Juice, "Michael Corleone I had to kill my brother/Bishop at the funeral I had to kiss his mother/A godfather with the Juice in the booth…"
It's important to note that even with the lyrical delivery and presentation that Precyce Politix shows artistic range in the selection of his accompanying instrumental. Produced by Steve Skyline and Sharp Cuts [ Street Flava Entertainment Team], "Gawdbrand" is laden with snippets from, Batman: Under The Red Hood (2010). The essence of the character and film excerpert has been well translated into the instrumentation of the song. 
Referencing back to the Black Mask after the first 16 bars, the snippet continues with a call and response flow type of execution between Gawdbrand and the Black Mask character dialogue snippet. Originally the conversation between the character Ms. Li, has been extracted and replaced by Gawdbrand on record, who closes the first verse by stating, "I'm just talkin' to him…". The  Black Mask snippet then enters in with a sharp response,  "Screw that! Time he learns that this is a contact sport. When he shows up to shut us down, have a party waiting for him! And when I say party, I actually mean 'A WHOLE LOT OF PEOPLE WHO ARE GONNA KILL HIM'!" The instrumental shifts entirely in tempo, and melody, yet maintains the boom-bap elements within its composition. Both producer, instrumentation and artist pair well, merging their creativity on track and leaving the listener in anticipation for another compilation.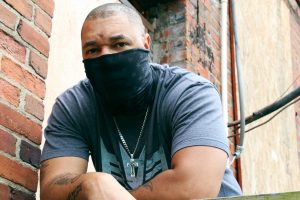 The immediate issue that one could possible find with this particular track is that it is, like most underground and unsigned hip-hop, is not structured as your traditional main-stream, "radio-ready"or "radio-play" single; and this is not due to quality or lyrical stamina which is present. The song is mixed well and the artist exhibits his talent with ease from the onset of the track. Structure-wise, there is no pre-chorus or hook to loop the listener in, or one they can commit themselves to if wishing to be reminiscent of the track.  This causes the listener to cling to the samples and excerpts and may be what ultimately anchors the listener to the song. It is, at its essence, a distinctive record, eyebrow clenching, head-nodding single that would serve well for film placement or to support and bridge a more traditionally structured songs on an album compilation, songs with both verses and hooks placed on a full length music project. The concern would then be, for a new listener, and a hip-hop aficionado, whether his [Precyce as apart from Gawdbrand the alias] has the ability to pen hooks, or if his strengths lean into punchline deliveries? Can one conclude or assume that his releases, if laden with metaphors, will sure as a hard indicator as to whether the listener is hearing from the alter-ego, 'Gawdbrand' or the lead representation of 'Precyce Politix'?
Nonetheless, Precyce, whether as himself or presenting as Gawdbrand, is no doubt one talented emcee and one the the streets should keep their ear to the wind in anticipation, (and caution) for! This single, priced and available for download at $1.29 on Apple Music  is recommended for fans of Prodigy, [notably on "Murder Music", "The Infamous", "Hell On Earth", and "Murder Music"], Raekwon of WuTang's [reference, "Only Built For Cuban Linx"], and the late Big L [specifically the album, "The Big Picture"].
Enough on my thoughts, listen for yourself:
Like what you heard? Follow Precyce Politix on these social media platforms!
www.Facebook.com/PrecycePolitix
Like what you read? Follow #MusicExistence on our social media platforms!
www.Twitter.com/MusicExistence
www.Instagram.com/MusicExistence