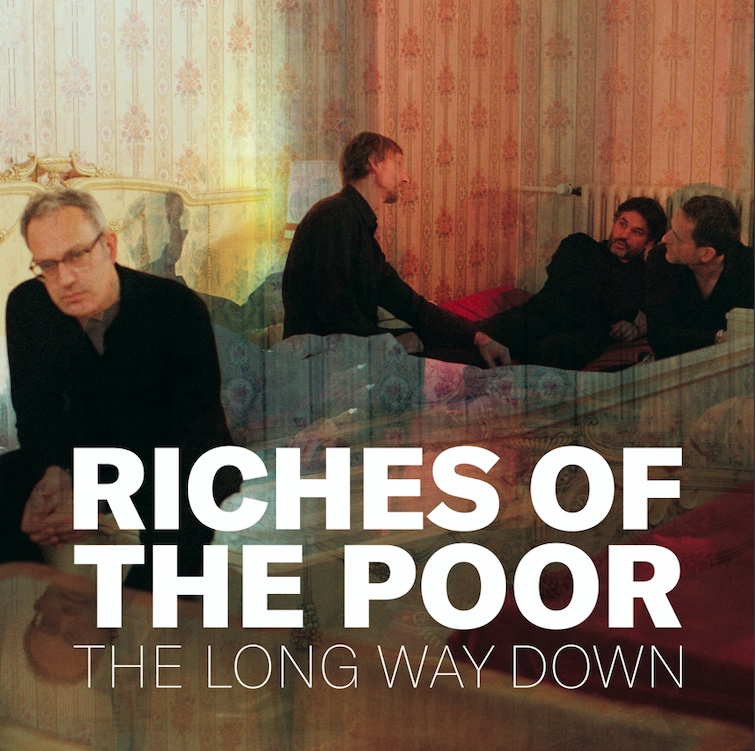 Swirling around us in a psychedelic deluge in "Not Enough." Slipping in and out of focus like a fading sunset in "Home." Defining a mood with buoyant bands of distortion, reminiscent of both Dinosaur Jr. and a more contemporary noise-rock movement. Whether hazy or seamlessly harmony-oriented in tone, there's no arguing that the guitar parts in Riches of the Poor's The Long Way Down are the biggest star in the album's eight songs. A product of both alternative aesthetics and a bruising strain of contemporary rock that hasn't found a proper categorization yet, The Long Way Down is an at times brutish and startlingly sophisticated virgin outing for Riches of the Poor, who present themselves as quite the talented crew in their first official record.
URL: https://www.richesofthepoor.de/
"Again," "Morning After" and the album-opening "Behave" each have quite the heavy percussive presence countered with a soft vocal attack, and though the textural contrast they sport is often even more telling of their roots than their surface level frills are, it never feels pseudo-edgy or halfheartedly original in the least. On the contrary, there's scarcely an instance within The Long Way Down's tracklist in which any part of Riches of the Poor's sound comes off as being derivative. There are a lot of acts drawing from the same pool of inspiration this group is, but very few that are developing as cohesive a style of play as they have in this highly embracive debut album.
Like most critics, I can appreciate pop polish when it's been applied properly and left out of the way of big-thinking concepts, but there's something ethereally special about raw material that comes to us as unfiltered as "Needle" and "Anything Else" do. Similarly to the throttling crunch of "Please," the aforementioned pair feature a lust for noise that makes it impossible for us to break the hypnotism they create through the mere manipulation of grainy melodies. The grit in this record is true, and while I'm fairly certain that it would sound even more compelling when heard and experienced in a live setting, I have to say that Riches of the Poor did a pretty good job of capturing that raucous, basement tapes-style rebelliousness in this studio effort.
BANDCAMP: https://richesofthepoor.bandcamp.com/
The Long Way Down is only the first full-length we've heard from Riches of the Poor thus far, but it's anything but amateurish or lacking in depth. From where I sit, The Long Way Down is one of the more interesting debuts of its kind to come out of the underground this summer, and if it's providing us with any sort of a blueprint as to what we can expect to hear from Riches of the Poor as the future starts to unfold, they're going to see a lot more headlines featuring their moniker sooner than later. This has been a pretty decent era for indie rock in general, but among those who are coming out of the woodwork at the present juncture in history, this is one group I'd rank in the top tier.
Loren Sperry