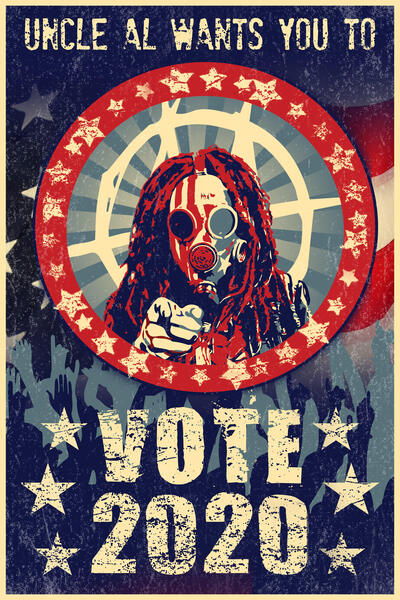 With one of the most important elections in American history on the line this November, Ministry and creator Al Jourgensen are launching a 2020 campaign to inspire fans to get election ready and look forward to receiving a range of autographed memorabilia from Ministry's acclaimed 2018 anti-Trump album AmeriKKKant.
Says Jourgensen, "When AmeriKKKant was first being developed, the album was a direct response to waking up to shock and panic the day after Trump was officially elected. Now, four years later these songs take on new meaning as we get rid of the Mango Moron. Vote this November like your life depends on it, because this time it really does!"
Fans who are currently unregistered to vote are encouraged to head to
http://ministryband.com/vote
and click on the graphic to complete a few simple steps to get ready and sign up for alerts. Once completed, take a screenshot of the confirmation page and e-mail it to
unclealforpresident2020@gmail.com
along with your mailing address.
Fans who are already registered to vote are encouraged to engage in another cause important to the band—the national
#SaveOurStages
campaign that urges Congress to provide critical funding to independent music venues across the United States. Head to
www.SaveOurStages.com
and sign the online petition and/or make a donation to the cause. Once completed, take a screenshot of the confirmation page and e-mail it to
unclealforpresident2020@gmail.com
along with your mailing address.
Supplies of autographed memorabilia are limited and available to fans in the U.S. only who are able to take a voter action in the upcoming election and take part in the #SaveOurStages national campaign. Please send only one e-mail per person.
To provide the perfect soundtrack to get fans engaged in the upcoming voting season, Ministry has also created a new playlist, "The Soundtrack To Your Election," available now on Spotify. With 30 powerful selections, the playlist features personal favorites of Jourgensen as well as Ministry's own rally cries including new single "Alert Level" and tracks from the highly politicized album AmeriKKKant, the band's most recent full-length release.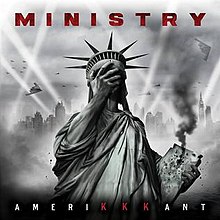 Loudwire called AmeriKKKant Ministry's "State of the Union" and Metal Injection said the album "heavily embodies the current maelstrom of political hell that is swallowing the United States" when it was released in 2018 as Trump was taking the presidency. Featuring songs like "We're Tired Of It" and "Victims Of A Clown,"the tracks are more relevant than ever as many focus on unseating Trump in November.
Jourgensen has spent decades using his music to rally fans and listeners to the fight for equal rights, restoring American liberties, exposing exploitation and putting crooked politicians in their rightful place. Songs like "Thieves," "Lies, Lies, Lies" and "N.W.O." have taken on political corruption and the societal constructs that led to historic events like 9/11 and the 1992 Los Angeles riots while the George W. Bush administration spurred an entire trilogy from the industrial godfather.
With America still on the brink, Ministry's Al Jourgensen has re-entered the studio to create his missives that will become material for a to-be-announced new album on Nuclear Blast Records. The first taste, "Alert Level" was released in April, and asked fans to be part of the larger conversation by answering the question posed by the song, "How concerned are you?" Many of the videos have been shared across Ministry's social media pages as the band and Jourgensen encourage fans to remain engaged and informed in 2020.