Greek symphonic death metal masters SEPTICFLESH have announced a live streaming event for their upcoming 'Infernus Sinfonica MMXIX' DVD/Blu-Ray in advance of the release date. The online event will take place on June 27, 2020 at 3:00 P.M. EDT. Tickets can now be purchased HERE.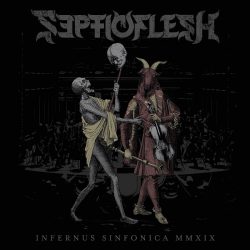 Christos Antoniou talked about this event, touring, and a new album.
You've announced a live streaming event for the upcoming concert DVD. Can you tell me more about that and how did you come up with that idea in the first place?
This Saturday we have a premier of our concert that took place a year and a half ago in Mexico City. We took advantage of the situation now, in a good way, now that no one goes to shows. And we had the idea to have live streaming in order for our listeners to have the idea of what to expect on the DVD we're going to release next month. The situation is bad with the virus and we want to brighten the situation with our premiere.
What was your favorite thing about this show in Mexico City? Any interesting story you'd like to share?
I was like the architect of this project because I'm responsible for the orchestral side, so I had a lot of pressure. All the decisions that had a lot to do with the orchestra were under my belt and this made me really anxious, you know. But in the beginning,
when I heard the voices of the crowd, it was unique. I cannot describe it in words, it was a dream that came true. I enjoyed it in full. I don't have anything strange to tell you, because everything was smooth. We didn't face any issues, and it was amazing. It was so loud – the voices of the crowd; that the orchestra said that in the beginning, they couldn't even hear what they were playing. It was by far our best moment.
What are your other favorite places to tour?
I like to tour in North America. I like to tour in general; I like all the countries. Every country has its own beauty. And always when I visit one country, especially for the first time, I always try to explore as much as I can when I have time. I like that I live for music and I like that I've traveled nearly everywhere in the world. This is an amazing experience.
What do you miss the most about touring?
I miss the shows, the stage, even the countries that I visit. I like monuments, eating their food, their culture, things like that. It'll take some time now to live it again, but it's how it is. We need to overpass this madness that occurred now.
How are you spending your free time now that you're not touring? Do you have any hobbies?
At the moment, I don't have any free time because we're composing a new album and soon we will enter the studio. But at the moment, my free time is only music. When I have free time I go for recharging walks; I do boxing sometimes, things like that.
What can we expect on your new album, can you tell me more about that?
I can say that it was more difficult to compose it. It's been four years since the release of Codex Omega. We've released an album every three years but this one will take four years in total. Codex Omega was very successful, has risen us higher and this made our job difficult. But pressure makes you focus. We're really focused and we are positive. But we may not go a step further than the previous album Codex Omega. I think we still may not overpass it.