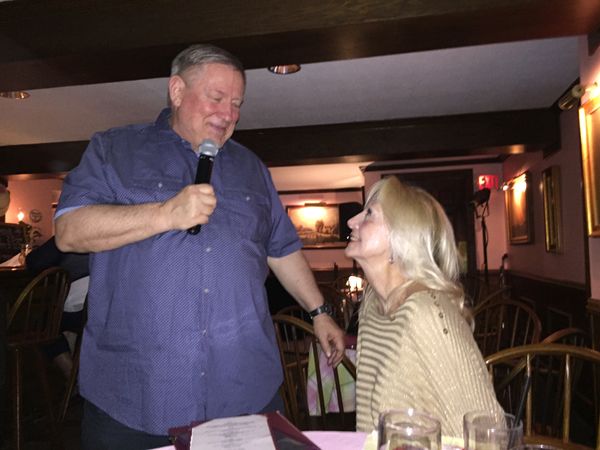 Who can resist the melodious "Come Fly With Me", the endearing "Try A Little Kindness" or the lovable "Changes In Latitudes, Changes in Attitudes"? It's hard to not find something that tap your toes, sway your hips or add a smile to your face when it comes to Hughie Mac Sings Some Great Songs Part 4. The 23-track opus from Philadelphia's sultan of staples, Hughie Mac's love for the American songbook continues thriving.
Each careful step along the byway, but more, much more than this, I did it my way, Mac sings in the iconic "My Way". His rendition of the Frank Sinatra classic tips its hat to the original, leaving the listener with tendrils that still reach to the heart. Mac's version is more up-tempo, pulsating the heart just a bit faster. The Sinatra classics continue with "Come Fly With Me", "Fly Me To the Moon", "New York, New York", "Young At Heart" and "It Had To Be You". Mac's devotion and tribute to Sinatra is obvious – his voice seems to have been bred just for these songs.
URL: https://www.hughiemac.com/
Mac brings Jimmy Buffet's catalog into the spotlight with the hit "Changes in Latitudes". He maintains that wave of oceanic and carefree attitude in the Garth Brooks gem "Two Pina Coladas". Mac sings she said goodbye to her good timin' man, bring me two pina coladas, I want one for each hand, let's set sail with Captain Morgan, oh, and never leave dry land. The music bed is track music and never misses a beat with its sun-starched, sway and island-like motion. I liked the way he placed these two songs right after each other, like riding a tandem bike. They broke up the path a bit, but gave the listener a mini-vacation from the New York scene to island living. Cool and refreshing – and quite unexpected.
"The Glory of Love" has this vintage piano medley that swells the heart with warmness. As Mac sings you've got to laugh a little, take a little, and your poor heart break a little, that's the story of, that's the glory of love, he reminds listeners of the magic this song never ceases to bring. From Benny Goodman to Bette Midler, this song never loses hope. The endurance of this song, and Mac's clear vocal delivery brings joy. The piano work is vibrant and crisp.
APPLE MUSIC: https://music.apple.com/us/album/1489067898?uo=4&app=music&at=1l3vpUI&ct=LFV_744912c53f999e420ef063c930f0e85b&lId=21438496&cId=none&sr=1&src=Linkfire&itscg=30440&itsct=catchall_p1&ls=1
While it's the last track on the album, Duke Ellington's "Don't Get Around Much Anymore" is certainly a highlight. Mac sings this jazz standard with gravitas, darling, I guess that my mind's more at ease, or nevertheless, why stir up memories? I've been invited on dates, might have gone, but what for? It's awfully different without you, don't get around much anymore. Mac's voice is blithe and bubbly. He has a way to make the listener turn their frown upside down. This was a real charmer to end the trek, and a reminder that while Mac himself didn't write the book, he sings each chapter with grace and dignity.
Loren Sperry