FOR IMMEDIATE RELEASE:
June 6, 2020 – UK electro-industrial act BIOMECHANIMAL present their new single, "Haksal (학살)", a love letter to modular synthesis and mid-tempo bass music.
Their new 3-track EP features remixes from up-and-coming industrial bass producer Social Kid, and rhythmic noise veteran ESA: Electronic Substance Abuse.  This single is a furious blend of industrial sound design and modern EDM.
For fans of:  AMDUSCIA, CELLDWELLER and AESTHETIC PERFECTION
Check out the visualizer for "Haksal" HERE:
"Haksal (학살)" is our love letter to the new generation of bass music, a representation of how much the playing field has changed, both externally, and internally for us as musicians.
The song features a lot of interesting sound design, modular and analog synthesis combined with modern production, and is radically different from what we have created before.
"Haksa"l is Korean for 'Massacre'.  We are destroying what is expected of us. BIOMECHANIMAL creates music undefined by our expectations, and we want to leave our fans and listeners hungry for more new material.
"The song was written at a difficult point in my life, and that comes through in the weight and heaviness of the track. The leads are in jarring time signatures, giving it a feeling of being very uncomfortable. The drop is heavy, distorted, erratic. It's a good representation of the place I was in."
– Matthew (BIOMECHANIMAL)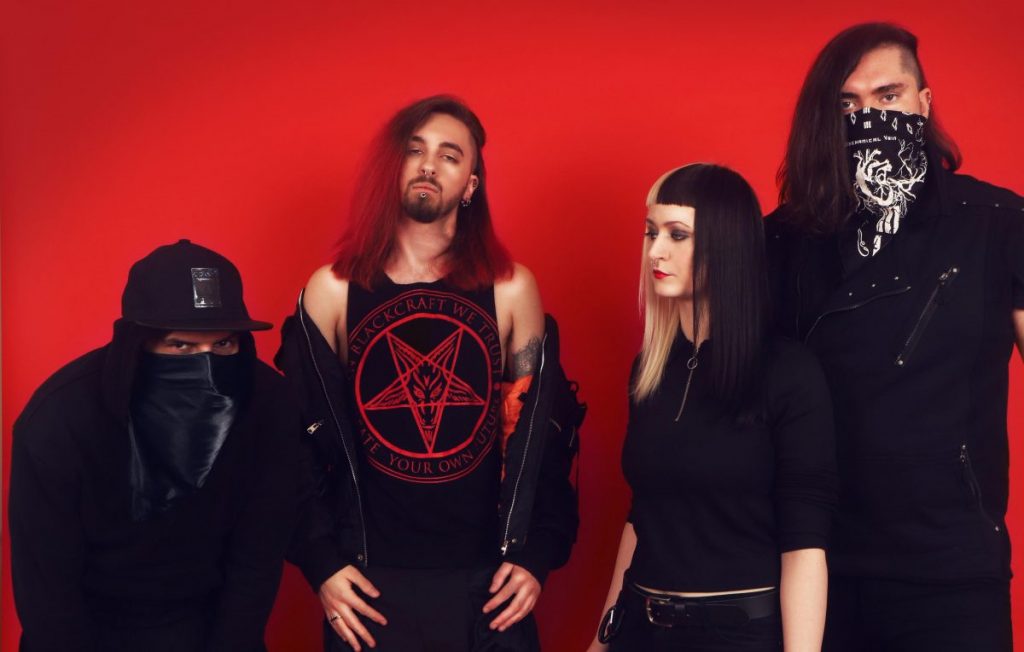 Biography:
BIOMECHANIMAL started in 2013 and self-released their self-titled debut album in 2015. The band has been a staple of the underground London alternative and industrial scene for about 5 years. If you have seen Grendel, Aesthetic Perfection, The Birthday Massacre, Covenant, Faderhead, or any of the industrial big hitters in London, BIOMECHANIMAL was probably on the bill. With an aggressive, physical live show, they have often been touted as 'one to watch' of the UK dark electronic scene.
After teasing new material for some time, the BIOMECHANIMAL of 2020 is the strongest the band has ever been. With front-man and producer Matt Simpson leading the charge, the band is supported by Keith Kamholz (Mechanical Vein) of electro-axe fame, Lex Liebert on live guitars, and Kekko B.O.Gora on drums,
BIOMECHANIMAL has numerous releases planned to drop this year. They dropped a collaborative single in February called "Waves", following that up with a May release for the "Haksal (학살)" single. Still there is much more to come. Drawing from a diverse pool of genres, BIOMECHANIMAL's eclectic sound is dangerously catchy.
For more information:
https://biomechanimal.bandcamp.com/
https://www.facebook.com/BiomechanimalMain