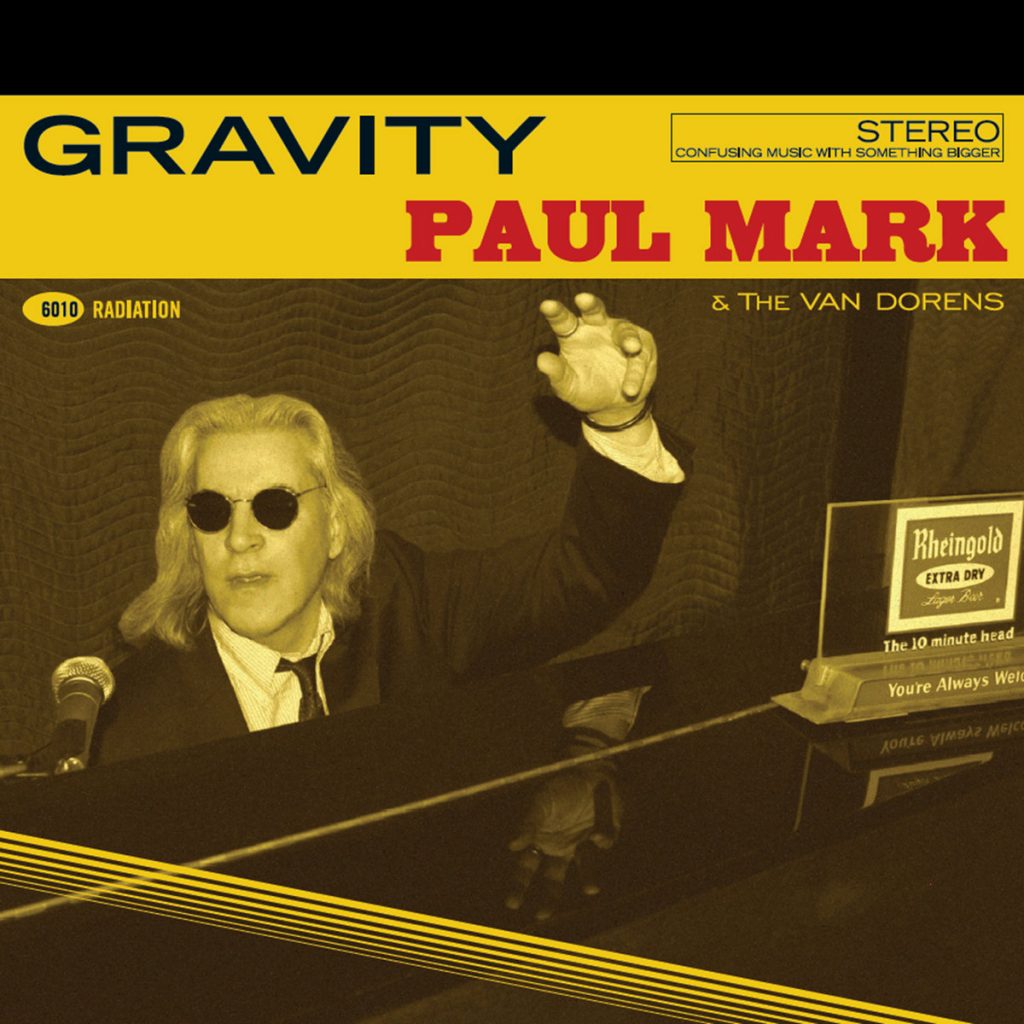 I imagine the live stage performance of Gravity by Paul Mark & The Van Dorens to be like the album – shamelessly merrymaking and an American music jamboree. Uniquely voiced like Leon Redbone and harnessing some of the smoky-hued chords of Dr. John, Mark dazzles the listener with both his musical prowess and scintillating lyrics. Gravity is grounded in pure folk, blues, rock and Americana roots genre fusion.
Mark calls New York City home. It's no surprise, then, that the 12-tracks on Gravity give larger than life, sometimes even Broadway-style narratives. He and his backup band of rotating musicians are sultans of ditty delights. Gravity (Radiation Records) is Mark's 11th studio release and follows Stowaways and Smartest Man In The Room.
Some of my favorite tracks on Gravity include "Gravity Is Failing", "I Spin You Grin", "Con Man VIP" and "Heart Full of Soul". I'd like to give special recognition to the instrumental "Coronation" for papal-like sonic organ.
"Gravity Is Failing" satisfies the New Orleans-style of piano playing fan. Mark's piano descends back and forth, creating a vibe of cheery demolition. His take on the US politics is lighthearted, but impactful. His lyrics, hold fast, everybody! hold on here, tie your desk, your dog, your child, to a tree, else rue the day when they levitate and disappear, sway the listener to his quirky viewpoint. While most of the record I found myself trying so hard to put to words the sound of Mark's husky voice, it occurred to me that his satire and lyrical content is paramount to his singing style.
BANDCAMP: https://music.paulmark.com/album/gravity
"I Spin You Grin" had me yearning for yesteryear and thoughts of saloons with a honky tonk piano in the corner, filling the room with twangy ivory in between the plumes of smoke. Like the soundtrack of any romantic comedy, this vintage sounding charmer dazzles the listener with lines like my heart hits the floor when you head for the door, oh there must be a way, just to get you to stay, and I wonder what might happen, if you just once called me dear, 'cuz I spin when you grin. An endearing song for an amorous love smitten guy, "I Spin You Grin" is the bees knees.
"Con Man VIP" is certainly open for interpretation, but guessing by the lyrics, I can surmise this is written about a certain President of The United States. Heavy on the blues-enriched guitar, echoing into the night like residue, Mark doesn't change his singing style, rather, he leaves the backing music bed to be the game-changer. With lyrics like gold medal grifter with a bankruptcy crown, I'd mortgage my own mother if she wasn't in the ground, check your wallet son, I'm a con man VIP…the devil's directing traffic he won't let you forget, every mile towards heaven runs a mountain of debt, Mark dishes it out.
Finally, "Heart Full Of Soul" also contains what Mark calls "Spaghetti Western" like cinematic sounds. It's a cool-hand Luke type of song with the 60s Laurel Canyon sound. The driving electric guitar riffs set the stage for a lyrical showdown: and if she says to you, she don't love me, just give me her my message, tell her of my plea. Mark's voice is more emotive and rugged. Oh, so cool, Mark.
Cassandra King