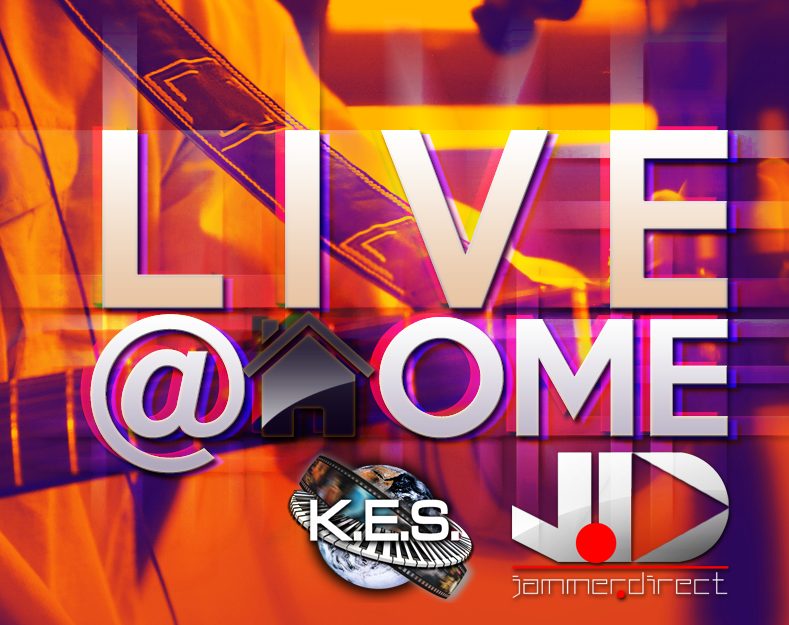 The next LIVE@HOME from Jammer Direct and KES Entertainment debuts Saturday, 30 May at NOON (EDT)   Broadcasting on JDtv on Jammer.direct, ROKU with simulcast on JammerStreamONE radio, then rebroadcast on KEStv on ROKU and KESradio. The LIVE@HOME event is slated to surpass the first broadcast which reached over 20 thousand viewers and listeners combined.   In the age of Social Distancing where concerts, tours and festivals of all sorts have been cancelled until at least 2021 Jammer Direct and KES Entertainment stepped up with the  new way for recording artists of all genres to reach their fans and gain new ones  safely and easily, thusly changing the LIVE music scene forever!
Events, tours, festivals and concerts haven't been cancelled. Just Changed, Jammer Direct and KES Entertainment's combined efforts are leading the way musicians reach the masses.  Follow Jammer Direct and KES on Twitter for updates, if you're a musician, recording artist that wants to be part of the nest LIVEatHOME please contact al@jammer.direct or  info@kesnetwork.com  You can also check out https://jammer.direct/liveathome/
Make sure to Tune in to #JDtv online @ jammer.direct, on ROKU or you can listen on  JammerstreamONE.  Rebroadcasts can be seen and heard on KEStv on ROKU and KESradio too.
https://channelstore.roku.com/details/297950/jammer-direct
Viewers will be able to "virtually Tip"each performer via a QRcode that will be on screen, as well as get information and links.
 A Plethora of genre and artists will be performing:
Todd Barrow ~ A chance encounter at Cook Children's Medical Center is all it took to set Todd Barrow on his mission to revamp classic country with his signature modern twist. One day, an American Idol contestant was slated to perform for the patients at Todd's place of employment, but the audio tech was nowhere to be found. When he heard the call, "Can anybody here run sound?" Todd answered. In walked Texas Music Hall of Fame Honoree Sonny Burgess just as Todd was setting up the live rig, and the two musicians struck up a conversation. Sonny told Todd about his work with Charlie Pride and Randy Travis, and asked Todd if he might lend his technical skills to help build the recording studio sponsored by Garth Brooks and Troy Aikmanhe that had in the works. This serendipitous encounter yielded a coffee meeting to review the blueprints for the project, and before long, Sonny was meeting Todd for coffee weekly to discuss music. Eventually, he became Todd's mentor, forever changing the course of Todd's career.
Now, Todd Barrow is making a name for himself as a country artist to watch. The Texas singer-songwriter has racked up more than a few accolades, from a PRSA Award of Excellence, to an Akademia Award for Best Country Album, and an artist spotlight in Alternative Roots Magazine, American Pride Magazine and AVA Radio. He has appeared on television shows including Good Morning Texas with Jerry Matheny and Texas Music Café on PBS. He's even shared the stage and studio with some of country music's heaviest hitters, from CMA musicians in Miranda Lambert's band to Fort Worth Producer of the Year Bart Rose. But it's more than just Todd's success to date that makes him such a compelling country artist. What's most readily apparent in Todd Barrow's music is his heart.
Todd's music is no country for old men. While he undoubtedly draws his sonic influence from titans like Hank Williams and Johnny Cash, his melodies skew modern. He plays almost every instrument, from piano to guitar, mandolin, harmonica, and drums, and the multi-instrumentalist doubles as a songwriter for himself as well as for other artists. ""If I can put a smile on someone's face through song, well that just means the world to me," he says. "I try to get to the real heart and soul of a song. To me, it's not just words but a story, and I do my best to portray that with every line. That's my main draw to country music; the stories, the people, and the sincerity that comes from the heart."
http://www.ToddBarrowMusic.com
http://www.twitter.com/ToddBarrowMusic
http://www.instagram.com/ToddBarrowMusic1
https://open.spotify.com/artist/0Ab2CaTAC6yZQZoTjBz6VE?si=SJjBHsNlTum1P4JedhIetQ
NEENA ROSE~To say that aspiring artist Neena Rose is a more powerful and passionate lead vocalist than many singers twice her age wouldn't be an exaggeration. Hamilton born, Neena Rose at only 16 year's old has been called an "amazing young talent, incredible vocalist and witty lyricist" by 80 Empire of Universal Music Publishing Group, who produced and co-wrote the songs for Neena's soon to be released R&;B spiked' EP, calling working with her a "sheer joy!"
Be it recording her first original song "Rock N Roll Lullaby "at the age of 12, produced and mixed by Diamond/Platinum producer Roy "Royalty" Hamilton III, performing for Oprah Winfrey at Copp's Coliseum in front of an audience of 14,000 or being selected by CHCH TV to record the new theme song for Tiny Talent Time, Neena's ardent delivery, her maturity and unique style engages and inspires an immediate emotional response from anyone listening. Neena Rose is thrilled to release her captivating debut single and music video "Games" with originals "Rewind" "Circles" and "Mannequin" to follow. She's elated to share these powerhouse tracks paving the way for what her fans can expect in 2019 with the release of her first full- length album. When asked, Neena Rose spoke of looking forward to writing and performing songs that inspire others and her personal joy of giving back to the community through the gift of music.
https://www.neenarosemusic.com
https://www.instagram.com/neenarosemusic/
https://www.youtube.com/neenarosemusic
LIV MANNARA
Born, and raised in Toronto, Canada, 17-year-old Liv Mannara strives to introduce her indie, yet urban pop, high energy music, and strong vocals to many who are waiting to hear. Without Liv's unique personality, humour, and style, her original songs would not be portrayed the same. This 17-year-old girl has worked with few producers but has "blown their minds away" with her exclusive ear, to countless incredible new sounds that soon will be discovered. At the age of 14 Liv recorded her first original song "Perfect Touch" produced by producer Roy Hamilton III, then her second debut single "Free Fallin'" produced by Jovan Jovanov, which opened the doors into Liv finding her specific vibe of music she knew was right for her. She then was given opportunities to showcase her astonishing vocals at the Pan Am Games Opening Ceremony in front of an audience of 500 or being chosen individually to perform in front of an audience of 400, at the Taste of the 6ix. Liv is confident, and passionate to release many singles on the way, yet her newest debut original single "Complicated", for many to listen, and enjoy however, to perceive the message behind it.
She is overjoyed, and ecstatic to share her messages, her vibe, and her captivating voice for her supporters to engage in throughout this 2019-2020 year ahead. Liv is courageous, and fearless, to write about messages that impact her, however for many others that have experienced the same. Liv "can't wait" to show the world what she has, through her love of music.
https://www.livmannaramusic.com
https://www.instagram.com/livmannara/
The Celestial Stars
Organized in 1995, the original members were Lawrence Preston, mother Gwendolyn Williams, and father Lawrence Williams.
After Gwendolyn passed in 2009, the group reorganized in October 2011.
The group now consists of members Lawrence Preston, his father Lawrence Williams, cousins Barry Franklin, and Richard Kinney.
The Celestial Stars are a group with a sound that bridges the richness, and tradition of traditional Gospel quartet music, with contemporary Gospel music taste.
The groups' gospel music influences are the Pilgrim Jubilees, the Fantastic Violinaires, the Gospelaires; led by the late Bob Washington and The Highway Q.C'.s.
The Celestial Stars sound is a blend created by songwriter, Producer Lawrence Preston, inclusive of the R&B sounds that influenced him; such as Sly and The Family Stones, James Brown, Earth, WIND and Fire, and Cameo to name a few.
The integration of these musical influences has given The Celestial Stars a unique and vibrant sound that is catching the attention of Gospel and Christian audiences everywhere.
Onstage, the Stars give their audiences electric energized energy and excitement in every performance. The Celestial Stars are dedicated to giving their fans great stage performances.
The singers in the band are; Richard Kinney, Lawrence Williams, and Lawrence Preston, who is also the groups' bass player; the groups' tenor vocalist is Cousin Barry Franklin.
San Francisco is known for the Bay, Fisherman's Wharf, and the iconic Golden Gate Bridge, and now it has a groundbreaking, exciting group to introduce to the World;
The Celestial Stars.
"We wish you peace and love"
Lawrence Preston
Gemstone Records
DuShane Band Bio
Formed in late 2012, DuShane is a culmination of southern rock and country . The band consists of vocals, electric/acoustic guitars, bass, drums, pedal steel, violin and keyboards.
Formally of the band Law and Order (MCA Records), lead singer DuShane, brought up on the Nashville/Memphis sound but also uses his New York City roots to create their "Urban Country" Americana sound.
The Band is a blend of acoustic and sonic texture that is reminiscent of classic country and southern rock, and shimmers with modern studio sounds and arrangements.
 Tutored by friends and former producers Joe Hardy, Mac Reinhold and Shane Keister, The DuShane Band was able to produce and engineer and record their first independent record.
DuShane's first single "Alabama Rain" released in early January 2017 has received receiving warm reviews and gaining popularity from fans with different musical tastes, and with a release of DuShane's first music video for "Summertime" the band hopes to gain popularity with country and rock fans as well as appeal to a broader global audience.
ABOUT ALABAMA RAI 
The band's newest video, "Alabama Rain", opens up with an anthemic intro that brings a familiarity to the song, comforting the listener as they brace for the story's impact. The line, "Johnny turned 20's from the poor side of town" kicks off the first verse, putting you in the main character's shoes. DuShane completes the verse with, "One day he got married and found a way / He had a new baby boy and landed a job / without any skills had to work twice as hard, working the steel mills 14 hours a day."
Then, tragedy strikes- the mill shut down. What's more? There is a second child on the way. Without a job or pay to support his family, Johnny hit rock bottom. He was left with no choice but to enlist in the military to make ends meet. The video ends with Johnny coming home a hero, reuniting with his family, and the fulfillment of his promise that they would never know that "Alabama Rain."
All in all, "Alabama Rain" is a song of hope. The Johnny character featured in the story is all too relatable for a large portion of the United States right now due to the outsourcing of jobs and the shrinking of the middle-class. The lyrics in this song can speak to the hearts of those affected by these conditions and serve as a point of inspiration. The fresh sound and undeniable relatability of this song is sure to hook country and Americana music fans, and we're so excited to watch the DuShane band flourish with the release of this video.
The "Alabama Rain" music video is the product of a life-long evolution for DuShane, and with this new rocking band as the wind at his back, we are truly honored to have the DuShane Band on board with the KES team! Visit Dushane at https://www.dushaneband.com/ for more information on DuShane Band.
Link to the video: "Alabama Rain"
https://www.vevo.com/watch/dushane-band/alabama-rain/TIVEV1757928
Lawrence Preston
The Throwback Sounds Vibe touches every aspect of the musical genre out there!  RnB/Soul singer Lawrence Preston echo's the classic melodies of Sam Cooke, Marvin Gaye and Stanley Clark just to name a few. Infusing the best elements of jazz, funk, pop, hip hop into a unique balance diverse musical experience while maintaining a strong soul element. Lawrence's vocal harmonies, funky bass lines and fairly simplistic beats maintain the soulful sound throughout his songs. Gearing up for a UK tour mid- June 2018 he will without a doubt capture the attention of intimate club patrons with his elements of hard, lingering bass lines; with a touch of emotion-stirring guitar riffs with authenticity that is necessary in soul music, it's a jazzier, funk sophisticated taste.
Some  background info on Lawrence~  A San Francisco native, Lawrence was born into a musical family, his parents having formed a gospel group, The Sensational Travelers, who rehearsed in the local church at which his grandfather was pastor. At the age of only five, Lawrence was part of another family gospel group, Fantastic Four, also featuring his father, a talented guitarist. Becoming known locally as "The Gospel Jackson Five", he had now truly become committed to music, learning to play trombone, guitar and, his ultimate weapon of choice, bass guitar. Aged 19, his musical skill was spotted by Sly & the Family Stone founder, Freddie Stone who in turn recommended him to "Oh, Happy Day" singer, Dorothy Morrison, leading to a significant period in the 1980s as the bass player in her gospel band. Taking his time to truly learn his craft, Lawrence emerged in the 1990s as an artist with a wealth of experience, recording his first full-length album in 1997. "Something for You" is Lawrence Preston at the peak of his powers, an artist for fans of classic soul and for those wanting to hear real musicianship and passion.  More info can be found on his website http://www.lawrenceprestononline.com/
Listen to his music on Spotify, Apple Music and all other digital platforms http://spoti.fi/1LBfdPt
Follow him on Twitter for updates and exclusive information and photos @law_preston