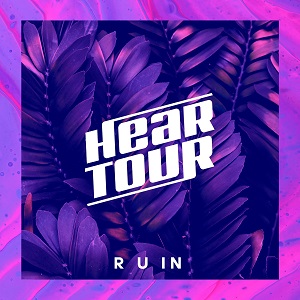 With a sturdy beat driving its initial groove, "Let the Robots Drive" comes into focus on the back of a sensuous percussive pattern, but its main draw isn't its toned rhythm. Surreal and perhaps the strongest lyrical work songwriter Jason Young has submitted in the past fifteen years, this selection from the ten-song R U IN from Heartour is easily one of the best tracks on the record, though hardly the lone patch of sonic wonderment to discover. R U IN is as psychedelic-tinged as it is synth-powered, which despite being a more common cocktail in recent years sounds as fresh as ever here.
HEARTOUR URL: https://heartour.com/
There's more than just enigmatic lyrics to enjoy in this LP; in fact, I would even say that the verses aren't quite as captivating as some of the instrumentation is in songs like "Eye on the Ball," "Dear Future" and the opening track/third single "Brain." Everything about R U IN feels a little avant-garde, yet even its most experimental moments bear a certain accessibility required to attract casual pop fans and serious synth-rock addicts alike. More than a touch of time and thought went into structuring this album, and that's made quite obvious to us from the get-go here.
"Dreams to Come" and "Refill the Fountain" have some of the most striking beats of any songs on the record, and while all of the drum parts in R U IN are pretty textured, these shape the mood of their melodic counterparts almost entirely. There's something really special about dreamy music sporting as evocative a rhythmic backbones as both of these tracks are, and while I wouldn't describe any of the music on this album as filler, they're reason enough to give the whole set of songs a listen this spring.
I absolutely love the layered bass elements in "Bubbling," "As Far As We Go" and the juggernaut "The Persuadable One." I think that, in the case of these three tracks, the bassline contributes a mountain of emotionality to the underlying grooves, which further adds to the vulnerable sensibility in Young's lyrics. R U IN is jointly complex and surprisingly easy to listen to, and though there are a lot of alternative records treading similarly surreal waters right now, few have left me as spellbound as this LP's songs have. Heartour has made some amazing music before, but this might be the most mature piece in his discography yet.
BANDCAMP: https://heartour.bandcamp.com/album/r-u-in
If what I'm hearing in R U IN is a taste of what's still to come for Heartour's Jason Young, I think that his best rhythms and rhymes are likely still ahead of him. This is a great look into the present state of his artistry, and as much as I think it's his most well-rounded work to date, I doubt it's representative of a creative peak in his career. He sounds like he's still got a lot to get off of his chest here, and I for one will be eagerly looking forward to his next dispatch, whether from the studio or the stage.
Loren Sperry