Introducing MALACHI: the 22-year-old singer from Toronto who captured everyone's attention in 2019 with his debut mixtape Bread Winner. Less than a year later MALACHI is back with a brand new EP and a whole new perspective on releasing music in the age of physical distancing. Music Existence spoke to MALACHI about his musical upbringings, hometown influences and what he's most excited for once isolation is over.
ME: At four years old you immersed yourself in music and joined your Church's gospel choir. What did you learn back then that you carry into your career today?

Channeling your roots. I learned to always keep heart & soul close to my music, that's what really gives it meaning. Whether it's a sad or uplifting song, I want to be able to feel the real emotions of that song and have listeners feel that too. 
ME: How do you think your sound has evolved since Bread Winner?
My sound has definitely evolved, I feel like that's something that will continue to grow with me. I try to be a student of the game and learn as much as possible. I love listening to and blending different genres into my music; R&B, pop, hip hop, reggae. I'm learning to try new things and step outside the box. I'm excited to see what's next. 
ME: What do you enjoy about releasing an EP compared to a stand-alone single?
Even though Bread Winner was a mixtape project, it feels a lot different than this EP release. Those were tracks we KidThePro and I was just messing around, spending way too many nights in the studio lol. The songs on this Right Now EP felt like the first "real" songs I made. I recorded all of these before Bread Winner so I have a sentimental attachment to them. These songs are a moment in time in my life. To me, a single tells a piece of the story. An EP or album pulls all those chapters together to paint the full picture.  
ME: Have you become more comfortable in the studio over the past few years, or do you enjoy being on stage more?
The freedom I have in studio to create pretty much anything I want is always exciting so I think I find more peace/comfortability with that. The stage can be a hit or miss! Like winning or losing a sports game. Some audiences are tougher than others, some venues have better sound, theres a lot of variables. But my goal is always to turn a tough crowd into fans.
ME: Your single "Aquafina" has many island infused sounds and lyrical hints to warmer climates. Where did the inspiration for the track come from?
"Aquafina" was written in LA when I spent my very first time down there making music and meeting some people. The inspiration came pretty instantly. Coming out of the terminal, feeling the LA heat! The melting pot of so many cultures (much like Toronto) felt new but like home at the same time. I only spent about 10 days down there but was one of the most creatively productive times I've had. "Aquafina" just feels like summer and will always take me back to the memories of that trip.
ME: It's been really exciting to see how many Toronto based artists have been thriving in the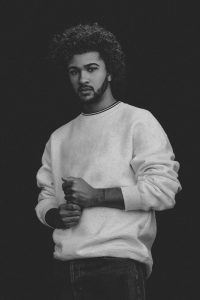 music industry over the past few years. Who are some of your favourite artists from Toronto?

My favourite artists from Toronto have to be: Partynextdoor – his writing ability and melodies are so underrated and unmatched
Drake – of course, cause that's 6ix god
Tory Lanez – dude is on a whole new level of versatility that I really admire. He's a star.
Honourable mention: Shawn mendes – I've met him a few times from high school parties to a few backstage concert rooms and he always seems to be the most humble guy in the building. Also, he would bring his guitar everywhere and steal all the girls at the parties… so he inspired me to pick up the strings.
ME: Other than promoting the new EP, what have you been up to since self-isolation started?
With this whole quarantine thing going on, I've crafted a little studio in my room to record ideas. Outside of music I've been reading a lot of books about healthy living and clean eating (trying to learn more about that vegan lifestyle!) and trying to stay in shape and sculpt my "summer bod" lol. Even if we don't get outside much for summer this year, I wanna be physically and mentally healthy. 
ME: What is the first thing you want to do once the pandemic over?
First thing I'm going to do when this pandemic is over is head to Atlanta and stay there for a couple months to work on new music. Although we have the capabilities to create remotely, nothing compares to the energy you feel from a change of scenery and collaborating in person with people who can bring different experiences and flavours. Oh, and hopefully see a show at Bud Stage before I go.
Check out MALACHI's new EP Right Now out today.
MALACHI ONLINE: Website | Facebook | Instagram | Twitter | Music