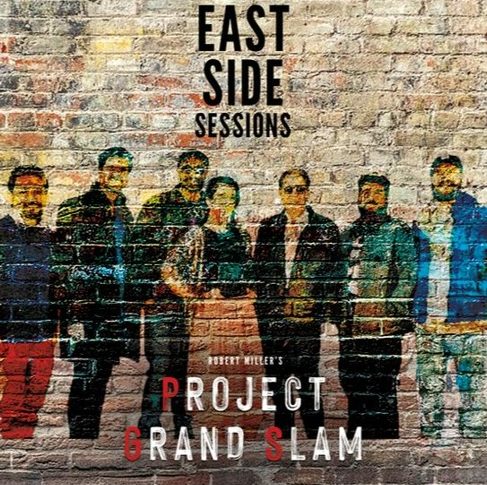 Alongside a brooding beat and a colorful harmony between keys and strings, a velvety voice welcomes us into the melodies of "Tessa" with open arms. One of the more brilliantly smooth tracks featured on the new album from Project Grand Slam, East Side Sessions, "Tessa" is a bold combination of pop songwriting aesthetics and jazz conceptualism. Much like the other material it's joined with in the tracklist of East Side Sessions, this song sees Project Grand Slam returning to the spotlight with their most pop-oriented sound to date. While it's a departure from the style frontman and bassist Robert Miller was toying with in his last few albums under this moniker, this is definitely a look longtime followers should be quite pleased with just the same.
PRIMARY URL: https://www.projectgrandslam.com/
Vocal virtuosity has always been a staple of the Project Grand Slam identity, and although Marilyn Castillo is stepping up to the mic for the first time in this ninth studio album from the band, she doesn't sound like much of a rookie here at all. Her connection with the other players is seamless, as is her timing. To some extent, East Side Sessions is no different in construction than past records from this group – songs like "I Wanna Be Your Girl," "The One I'm Not Supposed to See" and "Tessa" are as dexterous as they are decadent, and presented to us in a surreal fashion that has become a bit of a signature for Robert Miller-led productions. What sets this LP apart from the others in Project Grand Slam's discography has less to do with surface aesthetics and almost everything to do with its pop-inspired flow.
There's a lot of fretwork worth writing home about in this album. "It is a Miracle to Me," countrified "The Pardners" and rocking "I'm Falling Off of the World" are all as dominant in their string play as they are any of their grooves, and despite the jazz components featured in every track here, there's scarcely a moment in which they aren't complemented with another influence (whether it be pop, rock, R&B or otherwise). "Stockbridge Fanfare" is a straight-up pop/rock song, while "Hey Jake" flirts with R&B, mild fusion and retro pop swing. Ballads like "Juliet Dances" are even harder to classify, but as experimental as the sonic narrative gets here, East Side Sessions never devolves into aimless avant-gardism.
If you love complex musicality, particularly of the jazz fusion variety, Project Grand Slam's East Side Sessions is a must-have affair. Robert Miller has yet to let critics and audiences down when it comes to turning out original content on a consistent basis from year to year, and for my money, I think this latest endeavor (and selected cast of collaborators) is some of his sharpest stuff so far. Project Grand Slam is nowhere near the end of their professional days – in my opinion, East Side Sessions shows us that they're more alive with vitality than ever before. I'm excited to see what their future brings, and once you get a taste of this LP, I think you will be as well.
Loren Sperry