Welcome to "Quarantine Questions." The newest segment from Music Existence will explore what your favorite bands have been up to while self-isolating at home during the global coronavirus pandemic. If you hit the festival circuit last summer chances are you're already familiar with this week's guest, BAD CHILD. The Canadian singer-songwriter launched into the big leagues and left his mark on music's most memorable stages in 2019. Having already conquered Glastonbury, Lollapalooza, Reading & Leeds and Osheaga, BAD CHILD is back with his newest single "Behave," along with a fan centric music video. Check out the new video below and see what BAD CHILD has been to since touring halted.
1) Name a show(s) you've been binge watching.
BAD CHILD: I've been watching a lot of "Euphoria" – I finished it in like 3 days actually. Phenomenal acting and poignant topics. It is the most convincing high school show I've ever seen they talk about things most networks would be so scared of exploring and it makes for some brilliant television.
2) Do you have a favourite quarantine snack?
BAD CHILD: I've been learning how to make bread and I've spent so much goddamn time making loaves, pizza. It's really therapeutic yknow doing something with your hands and taking your time I've always considered cooking so artistic.
3) Who has been on your quarantine playlist?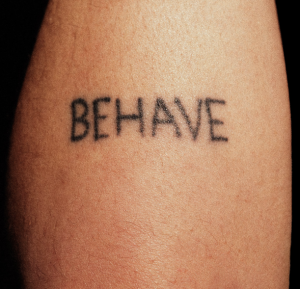 BAD CHILD:I've been listening to a lot of Mulatu Astatke who's a brilliant ethio jazz artist. His music is so lush and there's also a beautiful darkness to some of his work. Also Nine Inch Nails new Ghosts album is a fantastic listen – seems like the soundtrack to the world right now. The musician that really threw me for a loop was Sybille Baier her song "Forget About" is without a doubt one of the most levitating pieces of music that has ever existed. Fiona Apple's new album has been on repeat since it's come out as well my god what a body of work. That album made my heart drop from the second the piano comes in the first song. Really wonderful work from Fiona.
4) Have you picked up any new hobbies since being at home?
BAD CHILD: I've been spending a lot more time working on my animations, I used to work a lot more on them and as of lately I've been able to reconnect. I love using real paper and a light box and individually doing each frame sometimes it can take me 20 hours to get 5 seconds but it's so rewarding. I'm hoping to incorporate a lot more of that work into my music.
5) Where is the first place you're going once this is all over?
BAD CHILD: Honestly would love to go back to the south of France, I spent some time in Nice and I felt at home. It was my first time in the ocean – and it was like I was reconnected with a part of myself I'd forgotten about. I loved the locals. I've always had a soft spot for France.