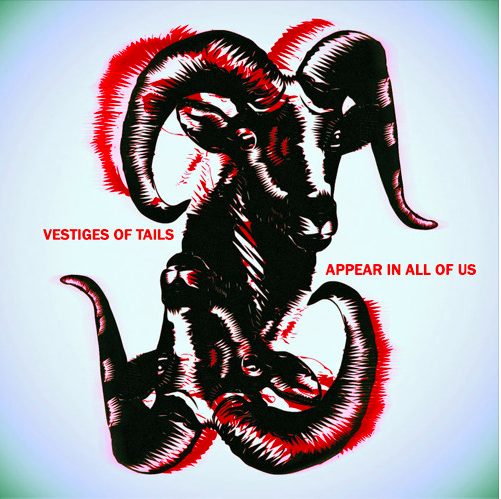 With a dam-bursting eruption of percussion to start the fire in its opening song, the appropriately-titled "Stick and Poke," Ancient Whales come screaming out of the silence ready to rock as hard as ever in their new album Vestiges of Tails Appear in All of Us. "Stick and Poke" was definitely the right song to begin the tracklist, and it feeds into the vicious grinding of "To Be" as though the two tracks were always meant to be joined in an epic medley with "Everything" and "Given" as well. Ancient Whales aren't resting on their laurels in Vestiges of Tails Appear in All of Us; on the contrary, they're pushing the envelope even further to the left than they did in their greenhorn LP, 2019's The First Album.
The first four songs on this record have a pretty traditional punk rock mentality, but as we get deeper into the album's headier tracks, like "For All," it becomes clear that raw energy wasn't the only component Ancient Whales wanted to incorporate here. There's a sense of melancholy buried within some of the narratives here, and even though it's never fully explored in the way it probably would have been in a straight pop LP, it influences the interpretation of every song we find. "Time" and the profoundly slick "Saturday Morning" (my favorite Ancient Whales tune to date) show off shades of a vulnerable poetry that I didn't know these guys could handle, let alone adeptly manipulate as brilliantly as they do on this specific occasion.
URL: https://ancientwhales.com/
"Oh Yeah" and "She Makes" total five minutes when played back to back, but their brief time on center stage is more than long enough to get their individual grooves stuck in our heads for a lifetime. "EA" is the most textured track here, but it doesn't eclipse the fuzzy presence of "Feeling" at all – I'd actually say they highlight the compositional contrast within each other rather perfectly. There are a lot of elements in this record that feel indebted to grunge, but make no mistake about it – Vestiges of Tails Appear in All of Us is no throwback album. Ancient Whales might borrow a concept or two from the Seattle underground in their new record, but they're not trying to relive the 1990's all over again in its thirteen thrilling songs.
APPLE MUSIC: https://music.apple.com/us/album/vestiges-of-tails-appear-in-all-of-us/1495472956?ign-gact=3&ls=1
Vestiges of Tails Appear in All of Us wraps up with the jittery "You Know What to Do" and crisply-produced "Raunchy," and as it fades into the darkness from which it came barreling out some twenty-six minutes before, it feels like a watershed moment for its composers. Ancient Whales are on the cusp of something really special in their second studio album, and if you haven't already taken the time out to do so, I recommend listening to it as soon as possible. It's a full-color way of getting to know one of the best and brightest young bands in the American underground today, and absolutely one of the most well-rounded records in the rock n' roll genre out this season.
Loren Sperry