Welcome to "Quarantine Questions." The newest segment from Music Existence will explore what your favorite bands have been up to while self-isolating at home during the global coronavirus pandemic. This week's installment brings the South Carolina born blues rocker, Hannah Wicklund. She's the lead singer in Hannah Wicklund & The Steppin Stones and just released an EP titled The Inbetween. The EP is a collection of solo renditions from Hannah Wicklund & The Steppin Stones' self-titled debut album from 2018. The Inbetween sees Wicklund trading in her signature electric guitar for a piano, and showcases her most popular songs in a stripped back and more concentrated setting.
1) Name a show(s) you've been binge watching.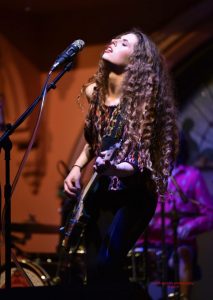 Hannah: I binged the hell out of The Ozarks, and recently wrapped up The Walking Dead; safe to say my dreams have reflected the stressful plots.
2) Do you have a favorite quarantine snack?
Hannah: My favorite snack thus far has been ice cream.
3) Who has been on your quarantine playlist?
Hannah: I'm currently listening to Django Reinhardt, and have been honoring the late, great John Prine as well.
4) Have you picked up any new hobbies since being at home?
Hannah: I wouldn't say I've picked up any new hobbies, but I've reconnected with lots of old ones! I've been knitting a bunch, we've finished a household puzzle, and I've been painting up a storm.
5) Where is the first place you're going once this is all over?
Hannah: When this is all over I'll be seeking out the finest sushi I can find!
Hannah Wicklund & The Steppin Stones Online: Website | Facebook | Instagram | Twitter