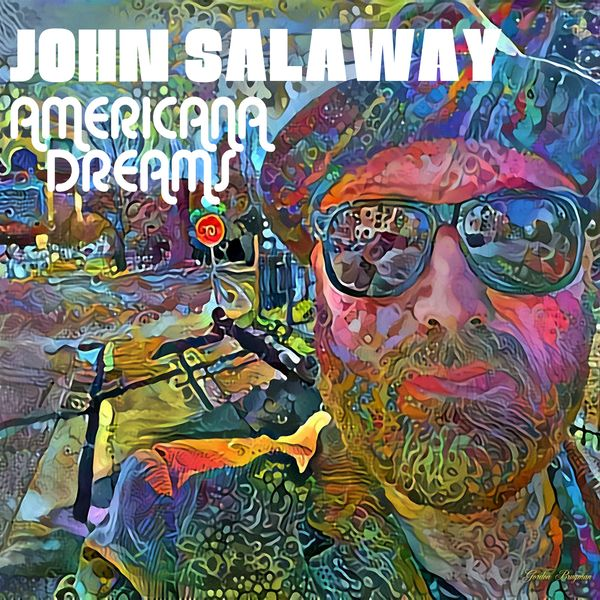 The influence that The Beatles have on music continues to grow – even more than 50 years later since the Fab Four played their first show at The Tavern Club. One such artist making his own distinct mark in the pop rock and Americana genre is Nashville based, John Salaway. Even his last name is melodic, just like the 10 songs on his new record Americana Dreams. 
Salaway, who moved to Nashville 15 years ago from Florida, saturates the songs on Americana Dreams with additional Sixties-sounding tones. His songs also feature obvious influences from Cosby, Stills, Nash & Young, and even Simon & Garfunkel. He certainly adds additional unique flavoring with the fiddle or violin in songs such as "It's All In Your Mind".
SOUNDCLOUD: https://soundcloud.com/johnsalawaymusic/sets/americanadreams
Lyrically, Salaway follows a solid pop song structure. In "It Feels Great" he sings there's a light shining through the clouds right now…down to the river, put your feet in the water, cuz it feels great when you let it all go, when you let it all go. What I liked most about this particular song is the sincerity in Salaway's warm vocals. It's a great sing-along tune and has the essence of summer or a sunny day at the lake. Much like The Beatles, there's a toe-tapping melody and Salaway hangs onto each line with an elongated melody – he draws out each last lyric in every line. He does this again in "Take The High Road" and others and his voice is really adept at this. It grows on the listener and is endearing.
In "A Little Bit Broken" Salaway sings  I'm a little bit broken, but I put myself back together. This song has such a cool theme – the backing music doesn't evoke any sort of confusion. On the contrary, the sliding guitar and crunchy rhythm guitar work in tandem to create this racing sound. Off and running! The rhythm guitar also has crisp pockets where the listener can almost hear the guitar pic hitting the strings. Percussion wise, the fill spaces are garage band rock meetings Ringo's arrangements. It's a really cool song.
ONE RPM: https://onerpm.lnk.to/americanadreams
The fullness of the backing percussion and rhythm section in "Real With Ya" (track eight) is quite the jam. He repeats the word "maybe" at the beginning of most lines. Maybe I'm not that confident, maybe I'm a hypocrite…if I'm real with myself, he sings. The sound in "Real With Ya" felt more longing, more reflective. The music base is more subdued. After a few more listens, this song turned out to be my favorite. The timing just felt important and Salaway's vocals have a bit more grit, more scratch than the previous polished works. I wondered if he recorded this song later in the day, or how many takes it took to "get it right" or the way he wanted the finished product. "Real With Ya" is so relatable and the lasting feeling is there. His words just twirl in your head. It's one of those songs, too, that changes its meaning each new listen.
Loren Sperry