Welcome to "Quarantine Questions." The newest segment from Music Existence will explore what your favorite bands have been up to while self-isolating at home during the global coronavirus pandemic. Today we have Tyler Bryant, frontman for the blues based rock band Tyler Bryant & The Shakedown who has toured with everyone from Guns N' Roses to AC/DC. While isolating, Bryant has kept fans happy with frequent IGTV performances on his personal Instagram found here. If things go according to plan, Tyler Bryant & The Shakedown are currently booked to tour with Nickelback and Stone Temple Pilots this summer.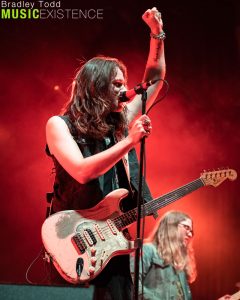 1) Name a show(s) you've been binge watching.
Tyler: Ozark, Marvelous Mrs. Maisel, & Chris Delia's Congratulations Podcast.
2) Do you have a favorite quarantine snack?
Tyler: Popcorn with hot sauce on it.
3) Who has been on your quarantine playlist?
Tyler: Townes Van Zandt, Johnny Winter, & Ray Charles.
4) Where is the first place you're going once this is all over?
Tyler: My favorite brewery, Various Artists.
5) Have you picked up any new hobbies since being at home?
Tyler: I've been making my own hot sauce. When I share it with the world, people will cry.
Tyler Bryant & The Shakedown Online:  Website | Facebook | Instagram | Twitter