In This Moment brought a little Hell and a little Heaven with their latest album Mother. Frontwoman Maria Brink teamed up with her bandmates – lead guitarist Chris Howorth, bassist Travis Johnson, guitarist Randy Weitzel, and Kent Dimmel and pieced together their seventh full-length album. Throughout the whole set of 14 tracks many religious and spiritual references are present, making Maria a feminist symbol, "mother" of the metal community.
The opening track is a cover of "Fly Like An Eagle" by Steve Miller Band. The cover itself is well done in a typical darker In This Moment style which made it more unique. I like how they did their own thing and didn't just copy the original version.
"The In-Between" is a hard rock song in which Maria's significant vocals are really showing. The song is about two sides – the good and the bad, Heaven and Hell which reminded me of some of their previous work both lyrically and melodically. It even references some of the popular songs like "Blood" and "Whore". The religious theme is also noticeable in "God Is She" and "Holy Man".
"Mother" is right at the center of the same-titled album. It's a very emotional song and even though it lacks the heaviness, it's a perfect combination of beliefs and cultural elements representing what's the whole record about.
One of the highlights is "Hunting Grounds" featuring Joe Cotela (Ded). Both vocalists put their hearts into this song showing us how compatible their singing styles are. Definitely one of the most enjoyable songs.
Probably the biggest surprise on this album are the featured guest vocalist Lzzy Hale (Halestorm) and Taylor Momsen (The Pretty Reckless). Alongside Maria's vocals, these powerful frontwomen gave another flavor to Queen's classic "We Will Rock You" proving that you can rock despite your gender.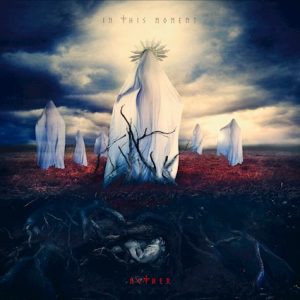 Tracklisting:
"The Beginning — Interlude"
"Fly Like An Eagle"
The Red Crusade — Interlude"
The In-Between
Legacy
We Will Rock You
Mother
As Above So Below
Born In Flames
God Is She
Holy Man
Hunting Grounds
Lay Me Down
Into Dust