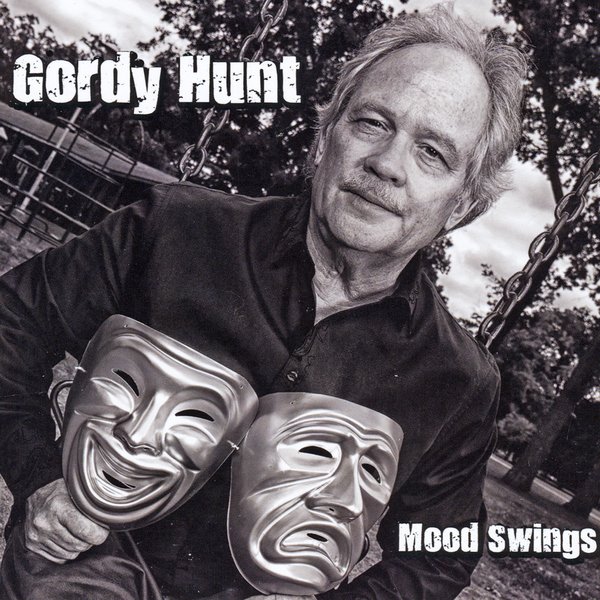 From the kaleidoscopic riff n' groove rundown that we encounter in "Make out Music" to the sultry acoustic swing of "Sweet Coffee," pastoral pulsations in "Ransacked Hearts" and simplistic melodicism of the easygoing "Elephant in the Room," there's scarcely a moment in Gordy Hunt's new album Mood Swings where the veteran singer/songwriter doesn't sound completely at ease in the recording studio, and although he's turned in some pretty swaggering work prior to now, I think that this latest effort might just be the most confident he's ever sounded in his career. In the follow-up to his 2015 LP Seniority, Hunt seemingly goes out of his way to reject the nonsensical filler that many of his contemporaries have come to lean on when crafting a new album, instead favoring a concept that gets back to the basics of rock rhythms and haunting pop harmonies while still allowing himself to explore his depth as a songwriter. The aptly titled Mood Swings covers a lot of ground both sonically and aesthetically, and personally, I think it's this artist's most intriguing work to date.
FACEBOOK: https://www.facebook.com/gordon.hunt.16
The beat is as expressive as any of the melodies are in "A Woman's Touch," the mildly exotic "Waste of Time," rambunctious "Wine, Women and Song" and the churning groove-maker "Point of View," and from where I sit, I think it was important to make it as prominent a feature in Mood Swings as it ultimately is. There's a great warmth to the string play we find throughout this tracklist, and honestly, had the drums not been given a little extra panache from Hunt, I'm not sure that this record would feel as multidimensional and versatile as it does in this particular instance. Hunt's vocal is challenged for supremacy over the harmony in "Powerless" and the similarly electric "Just Can't Leave Her," but even when the backing instrumentation is giving him a serious run for his money, I don't believe there's ever a moment in this LP where he isn't sounding like the true star of the show from top to bottom. Mood Swings sports a terrific production quality, but it's clear to me that all twelve of its deliciously tenacious songs would likely sound just as engaging in a stripped-down format as they do here.
AMAZON: https://www.amazon.com/Make-out-Music/dp/B083Q1RHS8
If what I'm hearing in this latest release from Gory Hunt is essentially just a taste of what he's planning on filling this unfolding chapter in his career with, then I think it would be safe for his fans and critics in general to assume that he's far from nearing the finish line as a professional singer and songwriter. Hunt has magnificent energy and enthusiasm in this album that is reminiscent of the iconic Boz Scaggs, and if he's able to bring the same trademark tonality he's injected songs like "Stomping Grounds" and "Broken in Two" with here, I believe he's going to see a lot more success on the mainstream side of the industry than he has in previous affairs. He's not necessarily breaking the rock and roll mold in Mood Swings, but he's definitely demonstrating some remarkable consistency as a player.
Loren Sperry