Still in her early twenties, recent pop phenomenon BENEE has been leading the New Zealand alternative scene since she was 18 years old. Once discovered she quickly made the jump from playing in small clubs to headlining her own shows and has been representing her home country at festivals all over the world. She has already released two critically acclaimed EPs which have both racked up a millions of streams online, and has seen praise from legends like Sir Elton John. Music Existence spoke to BENEE about her jump to headlining shows, the importance of streaming and meeting her idols.
ME: Your sound is defined as "R&B mixed with electro-pop". Are there any other genres you'd like to experiment with or is the idea of genres redundant in 2020?
I'd like to think of music as a mix of genres & I think now is a time where new music is getting harder to put under one name! I think I've definitely been experimenting more with indie elements recently but I think just as liking elements out of all different sorts of genres is something I want to keep doing in the future.
ME: Does your home country New Zealand give you inspiration when writing music?
Definitely! It's so beautiful here & a lot more chill compared to the rest of the world so I feel like it's sometimes a lot easier for me to feel inspired sometimes when I'm at home.
ME: Which do you prefer, writing and recording or live shows?
I don't think I have a favourite!! Before I started playing shows, writing songs was my favourite thing in the bloody world, but then I started performing and you get this weird rush that I have never felt anywhere else before… so I dunno it would probably have to be a tie. Both are so different.
ME: You've released a couple EPs in 2019, is a full-length album on the horizon or do you prefer the quick release schedule of an EP?
I'm still in the process of trying to decide what I want to do next. I've always loved the idea of an album and looked forward to releasing one but EPs are also great in their own way. I would have to say I personally prefer listening to an EP package as apposed to an album.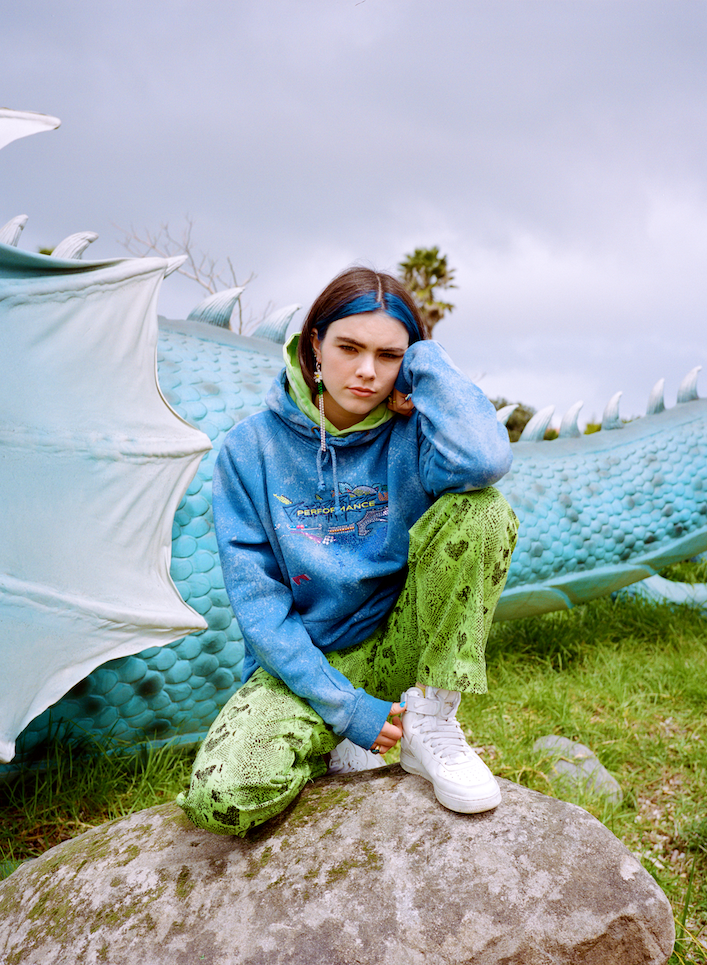 ME: You've gotten a lot of praise from artists like Lily Allen and Elton John, what does that mean to you?
It's all very surreal. I don't think any of it feels like it's actually happening to me… BUT I mean it's insane! I can't really believe that these artists who I've grown up adoring have listened to my music and see me.
ME: You've been lucky enough to land on some of Spotify's top playlists, how has that online exposure helped your career?
A huge amount! These playlists have this reach that I wouldn't have otherwise been able to get out there to by myself. It's crazy how many people find out about you through playlists. I love playlists that can direct me to music that I like it's pretty wildddd.
ME: Many of your headlining shows got upgraded to larger venues, are you excited to start playing to bigger audiences at your shows?**
I am!!!! I love playing at little venues I find the intimacy super special but I think being able to sell to bigger venues is a big thanggg for me like I can't believe that all these people want to come to my show!
ME: How do the audiences differ in New Zealand and Australia compared to Europe and North America?
Uhmmm I think there's definitely a homey kinda feel when I'm performing in NZ or Aussie… It's kinda like an extended family hahaaaa!
ME: What are you most looking forward to in 2020?
Releasing more musiccc!!!!!!!!! 
BENEE Online: Website | Facebook | Instagram | Twitter
** Editors note: This interview was conducted before the widespread cancellations of tours due to COVID-19. Please keep up to date on social media regarding the status of BENEE's April tour dates.