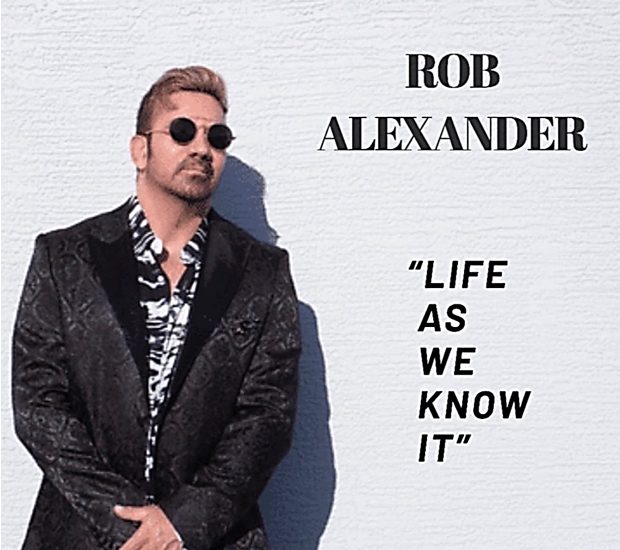 Making one hit single on any given album is a challenge all on its own, but three can be next to impossible – unless you've got a skill set like Dr. Rob Alexander's. Alexander's last studio album, Being Myself, has been roaring through the American underground like nobody's business in the last five months, and a large portion of its success can be traced to its not one, not two, but three star singles, the most recent of which – "Life As We Know It" – is making headlines this March. "Life As We Know It" plays by many of the same rules that its mates on Being Myself do, but with a slight twist; where a lot of the record's most haunting moments are vocal-driven, this song is boasting the biggest beats around.
The piano is always at the center of Rob Alexander's most elegant material, and that's somewhat the case in this single. The keys are perhaps even more colorful and liberally distributed than they have been in past efforts, but once again, the groove that underscores every melody we hear in this track is what ultimately comes away with the audience's attention. Of course, the lead vocal that Dr. Alexander contributes to the song is obviously a point of interest for anyone who knows his sultry voice and all that it can achieve when given the right amount of space to conquer the crowd, but even the verses it conveys are inarguably tethered to the rhythm of the drums here.
This arrangement is the only minimalist-minded component you're going to find in Being Myself, but I don't think that it's so contrasting with the other content on the record that "Life As We Know It" sticks out in a negative way. A lot of critics have come to the moronic conclusion that to sell a concept in 2020, you've got to stick with it through every stitch of material that you release, but I think Rob Alexander is making one heck of a strong push against that narrative in his latest release. There's no room for single-threaded compositional techniques in his wheelhouse; for this anesthesiologist and aesthetically-conscious songwriter, employing anything less than the full-scope of his capabilities just wouldn't work for the kind of music he wants to make (and become known for).
If you love piano-powered rock, pop and/or adult contemporary music as much as I do, Rob Alexander's "Life As We Know It" is about as good as it gets this spring – save for its counterparts on Being Myself, that is. "Life As We Know It" combines all of the loose ends left over from Long Road Coming Home and forces them into a tightly-wound compositional juggernaut that demands as much of a physical reaction out of listeners as it does an emotional one, and if this doesn't make it a special find this season, I honestly can't think of what else would. Alexander is one of the best at what he does, and this just shows he is only improving with time and experience.
Loren Sperry