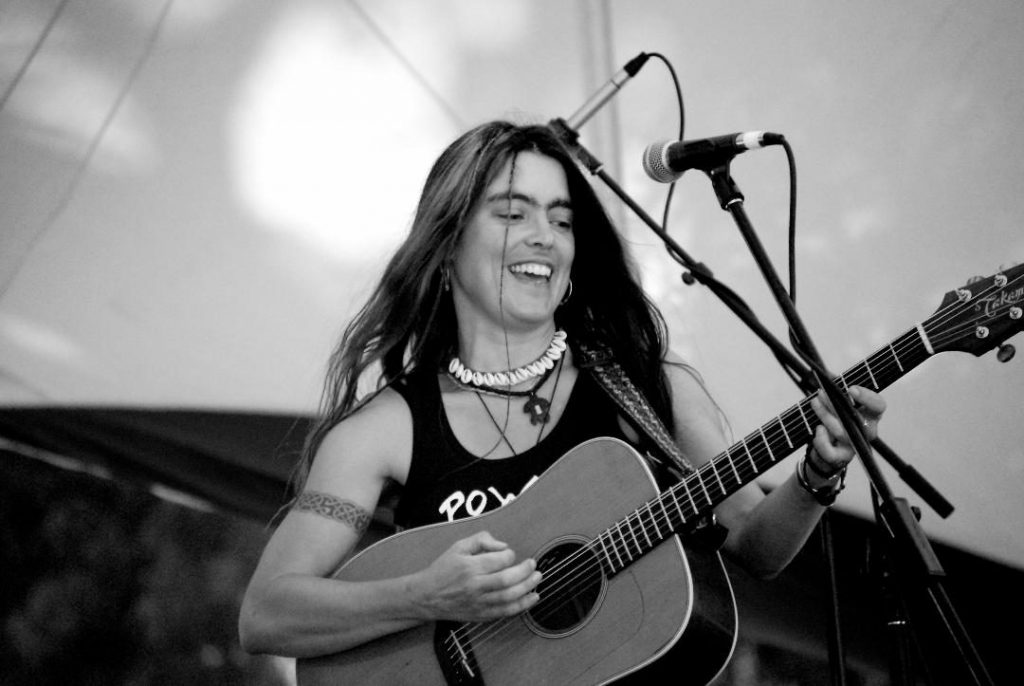 Deciding if her voice or the words are the most impactful is the ultimate question while listening to Diane Patterson's "Somewhere There's A Song Still Singing." The remarkable simple, folk track diverges into two camps: Patterson's stirring vocals wrought with determination and near exhasperation or powerful lyrics calling for the land to replenish. What is for certain, in these chaotic times, is that an artist like Patterson is a beacon of light and hope.
 The acoustic guitar gallops along Patterson's poignant voice. She's more Joan Baez or Tracy Chapman than Joni Mitchell and as a listener the rapport and connection is instant. When she sings "Come lay the land again / Come lay the land again/ Somewhere there's a song still singing /Do you sing of the jackal and gazelle? So you winter on Persian shores? / Do you still migrate and celebrate? /Qashquai people, Allah's people.." the rhythm of the guitar and her cadence calls for participation, especially when she hits "come lay the land again." One can surmise that she's asking the listener to join her in celebrating the land, giving back. Perhaps she's calling out that there is hope; the land will still have glimmers of life and from the animals we can learn. The guitar just narrowly escapes becoming the focal point of the song – her use of the acoustic instrument is pointed and direct.
She sings of different places on the globe and even different times of history. From warriors of the rune (a Germanic alphabet) to Pintupi (Australian Aboriginal group), her song canvasses the world and connects the idea of a global community. The breathtaking story, sung in prose, is quite impressive. It just took a bit of education to understand those terms. Not knowing 'rune' certainly doesn't disqualify the genuinely lovely listening experience.
BANDCAMP: https://dianepatterson.bandcamp.com/track/somewhere-theres-a-song-still-singing
Like the mood of the song, Patterson's vibe is organic. She's not embellishing and at times there's just a slight crack, a melodic tweak, that cracks through the surface. One can close their eyes and listen to this song with visions of greens, yellows, oranges, reds, and lots of blues merging. Her voice is nearly a chant, a stirring hum. One becomes at peace while listening to this song. With just vocals and the guitar strum, collaborative sound grows and grows like redwood tree rings. Her singing feels steady, but by the completion of the song there's this underlying urgency. As a listener, one feels that brewing energy and a haste feeling. Where Patterson leads the listener is one of determination and thoughtfulness of their place in the ecosystem. She shines most when she's cultivating that unspoken spirit.
Currently based in Ashland, Oregon, Patterson has toured with legendary Ani Difranco. The wordsmith and patterns used in "Somewhere There's a Song Still Singing" is a perfect match for DiFranco's audiences. The song could also compliment Grateful Dead playlists or even Son Volt, The Avett Brothers or Ryan Bingham. Patterson certainly stands on her own and this track is exceptionally storytelling and an artistic achievement.
Loren Sperry