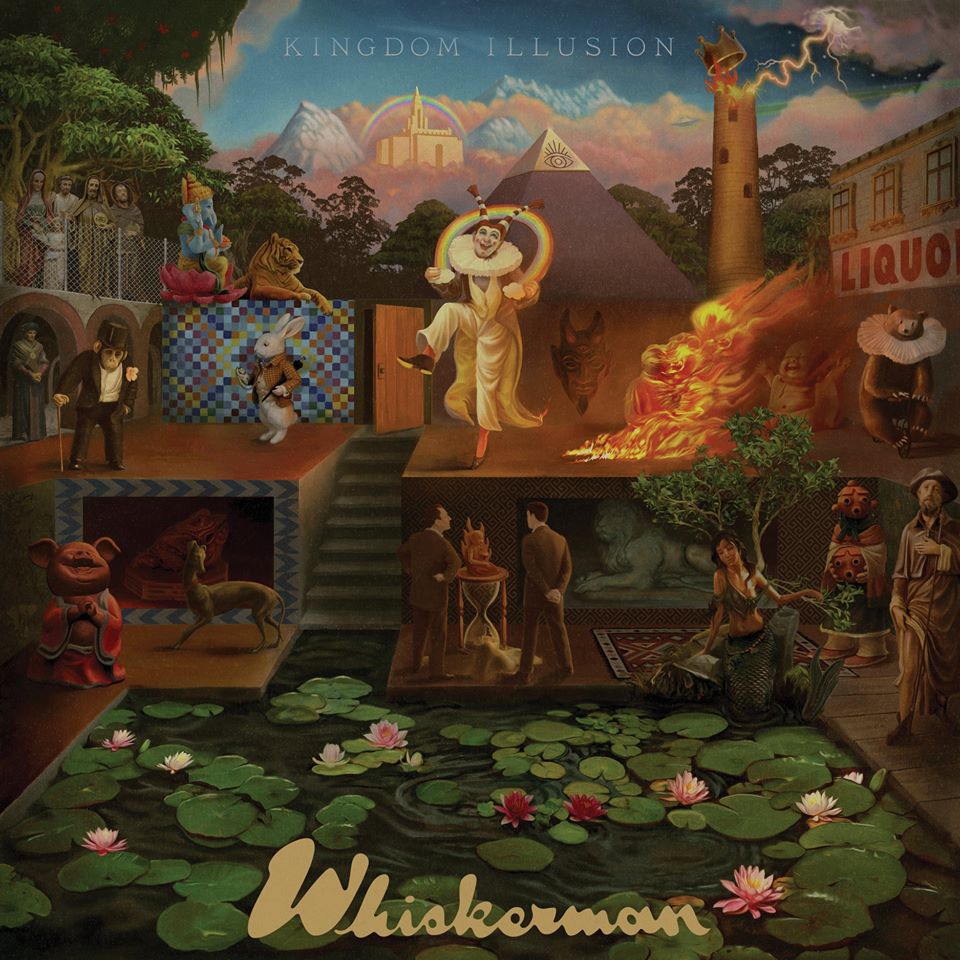 Roaring out of the silence on the back of a blistering but steady drumbeat, a carnal riff-rock assault is waiting to take listeners by storm after pressing play on the new single "Fuck Yeah," one of the eight songs comprising the fourth studio album from Whiskerman, Kingdom Illusion. Much like its neighbors in the tracklist of Kingdom Illusion, "Fuck Yeah" sees Whiskerman debatably bringing more energy to the music than they ever have before, allowing a violent volley between percussion and guitar to drive their narrative home in heavier tunes while giving themselves over to the sonic surrealism of neo-psychedelia in others (such as the title track and "Something About Love"), with the end results being as appealing to casual fans as they are serious rockers looking for a spring fix.
INSTAGRAM: https://www.instagram.com/whiskerman/
Aside from the melodic muscularity featured throughout the album, Kingdom Illusion is also sporting some of the more enigmatic lyrical content that Whiskerman have included on a release thus far in their career together. Conveyed by a punky but surprisingly virtuosic vocal attack in "Belly of the Beast" and the fire-starter "Rattlesnake," the verses in this record are multi-interpretive without question and constantly aided by the monolithic harmonies that surround them. Some critics might describe the approach here as being a bit more postmodern than it needed to be, but for listeners with a taste for experimental rock at its most streamlined and college radio-ready, this is a tough LP to top this season by all accounts.
I would have probably mixed the bass with just a little less panache than it's ultimately provided in "The Great Unknown" and "Villains," but I can also understand what Whiskerman were trying to achieve in giving it as much presence as they did in these two songs (and, to a lesser extent, "Fuck Yeah"). By making the low-end tonality in these tracks as buffed-out as they did, the band definitely carves out a nice spot in the eye of the storm for the lead vocal to define the collective melodies that make the songs so distinguishable in style from the others on Kingdom Illusion. Nothing about this album was thrown together, and I don't believe you have to be an expert music journalist to recognize that.
BANDCAMP: https://whiskerman.bandcamp.com/album/kingdom-illusion
Although it was likely crafted with the hardcore fan in mind more than it was anyone else, you definitely don't have to be the world's biggest rock enthusiast to get hooked on the magic Whiskerman are conjuring up in Kingdom Illusion, but for those of us who live and die for a good psychedelic offering, it's an LP that I would recommend as one of the best available in the underground right now. From the grinding stomp of "Be Real" to the bludgeoning basslines of "Belly of the Best" and "Fuck Yeah," this is one touch record to put down once you've picked it up for the first time, and that's just not something I've been able to say about a lot of the mainstream output making headlines this March.
Loren Sperry