LA Based, Alternative Rock band SECRET SOCIAL CLUB has released the official music video for their debut single, "Gravity." Directed by Bobby Witewolf and filmed at Foxhole Hollywood, "Gravity" features a progression of imagery from live action to lustrous comic book animation, becoming a sci-fi fantasy as the main character is thrust into a futuristic space odyssey, which is further depicted in their associated comic book.
SECRET SOCIAL CLUB is signed to Herø Records, with the Comic being written & produced by their sister company, Herø Projects. The story was written by Matthew Medney and Morgan Rosenblum and illustrated by Leo Colapietro with the production done by Voodoo Bownz.
" 'Gravity' was the first song we did together with producer, Matt Good. It set the precedent for who we were going to be. In our opinion, we couldn't have asked for a better song to debut as our first single. None of us have ever been a part of something that has sounded so powerful, and we have Matt to thank for that. This song created our identity, which is usually tough for new bands their first time in the studio. " – Secret Social Club

" The video for 'Gravity' is special because we were lucky enough to have our Director, Bobby Witewolf, pull a few strings and have a crew of about 10 guys, from a major network TV show, come help us out at the drop of a hat. They were amazing. I remember looking at Steve (Bassist) at the end of the night like 'Damn – All these busy people came to help us…US.' We didn't deserve it. I hope one day we can reciprocate the generosity they showed us that day, because this video is really cool and we couldn't have done it without them! " – Wade Fitzgerald (Lead Vocalist)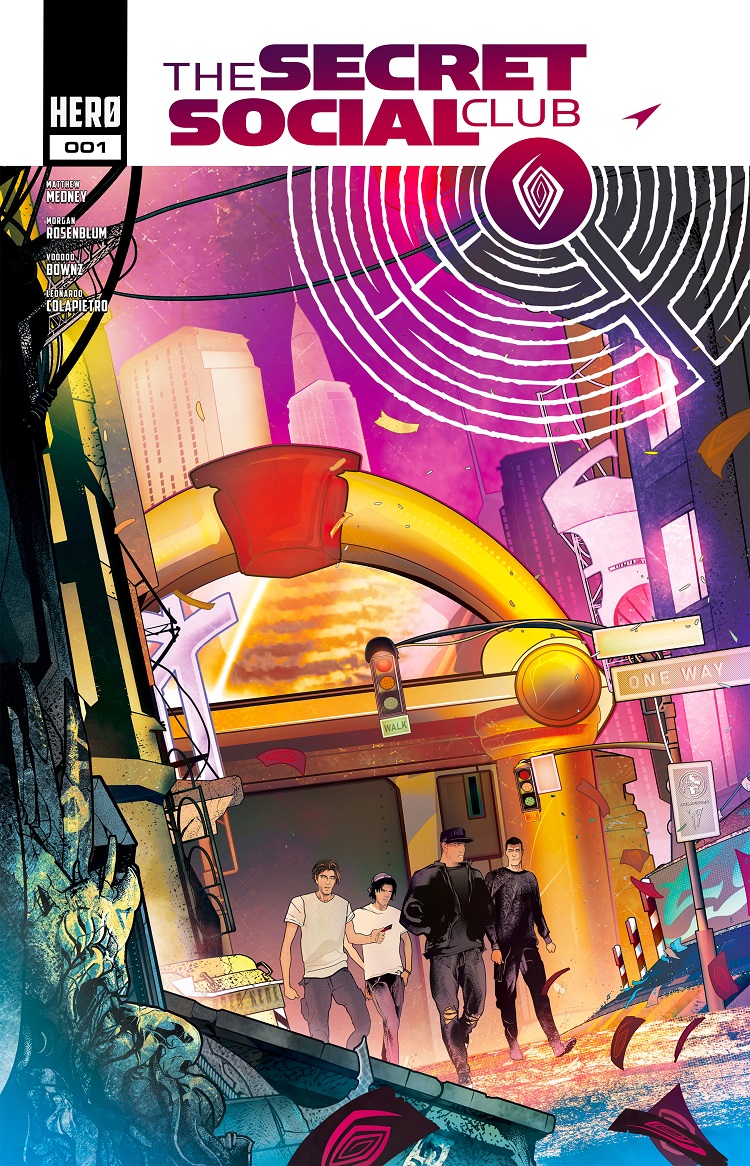 Click HERE to Download / Stream "Gravity" Online!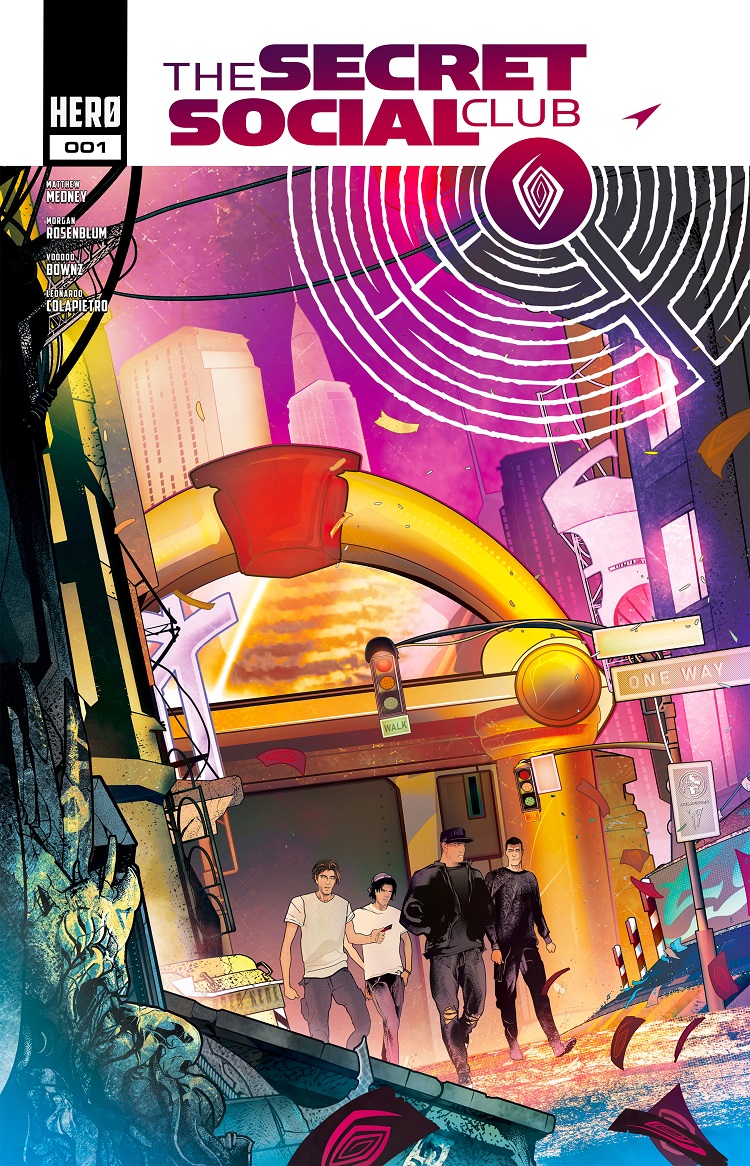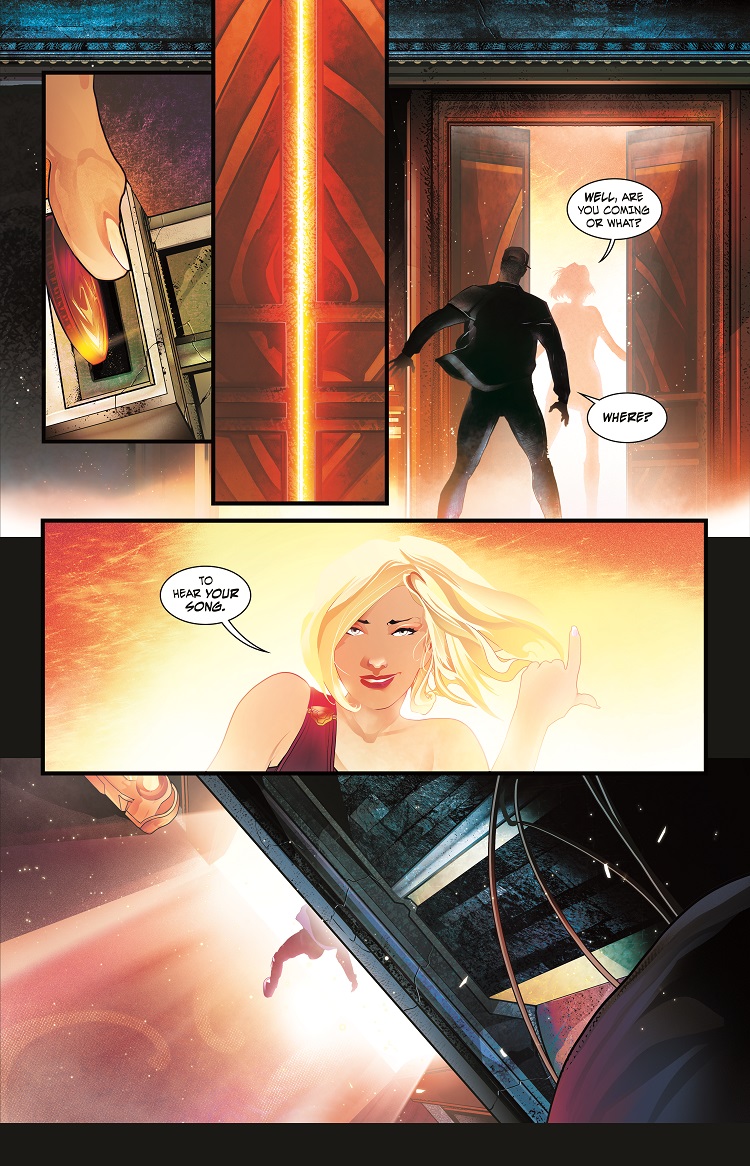 Click HERE to Purchase THE SECRET SOCIAL CLUB Comic!
Secret Social Club was formed in late 2018 after lead singer, Wade Fitzgerald, was introduced to Producer Matt Good (From First To Last), by mutual friend Sam Bettley (Bassist for Asking Alexandria). After working on a few demo's, Wade and guitarist Andy Lutzka took off to start recording with Matt at his studio in Tempe, Arizona.
When it came time to look for a drummer, Longineu Parsons III (LP) was the first name that came to mind. Wade and LP first met in 2014 while LP was on tour with his previous band, Yellowcard. After sending a few messages back and forth, LP flew out to Tempe to meet Wade and Andy during which they wrote and recorded A Life Less Heavy EP in less than 5 days.
Shortly after recording, the band was looking for a bassist. LP invited his childhood friend from Jacksonville FL., Stephen Miller, to the band's first rehearsal. After the rehearsal, Stephen became the final member.
In 2019, the band had played about 5 shows before signing their contract with Hero Records. Right before signing, LP made the tough decision to pursue an opportunity closer to his home in Florida. Although it was mutually hard for both him and the band, they were lucky to pick up a very talented young drummer in LA named Luc Frankel.
With the video for "Gravity" finished, the band is looking forward to a busy year full of lot's of shows and new music.
Connect with SECRET SOCIAL CLUB:
Official | Facebook | Instagram