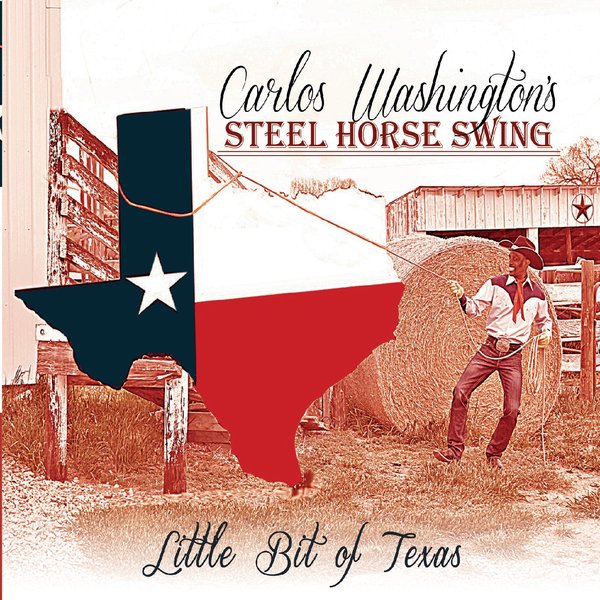 2020 is shaping up to be a really interesting year in country music, and if we've learned anything from the releases that brought the 2010s to a close, it's that hybridity is going to play an important part in who and what dominates the genre in this next decade unfolding before us. Last year, Carlos Washington's Steel Horse Swing cut a phenomenal underground record in Little Bit of Texas that perhaps summarized the misty melodic turn that indie country has been taking in recent years, but though the album and its star single – the title track – are a good example of what's exciting about today's Americana and western swing, they're by no means the product of a popular trend, nor the embodiment of a commercial concept created strictly to sell records.
I wouldn't say that Little Bit of Texas' tracks like "Miss Molly," "House of Blue Lights" and "My Little Red Wagon" were meant to inspire thoughts of vintage country crooners, but they certainly bear a familiar resemblance to some of the most legendary songs that this genre has produced since the start of the 20th century. Washington's voice is always in the eye of the storm here, holding together all of the working parts in the Steel Horse Swing's string section while pushing forth a rhythm that could get anybody to believe he's Nashville's second-coming. Whether meaning to or not, he made a vocal showcase in Little Bit of Texas that many critics (myself included) won't soon forget.
https://open.spotify.com/artist/3NCnj6LPiE24xE3ZBYr6SJ
There's some great depth to the instrumentation in "I Can Still Make Cheyenne," the title cut, "I Am a Cowboy Y'all" and my favorite song from the record, "Sugar Moon," and I think that the compositional consistencies in this tracklist are essentially what make it such a terrific listen no matter what kind of a mood you happen to be in when putting on the stereo. There are no curveballs in Little Bit of Texas; there's only a man, his swinging band and a passion for making all-American harmonies that only a true country boy could possess. Carlos Washington is the real thing, and if anyone has the nerve to question that, they simply need to hear any of the ten songs on this LP to get themselves set straight.
While I was hearing a lot of really good things about Carlos Washington's Steel Horse Swing and Little Bit of Texas lately, I didn't know what to expect when exploring its vivid selection of country jams, but I can definitely see why people have taken to this singer/songwriter's music with as much fervor as they have. Little Bit of Texas lives up to all the hype and then some, and though it's the only record I've heard by Mr. Washington, my gut tells me that it's a good representation of who he and his band are at their core. With any luck, a proper tour will come around in support of this album before the year is out, but at any rate, I'll be eagerly anticipating more music from Steel Horse Swing from here on out.
Loren Sperry